ANKENY, Iowa—During its commencement ceremony May 6, Faith Baptist Bible College and Theological Seminary awarded an honorary doctor of divinity degree to David Strope, interim …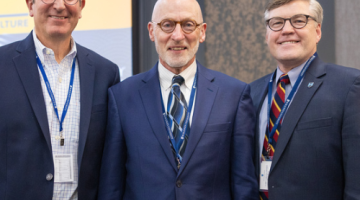 Bob Jones University invited David Strope, interim national representative of the GARBC, to speak in its CoRE Conference Jan. 31–Feb. 1.
Man Camp was one of many retreats Lake Ann Camp offered this year.
Faith Baptist Bible College turned 100 years old Sept. 28.
Each fall, Central Baptist Theological Seminary holds a conference "designed to edify and equip believers in the areas of ministry and Christian life."
Faith Baptist Bible College hosted its Annual Business Leadership Summit with a charge to "walk worthy in challenging times."
Paul Golden is one busy guy. In addition to his administrative role at Clarks Summit University, Paul serves as a chaplain for not one but two professional sports teams.
Faith Baptist Bible College and Theological Seminary's Refresh Conference kicked off the school's centennial celebration.
When Camp Gilead realized in the latter months of 2020 that it wouldn't be able to host guest groups due to the continuing coronavirus, the staff brainstormed other possibilities for celebrating Christmas with guests.
Baptist Children's Home has appointed Linda Brooks as its chief executive officer.
Scioto Hills Christian Camp and Retreat Center has created a fun at-home craft for kids: creating the camp with heavyweight paper, scissors, and a few more simple supplies.
Twenty-four high school seniors from GARBC churches have been awarded a total of $25,000 in the GARBC Christian Character Scholarship competition.
Faith Baptist Bible College and Theological Seminary welcomed a record 236 attendees for its Fifth Annual Refresh Conference.
Clarks Summit University has been strengthening its department of online learning with new hires and reorganized roles.
Dozens of Christian business leaders from across the United States gathered at Faith Baptist Bible College for the Business Leadership Summit.
What happens when three Baptist state associations plan a joint conference at the height of football season, meeting in a church that sits a mile from the Ohio-Michigan border? Yes—a few of the expected jokes about the famed sports rivalry, but then came the more serious business of explaining why church associations still matter.
Cedarville University is now making the courses from its Bible minor program available online at no charge.
The Baptist Fellowship Association's annual conference marked the culmination of three years of conferences dealing with the ethnic divide in the church.
Terry Waltersdorf, director of food service at Faith Baptist Bible College, received one of the food service industry's highest honors.
Faith Baptist Bible College and Theological Seminary welcomed Dr. Mark Minnick for its Annual Pulpit Day.
The National Association of Regular Baptist Camps will begin a new Camp Executive Director training program to equip future camp leaders.
Detroit Baptist Theological Seminary hosted its Annual E3 Pastors Conference, addressing the theme "The Pastor in the Pulpit."
On its 70th anniversary, Lake Ann Camp celebrated the grand opening of its 32,000-square-foot recreation facility called the ARC.
Faith Baptist Bible College and Theological Seminary hosted a three-day photo camp, instructing students, faculty, and staff on photography fundamentals.
IL-MO Association of Regular Baptist Churches met for their Fall conference, reflecting on "What Does It Mean to Walk with God?"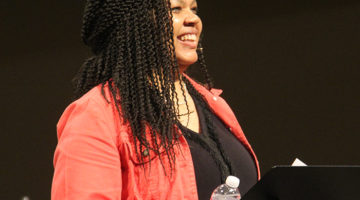 Women studied the topic "Hope Greater than Our Circumstances" at the Northeast Fellowship Ladies' Advance.
COLORADO SPRINGS, Colo.—Rustic Hills Baptist Church, Colorado Springs, Colorado, hosted a Bible and Science Seminar with Dr. George Matzko of Bob Jones University. Matzko is …
GARBC National Representative Mike Hess and his wife, Christina, were thrilled to visit Bob Jones University for the first time and were blessed by the school's generous hospitality.
Twin Lakes Camp hosted a special week of camp for students who desire to pursue full-time ministry or who just want to be challenged spiritually on a deeper level.
Clarks Summit University just wrapped up the 49th annual Teen Leadership Conference.
The Illinois-Missouri Association of Regular Baptist Churches hosted its annual men's golf retreat.
Men for Christ celebrated its 20th anniversary with a three-day event at Iowa Regular Baptist Camp.
The Association of Baptists for World Evangelism has installed Paul Davis as president. Davis has been a member of ABWE's board since 2013.
Iowa Regular Baptist Camp hosted a two-day retreat for Hispanic families.
Faith Baptist Bible College and Theological Seminary hosted its first Business Leadership Summit to encourage business leaders within the church and give practical advice.
What do you do when things don't go as planned? More than 350 Baptist Mid-Missions missionaries, staff, and other guests delved into this topic at BMM's 2017 Annual Conference held at First Baptist Church of Elyria, Ohio.
During Baptist Bible Seminary's Ministers Enrichment Day, 70 ministry professionals enjoyed a day of insight, refreshment, and motivation through various sessions that focused on the theme "Outside the Walls: Creative Outreach in a Contemporary Culture."
Camp directors focused outward in their planning as they met for the annual retreat of the National Association of Regular Baptist Camps.
Faith Baptist Bible College hosted its second annual Refresh Conference for Christian leaders and their spouses.
Women enjoyed getting together with friends and meeting new ones at a Quilt, Craft, Scrap retreat hosted by The Springs Ministries camp.
At Lincoln Lake Camp, students are taking part in a retreat called Lake Effect, held over the course of seven weekends.
Students and faculty of Cedarville University were honored to hear Dr. John McNeal speak during chapel Monday, Jan. 16, a day marking the birthday of Martin Luther King Jr.
Twin Lakes Camp and Conference Center hosted the Annual Camp Conference of the National Association of Regular Baptist Camps.
Baptist Children's Home has received a $1,000 grant from the Indiana First Lady's Charitable Foundation.
Camp Gilead's 13th Annual Mother/Daughter Retreat landed on the very weekend that a predicted epic storm would hit the West Coast.
Camp BaYouCa partnered with the Northeast Fellowship to equip laypeople to minister to teens and to discuss topics pertinent to youth ministry.
The 36th annual Baptist Children's Home Bike-a-thon was a huge success, reports assistant treasurer Craig Freyenberger.
For 50 years Camp Fairwood has been leading youth and families to Christ and helping them grow strong in the Lord.
By Nancy Freund During Baptist Mid-Missions' Annual Conference July 4–7, 2016, more than 550 missionaries and special guests filled the auditorium of First Baptist Church …
After receiving approval from the Pennsylvania Department of Education, Summit University of Pennsylvania has modified the name of the school to Clarks Summit University.
For 30 years, the School of Church Planting has been a welcomed church-planting boot camp for hundreds of ministry leaders.
For two weekends in June, nearly 900 women gathered at Summit University for the annual LYFE Women's Conference. These women were challenged to thrive in whatever season God has placed them.
Twin Lakes Camp and Conference Center hosted its annual ladies' retreat, with 114 women from Indiana and Illinois participating.
Faith Baptist Bible College and Theological Seminary awarded Vernon Rosenau, president of Baptist Mid-Missions, an honorary doctorate of divinity during the school's commencement.
At the national Gospel Proclaimed conference, leaders from across the spectrum of Baptist fundamentalism explored the possibilities and benefits of fellowshipping, working, and standing together.
Pastors of Northwest churches met together for worship and prayer in a two-day Prayer Summit.

"If we can refresh a pastor and his wife, we can refresh a whole church," says Jim Tillotson, president of Faith Baptist Bible College.
Camp Gilead hosted its first ever "In Tune" retreat for musicians involved in their churches' music ministry.
Camp Fairwood hosted a Teen Winter Blast that Director Brad Dickinson calls "joy-filled."
Summit University honored Dr. James R. Lytle as the school's 10th president at an inauguration dinner and chapel service.
The Get Untangled church technology training conference "was a huge success," says Chris Brown. He and several technology coaches purposed to help pastors and tech guys experience "less hassle of technology to do more ministry."
Baptist Mid-Missions has appointed Vernon Rosenau president. He will step into the role in January, after the retirement of the mission agency's current president, Dr. Gary Anderson, at the end of 2015.
Over the last century, many distributaries have branched off of the channel of Baptist separatism. The Midwest Congress of Baptist Fundamentalists provided an opportunity for representatives from some of those streams to be reminded of their common heritage and shared principles.
Dr. W. David Warren received the Distinguished Service Award from Cedarville University during its homecoming events Oct. 2. Warren is state representative of the Ohio Association of Regular Baptist Churches and serves on Cedarville's board of trustees.
More than 700 alumni, friends, and students of Faith Baptist Bible College and Seminary gathered on Thursday, Sept. 17, for the installation of its new president, Jim Tillotson.
Continental Baptist Missions held a FUNdraising Shoot to benefit its ministries. President Bill Jenkin III calls the event "a blast."
Family Camp at Iowa Regular Baptist Camp is designed to be a spiritually enriching vacation for families. Next summer, families will enjoy staying in the camp's new cabin, currently under construction.
For several years, Hispanic believers have enjoyed a weekend retreat, hosted by Baptist Church Planters, at Iowa Regular Baptist Camp. This year over 140 people attended the retreat Aug. 21 and 22.
Campus Bible Fellowship International has turned 50 years old, and staff celebrated the milestone on July 8 at its annual conference, held at Appalachian Bible College.
Discipleship was the focus of the Fundamental Baptist Fellowship Association's annual conference at the Kansas City Marriott Country Club Plaza.
Bringing physical and spiritual refreshment to missionaries and their families, administrators, and staff was the aim of Baptist Church Planters' triennial Family Camp.
Once classes at Summit University end in May, special events and conferences keep the campus jumping throughout the summer.
Fifty-five senior adults from Hebron Fellowship churches took a chartered bus to visit Pigeon Forge, Tennessee. "The five-day trip was so fantastic that the seniors couldn't agree on any one event being the highlight. Everything was fabulous," says Craig Golden.
Five generations of the Plew family will celebrate Austin Plew's 95th birthday on June 17. John Greening, GARBC national representative, says, "He is one of those men who I think I would like to live and conduct myself like him!"
Nearly 1,000 young people descended upon four New York churches for the Northwest Fellowship's Youth Seminars, a weekend-long annual Bible conference for students in grades six through 12.
The Northeast Fellowship hosted a group of pastors and wives, along with some others, in retracing the footsteps of Paul in Greece.
Faith Baptist Bible College and Theological Seminary has appointed James Tillotson as president. He is currently pastor of Meadowlands Baptist Church in Edmonton, Alberta, Canada.
In a historic move to connect the rich heritage of two Baptist colleges, the trustee boards of Tennessee Temple University in Chattanooga, Tennessee, and Piedmont International University in Winston-Salem, North Carolina, voted unanimously to merge.
Photography enthusiasts learned about their craft and shared their passion at the InFocus Photography Retreat held at Camp Gilead.
Teens attending Wisconsin churches enjoyed a weekend of snowy fun at Camp Fairwood's Winter Blast.
Bibles International is committed to reaching the world by making the Bible available in every language, and Glen Baptist Church has caught that vision.
The board of trustee of Baptist Bible College and Seminary has voted to change the institution's name to Summit University of Pennsylvania effective Monday, April 20.
The majestic rocky peaks of the Cascade mountain range served as the backdrop to the Baptist Network Northwest Pastors' Prayer Summit.
A church-planting think-tank brought the Association of Baptists for World Evangelism one step closer toward its goal to facilitate the planting of 1,000 churches in the U.S. in the next 10 years.
Babs Johnson says she carries out the Great Commission in the same way that, generally, all believers do, but her specific ministry keys in on her love of children, adults, and music.
A new hospital is set to open in Togo, West Africa, and Saylorville Church has played a large role in that process.
Florida churches enjoyed two days of informative teaching and sweet fellowship in the Sunshine State.
"Women Like Us, Touching Lives" is the emphasis this year for Ohio Women for Missions and was the theme for the group's fall retreat.
"Untangled" conference helps churches eliminate the hassle of technology and use it to minister more effectively.
An estimated 650 attendees from area churches enjoyed choral and orchestral music designed to give praise and thanks to God as a kickoff to Thanksgiving.
Pastor Ron Hemsworth has accepted a call to serve at Missionary Acres, a community in the foothills of the Ozark Mountains for those who have retired from Christian service.
The Fall Teen Retreat at Camp Fairwood was a great success, with 107 teens and their sponsors from churches throughout Wisconsin.
"The New Testament came alive in a fresh and vibrant way" at the annual conference of the Mid-Continent Association of Regular Baptist Churches.
WELLINGTON, Ohio—The Ohio Association of Regular Baptist Churches, representing 150 churches, held its annual meeting Oct. 20–22 at Camden Baptist Church. Dr. Thomas White, president …
The Baptist Bible College and Seminary board of trustees is pleased to announce that Dr. James R. Lytle, veteran educator and missionary, seasoned leader, and experienced BBC&S vice president and provost, has been named the new president of Baptist Bible College and Seminary effective Jan. 1, 2015.
"Imagine switching the lid of a jigsaw puzzle box and then trying to figure out how to put the pieces together while using the wrong picture as the template." Speaking in two main preaching sessions, Dr. Gary Gilley used this word picture to illustrate the challenge that many in mainstream evangelicalism face when attempting to define spiritual formation.
GARBC churches in southern California enjoyed men's and ladies' retreats at Victory Ranch.
Teens all over the state of Ohio were saturated in God's Word, fellowship, and worship at the Saturate youth rally.
The Northern California Association of Regular Baptist Churches is focused on developing ministries to equip believers for ministry. With that in mind, the association centered its annual conference on evangelism.
Pastor Bruce McLain has been encouraging people "to live by faith and follow by faith." So when God opened the door for Bruce to serve as CARBC state representative, he realized, "It would be hypocritical to preach this for 40 years and not do it myself."
This year's Ladies' Advance encouraged not only attendees, but women across the globe. For the first time, attendees raised money for a cause.
The Iowa Association of Regular Baptist Churches hosted its third Annual "Refresh" Pastors and Wives' Retreat at Iowa Regular Baptist Camp. Twenty-six couples in pastoral ministries throughout Iowa attended the 24-hour retreat Oct. 9 and 10.
Seniors from churches associated with the Empire State Fellowship of Regular Baptist Churches enjoyed a trip to New York City Oct. 6 and 7.
Jerry and Jo Cudney received the Outstanding Service Award from Corban University, Salem, Ore., at the school's homecoming celebration Oct. 2–5. The Cudneys are 1963 graduates of Corban. Jerry is assistant to the pastor at First Baptist Church of Eastgate in Bellevue, Wash.
Those attending the Fellowship of Missions 45th Annual CEO Retreat and Conference enjoyed a relaxed atmosphere; appreciated devotional messages by Dr. Hantz Bernard, director of Bibles International; and delighted in a personalized tour of the Gerald R. Ford Museum.
Beautiful Lake Bemidji, sunny skies, and brilliant autumn leaves provided a picturesque setting for attendees of the 2014 meeting of the Minnesota Association of Regular Baptist Churches.
The Ohio Association of Regular Baptist Churches' Bike for Youth provides college scholarship money for a young person headed toward ministry. "It pays to invest for eternity!" says the OARBC.
Pastors and wives from churches in the Baptist Network Northwest spent Sept. 8–11 at the Cannon Beach Christian Conference Center for a fall Ministry Retreat.
Over 100 Baptists from Minnesota, Iowa, and Wisconsin gathered in the fellowship hall of Fourth Baptist Church, Plymouth, Minn., for a panel discussion over lunch. The event was billed as "The Future of Baptist Fundamentalism: A Thoughtful Conversation between Baptist Brothers." Panelists included GARBC National Representative John Greening, Central Seminary Research Professor and Regular Baptist Press author Kevin Bauder, and USAF Chaplain Col. Mike Sproul, who is also pastor of Tri-City Baptist Church in Chandler, Ariz., and on the executive board of the Fundamental Baptist Fellowship International. They were joined by host pastor Matt Morrell of Fourth Baptist Church; hymnwriter and author Chris Anderson, pastor of Killian Hill Baptist Church in Lilburn, Ga.; and me. Brent Belford, an administrator at Central Seminary and member of the pastoral staff at Fourth, moderated the discussion.
Over 400 ladies gathered at Iowa Regular Baptist Camp for its annual Women's Renew Conference Sept. 5 and 6. "As usual," says Emily Felderman, "IRBC rolled out the red carpet for the ladies this year with excellent food, friendly staff, and a wide variety of activities to take part in."
Baptist Church Planters officially installed Stephen P. Little as president in a celebration in Cleveland on Tuesday, Aug. 26. On that evening, outgoing president Dr. David C. Little passed the baton of leadership to his brother Stephen.
More than 140 students and their sponsors were challenged Saturday evening, Aug. 16 to go and share the gospel.
Camp Manitoumi hosted a two-day men's retreat. The 83 men in attendance began the retreat with a golf outing, followed by free time to enjoy the camp's amenities, like swimming, riding down the new Manizoomie slide, hiking, and miniature golf.
VALPARAISO, Ind.—From July through September, churches in Iowa, Michigan, Ohio, and Indiana are partnering with Baptist Children's Home for its 34th annual Bike-a-Thon.
Baptist Bible College and Seminary announces its search for a new president. Please see BBC&S Presidential Search bulletin for details regarding the institution's mission, aspirations, qualification, location, and application procedure.
PUYALLUP, Wash.—The Baptist Network Northwest enjoyed its annual Spring Fellowship Meeting at Community Baptist Church.
REDDING, Calif.—Shasta Bible College and Graduate School hosted the 11th annual Alpha Omega Conference on creation and end-time prophecy.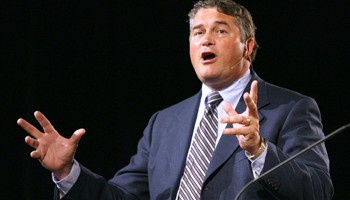 CLARKS SUMMIT, Pa.—President Jim Jeffery, who has led Baptist Bible College and Seminary with distinction for 13 years, will step down from his role in 2015.
ANKENY, Iowa—Dr. John Hartog II has announced his retirement from full-time teaching at Faith Baptist Bible College.
ANKENY, Iowa—For 16 years Joe Hayes ministered to pastors and church members throughout the state of Iowa, leading them in making disciples of Christ.
GENOA, Neb.—Whispering Cedars Baptist Camp is aiming to upgrade its staff housing, with help from GARBC churches and individuals.
YOUNGSTOWN, Ohio—Boardman Baptist Church will soon enjoy an expanded facility, thanks to the generosity of its members and the ministry of Baptist Church Planters.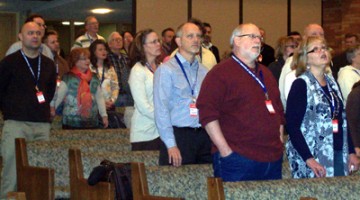 NORTHFIELD, Ohio—On March 28 and 29, about 100 church ministry workers from a 175-mile radius met at Northfield Baptist Church for the first Ohio Church Ministries Conference.