PORTLAND, Ore.—The Baptist Network Northwest sponsored an evangelistic activity giving junior- and senior-high students from churches in Oregon and Washington the opportunity to invite their …
Women attending California and Nevada churches enjoyed a wonderful weekend of fellowship, challenge, food, and fun.
Linda Leudaman of Women At Risk International was the keynote speaker for the 2018 DelMarVa Ladies' Retreat.
TACOMA, Wash.—Dr. William Bellshaw went to be with the Lord. He led fruitful ministries in Washington, Oregon, and California. Bill pastored several churches, including Bethany …
For several years, Hispanic believers have enjoyed a weekend retreat, hosted by Baptist Church Planters, at Iowa Regular Baptist Camp. This year over 140 people attended the retreat Aug. 21 and 22.
Q. Please comment on the practice in many churches of dedicating infants and children in a church service ceremony. Is there a Biblical basis for …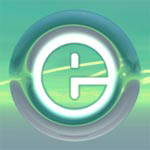 As our Resource Center staff prepares for the 2014 GARBC Conference to be held June 23–27, the cost of facilitating the event becomes a reality. …
REDDING, Calif.—Shasta Bible College and Graduate School hosted the 11th annual Alpha Omega Conference on creation and end-time prophecy.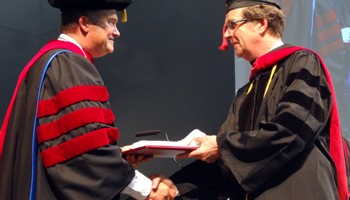 CLARKS SUMMIT, Pa.—John R. Greening, national representative of the GARBC, graduated Summa Cum Laude with a DMin May 10 from Baptist Bible Seminary.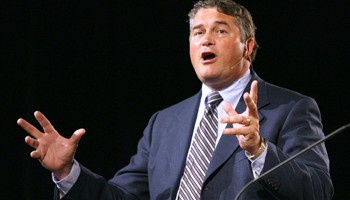 CLARKS SUMMIT, Pa.—President Jim Jeffery, who has led Baptist Bible College and Seminary with distinction for 13 years, will step down from his role in 2015.
ATLANTIC CITY, N.J.—Daniel Martin Cassell, pastor of Chelsea Baptist Church in Atlantic City from 1973 to 2009, died on April 30.
ANKENY, Iowa—Dr. John Hartog II has announced his retirement from full-time teaching at Faith Baptist Bible College.
JASPER, Ind.—Fellowship Baptist Church had the privilege of baptizing five young people in an outdoor baptism.
LITTLE EGG HARBOR, N.J.—Calvary Baptist Church is influencing its community for Christ, most recently through the National Day of Prayer.
WISCONSIN RAPIDS, Wis.—As high school students across the country attend prom, one church hosts a God-honoring formal event for its teens.
KANDAHAR, Afghanistan—Chaplain John Murdoch, director of Regular Baptist Chaplaincy Ministries, interviewed Chaplain Bill Gasser, a Navy reservist at Kandahar Airfield.
ST. PETERSBURG, Fla.—Melbourne "Mel" Stadt, a pastor, died May 1. He was 94.
ANKENY, Iowa—For 16 years Joe Hayes ministered to pastors and church members throughout the state of Iowa, leading them in making disciples of Christ.
GENOA, Neb.—Whispering Cedars Baptist Camp is aiming to upgrade its staff housing, with help from GARBC churches and individuals.
YOUNGSTOWN, Ohio—Boardman Baptist Church will soon enjoy an expanded facility, thanks to the generosity of its members and the ministry of Baptist Church Planters.
ZEELAND, Mich.—Evangeline Miriam Anderson, a pastor's wife, died April 25. She was 86.
TRACY, Calif.—Eight years ago, when Pastor Timothy and Susan Heinrich moved to Tracy to start Crossroads Baptist Church, they were burdened for the children in their neighborhood.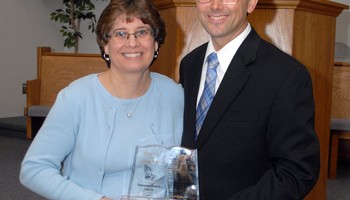 NAPERVILLE, Ill.—Emmanuel Baptist Church of Warrenville honored Pastor Dale and Shirley Williams with a surprise celebration for having completed 25 years of ministry with the church.
URBANDALE, Iowa—A building project that began in 2003 came to a debt-free conclusion with a mortgage burning at Urbandale Baptist Church.
SPRING HILL, Fla.—A favorite annual event for Spring Hill Baptist Church is its Easter EGGstravaganza.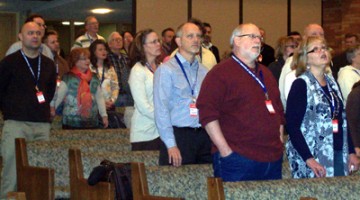 NORTHFIELD, Ohio—On March 28 and 29, about 100 church ministry workers from a 175-mile radius met at Northfield Baptist Church for the first Ohio Church Ministries Conference.
TOLEDO—Emmanuel Baptist Church has said farewell to secretary Marcia Stover, who has retired after 40 years.
NEWHALL, Calif.—The Alive college ministry at Placerita Baptist Church enjoys retreats throughout the year, the most recent being Camp and Surf in Onofre, Calif.
WINDSOR, N.Y.—Staff and members of New York churches met at West Windsor Baptist Church April 7 and 8 for the Spring Conference of the Empire State Fellowship of Regular Baptist Churches.
SAND LAKE, Mich.—Shortly after accepting the call to become the pastor of Ensley Baptist Church in the fall of 2012, Timothy Decker began the application process to serve as a chaplain.
GRAFTON, Ohio—Baptist Church Planters held its second Leadership Summit March 19–21 at the organization's home office.
SPRING HILL, Fla.—After working hard to prepare for a missions trip, teens from Spring Hill Baptist Church spent their spring break fellowshipping and relaxing.
HORSEHEADS, N.Y.—Young people from across New York attended the Empire State Fellowship's annual Youth Seminars.
KANSAS CITY, Mo.—Beverly Frowner, a pastor's wife at First Regular Baptist Church in Kansas City, died April 6.
NEWHALL, Calif.—The women of Placerita Baptist Church had the privilege of hearing Janie Street teach on the theme "Love One Another" at their Ladies' Getaway.
ALBION, Ind.—Ruth Hopewell, longtime missionary, died on April 4. She was 90.
GRAND RAPIDS, Mich.—Life Matters Worldwide, formerly known as Baptists for Life, has appointed Mark Mohr as director of development and marketing.
In response to a missionary's persistent requests to visit India, Pastor Donald Shirk always declined. But he finally came out of hiding behind his "spiritual" reasons and said yes.
COLORADO SPRINGS, Colo.—Ten members of Rustic Hills Baptist Church took a Pilgrim Tours trip to Israel March 18–27.
GRAFTON, Ohio—Stephen Little has been called as president of Baptist Church Planters.
GRAND RAPIDS, Mich.—Calvary Baptist Church hosted the Church Ministries Conference of the Grand Rapids Association of Regular Baptist Churches, a two-day event for local church leaders.
STANWOOD, Wash.—Ralph "Rus" Edwin Waud, a retired pastor, died Nov. 22, 2013. He was 92.
GRAND RAPIDS, Mich.—Joseph Balbach, who pastored several churches in Michigan, died on March 24 at age 92.
BINGHAMTON, N.Y.—This year's Men's Adventure, "Overcome," an Empire State Fellowship of Regular Baptist Churches event, started with a major obstacle to overcome.
FORT MYERS, Fla.—Walking down "Adam's road" (Romans 5:12, 14), under condemnation and entrapped by religion, first Micah Wilder and then his brother Matt and their friend Joe Warren came to the Cross.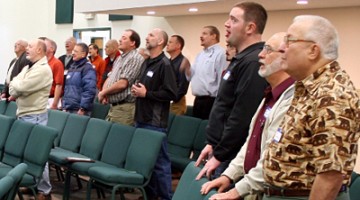 CEDAR RAPIDS, Iowa—Blair Ridge Baptist Church hosted its Fifth Annual Men's Leadership Conference.
OSWEGO, Ill.— "The Balance of Leadership and Preaching" was the theme of the third annual Regional Connection Worship and Growth Conference March 3 and 4 at Harvest Baptist Church.
KOKOMO, Ind.—While Chaplain John Murdoch's ministry includes much more than his work on behalf of religious freedom, this may be one of his more important activities, because of its long-reaching implications.
CLARKS SUMMIT, Pa.—Richard Engle, retired professor of Old Testament, Languages, and Literature at Baptist Bible Seminary, died March 9.
Two evangelical leaders make a gambling trip to Las Vegas, followed by a lengthy exposé in a Christian magazine. They later apologize. Several Christian colleges …
Greg Gilbert, pastor of Third Avenue Baptist Church in Louisville, was guest speaker at the "Standing Together for the Gospel" conference sponsored by our Ohio …
Christianity includes something besides the gospel. If we make Christianity equal to the gospel alone, then we are likely to fall into one of two …
Two seminary professors, Mark McGinniss and Rod Decker, found themselves in a conversation about their journeys of suffering. When Rod was diagnosed with aggressive cancer, …
Two seminary professors, Mark McGinniss and Rod Decker, found themselves in a conversation about their journeys of suffering. When Rod was diagnosed with aggressive cancer, …
ANKENY, Iowa—Tim Capon has been called as state representative of the Iowa Association of Regular Baptist Churches.
CLARKS SUMMIT, Pa.—Heritage Baptist Church hosted its first-ever Ladies' Summit.
MINFORD, Ohio—What needs exist in your community? Many churches today are asking this question. But often, striving to answer it becomes overwhelming.
The Regular Baptist Web Community brings together ministry veterans with motivated learners to work on solutions to the challenges of day-to-day local church ministry.
ALTOONA, Iowa—Altoona Regular Baptist Church invited Chris Hindal, director of GARBC International Ministries, to speak at its annual Heart for Home Conference.
SCHAUMBURG, Ill.—iPad? Kindle? Android? Read the Baptist Bulletin in our new digital formats.
EDEN, N.Y.—The Empire State Fellowship wants to help its churches be as effective as they can.
Presidential transitions mark the beginning of new leadership for four schools and organizations that continue to minister in the U.S. and around the world.
CARNATION, Wash.—Camp Gilead held its first-ever photography retreat with 60 young people and adults.
CASA GRANDE—Victory Baptist Church hosted this year's winter youth retreat of the Arizona Association of Regular Baptist Churches.
A college campus is the perfect mission field, whether it's for reaching international and American students or opposing the enemies of the gospel.
GRETNA, Neb.—Gretna Baptist Church hosted Winter Games, a youth event of the Nebraska Association of Regular Baptist Churches.
OREGON, Ohio—Youth workers learned how to impact future generations at the National Youth Ministries Conference sponsored by Baptist Bible College and Vision for Youth.
CARNATION, Wash.—For junior high students in Northwest churches, SnowBlast at Camp Gilead can be a life-changing experience as they grow in their relationship with the Lord and build friendships.
CAMBRIA, Calif.—For pastors, missionaries, and laypeople in the California Association of Regular Baptist Churches, the annual Christian Workers' Retreat is a highlight of the year.
MASON CITY, Iowa—Faith Baptist Church said good-bye to its pastor of 25 years.
WATERLOO, Iowa—Richard Wayne Johnson, a faithful pastor, died Jan. 24.
SCHAUMBURG, Ill.—Michael Nolan, director of Baptist Builders Club, began the new year with good news for six churches.
LOWELL, Mich.— "To everything there is a season, and a time for every purpose unto Heaven." This rings true as the new year has ushered in changes at First Baptist Church following the retirement of W. Lee Taylor, pastor of ministries.
FORT MYERS, Fla.—Fort Myers is a young city, and not particularly wealthy. Daniels Road Baptist Church is reaching out to its needier neighbors by providing a weekly food pantry called Soul Food Ministry.
LaGRANGE, Ohio—Debra Quick, a former pastor's wife, died on Jan. 11. She was 64.
INDIANAPOLIS—In 2003 Matt Barnes walked into the Capitol building in Indianapolis, sure of a burden from God to reach the legislators of Indiana, but unsure of how to go about it.
CARY, N.C.—John E. Millheim, a Baptist pastor and seminary professor who encouraged 1960s fundamentalists to discard their flamboyant and inflammatory past, died on Dec. 29.
SEBRING, Fla.—A ground-breaking ceremony kicked off the addition of a kitchen and dining area at Maranatha Manor.
BAILEY, Mich.—Roberta Frances Borman, a missionary in Equador, died Dec. 30. She was 83.
SPOKANE, Wash.—Herbert Allen Farrar Jr., a longtime pastor and former president of Western Baptist Bible College, died on Nov. 28. He was 104.
WESTON, Mich.—First Baptist Church reached a milestone, having been organized for 175 years.
SURPRISE, Ariz.—A favorite activity for The Oasis Baptist Church is Christmas caroling at local nursing homes. This Christmas one resident was so moved by the carolers that she gave them something in return.
LUTHER, Mich.—Jack Carlyle Nichols, a church planter, died Dec. 29. He was 85.
SANTA MARIA, Calif.—Byron Francis Buck, a missionary, died Dec. 22. He was 84.
Over a plate of roti, rice, and chicken curry, Henry John invited me to go to India with him. Sent by Maranatha Baptist Church, Grimes, Iowa, the Johns became missionaries to northern India in 2004.
JOHNSTON, Iowa—Evelyn Rose Crown, a former pastor's wife, died on Dec. 28 at Mercy Hospice. She was 92.
ALTON, Ill.—Philomena Nicholas, a former pastor's wife, died Dec. 11 at age 87.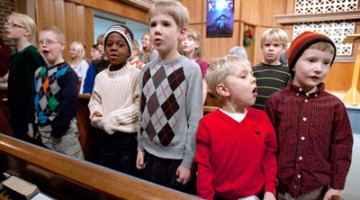 ARLINGTON HEIGHTS, Ill.—With help from a few adult actors, the children of First Baptist Church performed Regular Baptist Press's children's Christmas play, The Worst Christmas Tree.
The Christmas carolers from Calvary Baptist Church stopped by Ron Clark's house in Lansdale, Pa., just long enough to sing a few songs and drop off some brochures. "They left all this material for us to look at," Ron recalls later.
The GARBC announced two important contract agreements after the Council of Eighteen meetings in November, including formal details of the Meacham Road property sale and …
SCHAUMBURG, Ill.—Staff at the GARBC Resource Center celebrated Christmas with praise, laughter, songs, encouraging comments from the Word, games, and a catered barbeque.
CAMBRIA, Calif.—"What a great weekend we had celebrating God's faithful blessings over the past 50 years here at First Baptist Church!"
SAN JOSE, Calif.—Grace Community Church has called Philip Flores Jr. as pastor. He "comes highly qualified to pastor," says Ron Schrock, state representative of the California Association of Regular Baptist Churches.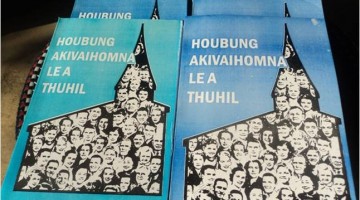 MANIPUR, India—The Doctrine and Administration of the Church is now available in Northeast India bookstores and is "bearing fruit," says translator Lhunsei Kipgen.
PERRY, Ga.—Marie Christina Russell Henzler, a sheriff's office chaplain, died Nov. 13 at age 83.
TEMPE, Ariz.— "Mom was never a 'career missionary,'" says Mildred Lang's daughter, Fran Elnicky, "but her ministries of helps were a blessing to many." Mildred died Oct. 22.
CEDAR SPRINGS, Mich.—First Baptist Church ordained its youth pastor, Chris Howard.
TOLEDO—Ten years of planning culminated in the opening of a new children's wing at Emmanuel Baptist Church, a $1.6 million project that expands and consolidates its ministry from the nursery through fifth grade.
MEMPHIS, N.Y.—First Baptist Church is meeting in a new home in a new location after a snowstorm destroyed the church's building in 2011.
FISHERS, Ind.—Crossroad Fellowship's ladies' group, Joy of the Journey, met for its annual conference with speaker and singer Damaris Carbaugh.
WASHINGTON, Iowa—Prairie Flower Baptist Church has called David Cotner as pastor.
CLARKS SUMMIT, Pa.—Baptist Bible College and Seminary honored longtime Bible and theology professor Joe Schloegel on Oct. 24, with special gatherings of faculty, students, and staff held throughout the day.
"We're going to do something incredibly bold and incredibly crazy," Thomas White said during his inauguration as president of Cedarville University. "We're going to teach the Bible."
Why do evangelicals question the historical existence of Adam? What motivates their thinking? In this excerpt from Zondervan's Four Views on the Historical Adam, William …
My snail-mail box and e-mail inbox are inundated on a weekly basis from conference organizers and eager publishers who want to show me how to …
Read the Baptist Bulletin online or contact our subscription department to receive the print edition by mail. Ask about our group rates for churches—read the most up-to-date information about the General …
KOKOMO, Ind.—Bible Baptist Church honored Bill and Lois Carmichael as they prepare to retire after more than 50 years of ministry.
CASA GRANDE, Ariz.—Victory Baptist Church hosted a statewide men's retreat Oct. 18 and 19.
ROCHESTER, Minn.—The Minnesota Association of Regular Baptist Churches took a bus trip loaded with adventure.
BATAVIA, N.Y.—Members and staff from churches across New York came together for resources, Bible teaching, worship, and connection at the Empire State Fellowship of Regular Baptist Churches' fall conference.
DOVER, Del.—Maranatha Baptist Church held an event reminiscent of revivals from the past.
BANGKOK—On Thursday evening of the International Ministries All-Partners Conference, Chris Hindal, GARBC International Ministries director, introduced Dr. H. C. Stephen as the new Council of Eight chairman.
In his recent contribution to Four Views on the Historical Adam, Dr. William Barrick articulates a position that is also affirmed by the GARBC's Articles …
BYRON CENTER, Mich.—Kenneth Eisentrager, a retired pastor, died Oct. 21 at age 92. Ken was born in a farmhouse in Red Rock Township, Minn. After …
DANA POINT, Calif.—Pastors and wives of churches in the California Association of Regular Baptist Churches got together for a retreat.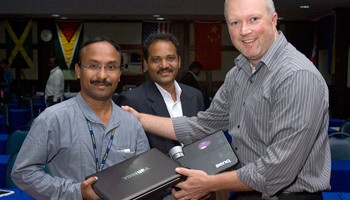 BANGKOK—Mistaking me for someone who must be the most popular deity in the pantheon of Eastern gods, many international partners approach me the first two days of the conference with the same hopeful question. "Are you Chris Brown?"
SEBRING, Fla.—Thousands of veterans, full of memories from their years in the military, live and work among us. Today we pause to tell them thank you.
WEST UNITY, Ohio—Donald Love, a former medical missionary, died on Oct. 11, 2013, at age 81.
LOS ANGELES—Chris Brown and Darrell Goemaat thought it was going to be an easy airline connection to Asia when they arrived in Los Angeles this morning on their way to the IPFBM All-Partners Conference in Bangkok, Thailand.
PORTSMOUTH, Ohio—When 400 teens and leaders from 19 churches converge in four locations, the result is one big multisite youth rally.
BUSHKILL, Pa.—Mountain Stream Baptist Church, a church plant of Project Jerusalem, is celebrating five years of God's faithfulness.
GRAND RAPIDS, Mich.—Good News Baptist Church installed Brian Cederquist as pastor.
CARROLL, Iowa—The weather was ideal for the Iowa Association of Regular Baptist Churches' third annual Fall Singles' Outing held at the acreage of Dean and Nancy Rogers just north of Scranton.