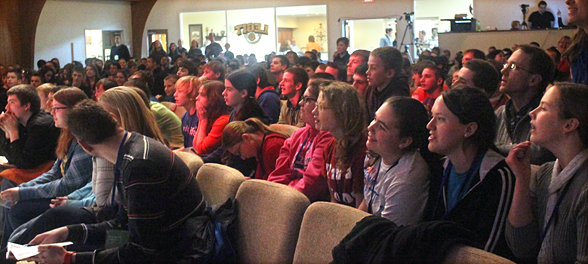 HORSEHEADS, N.Y.—Young people from across the state of New York attended the annual Youth Seminars organized by the Empire State Fellowship of Regular Baptist Churches. Each year over 1,200 young people attend the Friday and Saturday seminars, which are held in four locations.
Students chose one of four locations in which to meet: Tabernacle Baptist Church in Poughkeepsie, First Baptist Church in Horseheads, Calvary Baptist Church in Norwich, and First Baptist Church in Marilla. Each location featured its own main speaker, including Mel Walker, a Regular Baptist Press author who spoke in Marilla.
Nine practical workshops addressed the theme "Legit: True Friendship," which included "Choosing and Losing Friends," "You Go First," and "My Friends and I Make Each Other Better."
The goal of the Youth Seminars is to inspire, encourage, and challenge students in grades six through 12 toward Christian growth through relevant worship, great fellowship, and Biblical teaching.