The General Association of Regular Baptist Churches welcomes three churches intofellowship and rejoices in the planting of new churches.
Clarks Summit University has been strengthening its department of online learning with new hires and reorganized roles.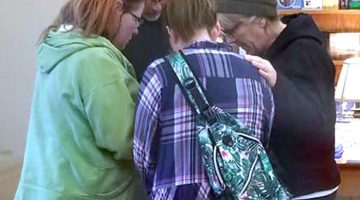 All the churches in the Nebraska Association of Regular Baptist Churches have been accounted for regarding this month's catastrophic flooding.
Constance Woolford, 80, died on March 10, 2019. Connee and her husband ran a business together before eventually working for Regular Baptist Press.
GARBC National Representative Mike Hess and his wife, Christina, were thrilled to visit Bob Jones University for the first time and were blessed by the school's generous hospitality.
Fellowship Baptist Church hosted the spring meeting of the Sunshine State Ladies' Fellowship.
Emmanuel Baptist Church hosted a missions emphasis based on the book Radical: Taking Back Your Faith from the American Dream.
Melissa Arlene Spurlock, retired missionary nurse and translator, died March 5.
a ministry called Shepherd's Closet has given scores of volunteers an opportunity to minister to both believers and unbelievers.
Hindered by language barriers, the small, urban congregation of Dynamic Life Baptist Ministries in Kansas City couldn't reach their neighbors, but they could open their doors—which is what they did.
For many years, the DelMarVa Baptist Fellowship has wanted to see a church planted in the Bowie area of Maryland. With the organization of Shiloh Baptist Church, the fellowship is beginning to see this desire come to fruition.
Tri-City Baptist Church hosted a one-day conference for Hispanic ministry leaders. Billed as the Hispanic Think Tank, the conference was the first to be held in the West.
For the first time in the MARBC's history, its annual conference was held in two sites simultaneously, in the lower and upper peninsulas of Michigan.
Desiring to build bridges with community residents, businesses, and organizations, Washington Baptist Church held "Harmony in the Park" with help from two other churches.
Leaders and law enforcement officers gathered with Broadview Baptist Church to celebrate the efforts of the North Lauderdale Police Department.
The 36th annual Baptist Children's Home Bike-a-thon was a huge success, reports assistant treasurer Craig Freyenberger.
Family and friends of Joseph and Lucy Chapman helped the couple celebrate 70 years of marriage. They have lived at Maranatha Village in Sebring for 28 years.
Each year the educational leadership of Fellowship Baptist Church hosts a breakfast to honor the church's Sunday School workers and students and to introduce Sunday School to those who do not attend a class.
Fifty-five volunteers from Camino Verdad y Vida and Vietnamese Living Water Baptist Church worked together to host VBS at International Baptist Church.
Genella Versluis, a veteran missionary, died Aug. 21. She was 92.
"Our desire at the Deaf Baptist Church," says Pastor Kevin Maki, "is to reach the deaf for Jesus Christ. We understand the needs of the deaf community. We want to win deaf souls for Christ and disciple them so that they can live a victorious Christian life in the deaf community."
Talents For Christ propels students to excellence in their service for Christ.
With the current congregation of Faith Baptist Church representing 18 nations, the church has been enjoying the rare blessing of unity with diversity. "It is truly a treasure to have such diversity within our church," the congregation says.
Every Labor Day weekend, Calvary Baptist Church hosts its annual Midwest Old Threshers Reunion. The event brings in thousands of people who love antique tractors, steam engines, and the company of old friends.
A team of 24 from Fellowship Baptist Church ministered in Jamaica at Independence Hall Baptist Church in Axe and Adze alongside Pastors Hervill Willey and Kingsley Smith.
Madagascar and South Africa aren't all that far apart geographically, but for Daniel Comings, they were like separate continents. Comings, associate pastor of Fellowship Baptist Church, visited both countries as part of Fellowship's summer missions team ministry.
For the 15th year, First Baptist Church of Wellington partnered with First Baptist Church of Elyria for a joint outreach at the Lorain County (Ohio) Fair.
On Aug. 24, Pastor Richard C. Piatt II of Fellowship Baptist Church did not know who would be preaching in the morning service. That mystery began a morning of honoring him for 20 years of service.
Abbe Road Baptist Church, Elyria, Ohio, has a lot to celebrate: a new pastor, a smooth transition, four new believers in recent weeks, and its upcoming 50th anniversary.
When a seven-member team from Cornerstone Baptist Church returned from a missions trip to Haiti this summer, they came back with a greater awareness of needs and opportunities, and on fire for God.