The idea that shame has no place at all in the life of the believer says too much.
Regeneration is not a cooperative effort between God and man. God initiates the new birth by reaching down to us in love, mercy, and grace and lifting us from our lifeless condition. We do not meet Him halfway.
Mothers are not generally regarded as warriors. However, the Bible describes some mothers who fought in a hand-to-hand combat for their children.
The crowd who welcomed Jesus into Jerusalem may have been fans of Jesus, but they certainly weren't followers of Jesus.
Jesus is serious about His disciples working while He is away. Why do you think that you will be more fervent about serving Him tomorrow if you are unwilling to serve Him today?
Because we don't know when Jesus will return, we must always be ready. To be ready is to be faithfully working for Christ. There is no time for casualness or time-wasting. The Master is coming. We must be working.
Have you ever squandered a clear opportunity to testify about Jesus? The fear of man is strong. But we can consider ourselves in light of Who God is and fear Him most of all.
Whether spontaneously uttered, purposefully remembered, or extensively prepared, our gratefulness to God for Who He is and what He has done for us should be expressed regularly.
The past two weeks have seen amazing events taking place in Jerusalem on the Temple Mount. These events may well be a precursor to the fulfillment of important prophecies relating to the end times.
What does it mean to be spiritually free? It speaks of a status that is not true of everyone in this world.
Within quite a few supposedly evangelical churches, we are witnessing the adoption of Catholic and Orthodox aesthetics and liturgical practices even where official allegiance to Catholicism or Orthodoxy is not claimed.
Church membership actually matters and is not only biblical, but practical and pastoral.
Any putative gospel that denies justification through faith alone is a false gospel, whatever other elements of truth it may contain.
What is a healthy church? A healthy church is one that maintains its first love.
The real meaning of Christmas is a message of hope flooding a darkened world with marvelous light, healing old wounds, reviving broken dreams, and setting the captives free.
Sometimes the water we are trying to navigate gets a little shallow, doesn't it? This is the precise time we need to sail into God's channel of peace.
The Gospel of Luke gives us a wonderful window into how Jesus changed the world in three short years. Luke shows that prayer played a vital role.
"I do all things for the sake of the gospel." So said Paul in 1 Corinthians 9:23. I wonder whether this verse can sustain all the freight that has been loaded onto it over the years.
One of the more frequent retorts that is thrown at Christians is that we are not to judge. Unfortunately, some Christians have picked up on this and are propagating it too.
Every philosophy rests on certain pillars—certain foundation stones. The gospel is Christianity's foundation.
Can you imagine the roller coaster of emotions that took the followers of Jesus on a wild ride during His last week?
The death of Christ was not the mere actions of the frenzied mood of misled Jews. Christ's death was part of God's purposeful plan.

Controversy over Islam is increasing both within American religion and among American political candidates. How are Christians, and especially Baptists, supposed to think about Muslims?
In the debate concerning evolution and the age of the earth, certain arguments I grow tired of hearing. We spend so much time dealing with silly ideas that we cannot move on to the real meat of the issues.
An axiom of the Christian life is, Those who are truly saved will suffer. Living in the here and now means some degree of struggle.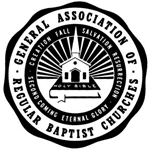 2015 GARBC Annual Conference resolution, passed by voting messengers, Same-Sex Marriage.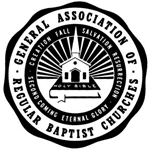 2015 GARBC Annual Conference resolution, passed by voting messengers, Our Connection to Christ.

The greatest danger facing the believer is not future persecution but daily love seduction from the world system.
When reading books or hearing sermons on parables, you may well encounter some interesting commentary. Too often people approach the Bible's parables as if they were true accounts.
The relationship between divine sovereignty and human responsibility (or free moral agency) has long been a fixation for me.
Q. Please comment on the practice in many churches of dedicating infants and children in a church service ceremony. Is there a Biblical basis for …
Q. Lately some friends have begun attending a church that doesn't have membership; a person who simply attends is considered a member. Is this right?
A. In the last few decades an increasing number of churches have gone this route, particularly so-called megachurches. The Bible doesn't specifically use the word member concerning local churches, and I am not going to judge those churches that do not have what we might call formal membership. However, I believe a positive, Biblically harmonious case can be made for it.
Q. Two verses, 1 Samuel 16:7 and 16:12, seem to contradict each other. Please explain.
A. Samuel was to anoint a new king to take the place of wicked King Saul. God instructed Samuel to go to Jesse the Bethlehemite to find a king among his sons. Verse 7 says that the Lord warned Samuel not to evaluate the sons by their looks, "for the Lord does not see as man sees; for man looks at the outward appearance, but the Lord looks at the heart." After God indicated that the sons, one by one, were not whom He had in mind, verse 12 says that there was one son left, "so he sent and brought him [David] in. Now he was ruddy, with bright eyes, and good looking. And the Lord said, 'Arise, anoint him; for this is the one!'"
Q. Occasionally I hear preachers and others telling us to "pray for the peace of Jerusalem." How can this be right or even possible in …
Q: I have a question about the belief some have that each Christian has a personal guardian angel that watches over and protects us through …
Q. Please comment on Psalm 2:12, which mentions "kissing the Son." A. The phrase "kiss the Son" is figurative language, referring to the actual practice …
Q: Is it wrong to invest time in genealogies, family trees, etc.? I refer to Titus 3:9. A: Titus 3:9 reads, "But avoid foolish disputes, …
Q: In reading the book of Daniel, I came across something that appears to be contradictory. Daniel 12:11 says 1,290 days, while my understanding from …
Q: What does "born of water" in John 3:5 mean? A: Several views exist. Some believe it refers to water baptism, meaning that a person …
Q: We're convinced Jesus never married, contrary to what some attention-getting liberals have advanced lately, but what about His disciples? And if any of them …
Q. Are churches required to use bread without yeast in observing the Lord's Table? A. Churches use a variety of elements in Communion bread, but …
Q. Please explain Matthew 7:1 in relation to our need to exercise discernment. A. The familiar verse is, "Judge not, that you be not judged." …
Q. Recently I heard that a certain cult teaches we can become gods, based on Psalm 82:6 and John 10:33 and 34. Please comment. A. …
I'm resuming this series after a break.  I struggle with breaking this down into "bite-size" chunks.  I already looked at how this type of language …
Q. Please explain what two curious statements mean Biblically: "Many who are first will be last, and the last first" (Matthew 19:30; cf. 20:16); and …
Q. I have met some believers recently who say that to truly be spiritual, one must know the original languages of the Bible (Hebrew and …
Q. I have some questions about Adam and Eve when they sinned. Where was Adam when Eve was tempted? Also, why does Adam apparently get …
Prior to the 1970s, most Baptists did not observe Lent, a 40-day period of penance, voluntary fasting, and self-denial. Now several Baptist leaders are suggesting this should change.
Q. Why do we worship on Sunday instead of Saturday? Is it true that Sunday worship originated in Roman Catholicism? A. It may be true …
Q. In Genesis 3:22, God said, "Behold, the man has become like one of Us, to know good and evil." Many theologians say "Us" is …
Q. When the Hebrews left Egypt, they took their herds with them. Why didn't they eat their flocks instead of complaining and receiving manna? Also, …
Q. Recently I was introduced to some literature by a group that says believers should petition angels. The group says that angels are our best …
Q. People in our fundamental circles believe that the so-called sign gifts in the early New Testament church, such as speaking in tongues, ceased and …
Q. In Acts 23 or 24, Paul talks to his accusers in either Aramaic or Hebrew—it depends on which translation one reads. What is the …
Q. Please comment on "unworthy" in 1 Corinthians 11:27. I'll admit I sometimes am afraid of taking the Lord's Supper unworthily. A. If you are …
Q. Please comment as to who the "angel" is in Revelation 2:1. A. Revelation 2 and 3 include messages the Lord gave to the seven …
Q. Legalizing polygamy has been in the news lately. If it's wrong, why did so many Old Testament believers practice it? Why did they go …
Are we commanded to pray for the salvation of the lost? Mathew 9:37, 38 – Pray for laborers Acts 4:29–31 – Pray for boldness Colossians 4:2–4 …
Q. Just when did Satan fall? Why did God allow Satan to fall, and why did God even create Satan in the first place? A.To …
Q. Please comment on Exodus 11 and 12, where the "death angel" supposedly killed the firstborn of any families who didn't have blood sprinkled on …
Q.  After Job's intense suffering, the Bible says he was given more than he had before his trials began, including seven sons and three daughters. …
Q. Recently I came across a person who insists that Baptists are the only true church because only Baptists can trace their heritage to John …
By Daniel Hartwig Are you dealing with someone who insists that the King James Bible is the only valid Bible translation for churches to use …
Q. We are currently in Ezekiel in Sunday School, and I am stuck (I teach the adult class). I have a problem knowing which judgments …
Q. Every now and then in Scripture, I read about God asking people questions. Why would God, Who knows everything, bother to ask people things? …
Q.  In Exodus 2:18, the priest of Midian and father of Zipporah (wife of Moses) is named Reuel. In Exodus 3:1, the father-in-law of Moses …
Q. Why should we oppose the "prosperity gospel" in the light of 3 John, verse 2? A. The verse reads, "Beloved, I pray that you …
The IARBC meeting has come to a close, but during the meeting there was a Q&A with Kevin Bauder and Paul Hartog. Most of the questions …
Several months ago John Piper invited Rick Warren to be a part of the national Desiring God conference coming up this fall. This news has …
"For as Jonah was three days and three nights in the belly of the great fish, so will the Son of Man be three days …
Andy and Jennifer Naselli recently reviewed theology books for younger children. Their reviews can be found here. To their list I would add and highly recommend …
It's interesting how certain things intersect. Mark Driscoll on the Resurgence blog has an eight-minute video about "fundamentalists" and their problems: "7 Ways to Know If …
Like I said, it's funny how some things intersect. After viewing Mark Driscoll's video and reading Faith Pulpit, you have to read Kevin Bauder's latest In the Nick of …
Q. Do you think the pontiff at Rome could be the Antichrist? A. Some people believe that the pope is indeed the Antichrist, regardless of …
Q. Please explain what the apostle Paul meant in 1 Corinthians 5:5. A. The verse reads, "Deliver such a one to Satan for the destruction …
Many of you have heard the term "missional" before. It is a buzzword among churches that are seeking to be relevant in their communities in …
We've had a lot of discussion on the Manhattan Declaration. Here's another follow-up with a helpful discussion guide put together by John Greening, who has been …
Q. Is Jericho also known in the Bible as the City of Palms? If so, I thought Jericho was destroyed by Joshua and not rebuilt …
Q. Is the story told in John 12:1-8 the same as the one in Matthew 26:6-13? I read a study that says so, but the …
Q. Please explain what Revelation 3:10 means. A. The verse reads, "Because you have kept My command to persevere, I also will keep you from …
All right, getting back to looking at "already/not yet."  I have been thinking through the best way to break this down, and I'm going to …
There still continues to be plenty of discussion about the Manhattan Declaration. To point out some of the better discussion: David Doran continues to jot …
The Manhattan Declaration is starting to take the blogosphere (if nowhere else) by storm. Basically it's a statement by a group of more or less …
Have you ever been discussing theology or reading a book and heard the speaker say something like, "Well, this is a case of the already/not …
Like many of you, I subscribe to various and sundry blogs in order to keep up on what's out there in theology, church ministry, and …
Q. In Luke 9:1–6, Jesus told His followers not to take various necessities with them when they went out to minister. Why did He instruct …
Q. In Genesis 44:5, it appears that Joseph practiced divination. I can't imagine Joseph, the godly man he was, being involved with such. Also, I …
An understanding of how the new covenant (Jer. 31:31ff.) integrates into dispensational theology is a much discussed point of theology. Questions like, "How does the new …
A final passage and then Dr. Myron concludes: (6) 2 Corinthians 4:3–6.  In these verses there is both a problem and a solution. (a) The …
Dr. Myron Houghton works through more Biblical evidence as he looks at another passage of Scripture. (5) 1 Corinthians 2:1-16. Introduction. In the first chapter, Paul tries …
This week we look at a single passage in 1 Corinthians as Dr. Myron Houghton continues to examine the Biblical evidence: (4) 1 Corinthians 1:17-31. …
Biblical information In this section of the paper, I want to examine six passages in the New Testament that will help us to develop a …
Here we get a summary of the evidentialist and presuppositionalist approaches to methodology. Next week will be the Biblical evidence. A METHODOLOGY FOR APOLOGETICS Evidential …
We have the privilege of having a paper on apologetic methodology by Dr. Myron Houghton at Faith Baptist Theological Seminary that I'm dividing up into …
Q. There's a section of 1 Corinthians 15, verses 39-44, that simply doesn't make sense to me. Please explain. A. Looking at the whole context …
Q. What did Jesus mean when He told His disciples to "fear him which is able to destroy both soul and body in hell," if …
The surprising science of motivation I ran into the video of this talk on Matt Perman's blog. He said it was definitely worth the 18 minute investment …
Al Mohler spoke about the future of the Southern Baptist Convention. While obviously specific to SBC issues, there is much that someone trying to reach this …
You know people have been doing those "25 random things about me" notes on Facebook recently . . . Right? . . . Okay, are …
Why is God in control of His universe? As we read through the Bible, we see that God reveals Himself to people in love (Exod. …
by Dr. Stallard At this point it is possible to formulate with more precision the essence of dispensationalism in light of the foregoing remarks. First, …
by Dr. Stallard It has been shown that dispensationalists and nondispensationalists approach the harmonizing of the Old and New Testaments in different ways. That is, …
by Dr. Stallard The most basic objection that has been raised against dispensational literal hermeneutics is that the term "literal" does not possess such a …
Q. Taking the view your group does on dispensationalism, premillennialism, and the pretribulational Rapture, I sense that you don't believe in peacemaking in the world …
Q. First Corinthians 15:51 and 52, apparently referring to the Rapture, link that great event with a sounding of the last trumpet.  In Revelation 11:15-19, …
Q. Why does Revelation 5:6 speak of seven Spirits, when there is only one Spirit? A. The "seven Spirits" should be regarded as "sevenfold Spirit," …
Q. Why did Nicodemus come to talk with Jesus during the night? A. Nicodemus appears three times in the Gospels; you are referring to the …
As Greg posted in his "Introduction to Christianity and Culture" we're getting started on organizing and publishing this blog. We want you involved! I'm in …
Q. When one searches for information in Scripture on Jesus' childhood, why do we find so little? One would think that more of Jesus' example …
Q. Is it right to call Jesus the "Lily of the Valleys" and "Rose of Sharon"? A. Song of Solomon 2:1 presents a conversation between …
Q. I've always been under the impression that the Antichrist will be a Jew. Is this correct? A. The belief that the Antichrist will be …
Q.What is a proper Christian response to people who claim Christmas and other Christian celebrations are pagan? A. First, if we are honest, we are …
Q. I can't understand 2 Corinthians 8:3. It appears that these believers, giving "beyond their ability," were going into debt, and the Bible forbids indebtedness. …
Q. How does one answer an amillennialist to prove Christ will reign a literal thousand years on earth? Revelation 20 clearly says so, but that …
Q. Why do believers, including Bible characters, have disagreements, when they all are supposedly indwelt by the same Holy Spirit? One would think that all …
Q. Is marriage a covenant? A. I assume you are not asking about so-called covenant marriage, which has been in the news. In contrast to …
Q. Which of these two words should we use—"sin" or "sins"? Is there any difference between the two? A. A fine passage to observe is …
Q. How did the word "Easter" get into Scripture? Easter has pagan connotations. A. Acts 12:4 is the single use of the word "Easter" in …
Q. Explain Matthew 22:13 and 25:30, where a person is said to be cast "into outer darkness." Was the person a Christian? In Heaven, will …
Q. I'm concerned about coming in last, if that is the right way to put it, when it comes to Hebrews 12:1 and 2. It …
Q. Biblically, how does one witness to a Jehovah's Witness? A. Your question reminds me of a story told by a pastor. A church member …
Q. (1) Who was Jesus referring to when He said, "Get behind Me, Satan" in Matthew 16:23? (2) What did Jesus mean when He called …
Q. Did Adam and Eve ever repent after their sinning in the Garden of Eden? A. Initially they didn't, of course. The Biblical account shows …