First Baptist Church enjoyed several days of fruitful partnership with Galkin Evangelistic Ministries.
On Aug. 24, Pastor Richard C. Piatt II of Fellowship Baptist Church did not know who would be preaching in the morning service. That mystery began a morning of honoring him for 20 years of service.
Strait View Baptist Church called a recognition council to examine its constitution and bylaws. Strait View Baptist is a church plant that is a joint effort of Faith Baptist Church, Sequim, Wash., and Continental Baptist Missions.
Abbe Road Baptist Church, Elyria, Ohio, has a lot to celebrate: a new pastor, a smooth transition, four new believers in recent weeks, and its upcoming 50th anniversary.
Rustic Hills Baptist Church celebrated its 50th anniversary with western-theme events.
MODESTO, Calif.—Sovereign Grace Baptist Church has called Johnnie Sloan as pastor. He takes over the leadership of Pastor William Heinrich, who started the church in 2001. The process of passing the torch began 10 years ago when Sloan became a part-time pastor, being mentored by Heinrich.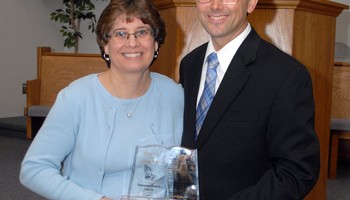 NAPERVILLE, Ill.—Emmanuel Baptist Church of Warrenville honored Pastor Dale and Shirley Williams with a surprise celebration for having completed 25 years of ministry with the church.
URBANDALE, Iowa—A building project that began in 2003 came to a debt-free conclusion with a mortgage burning at Urbandale Baptist Church.