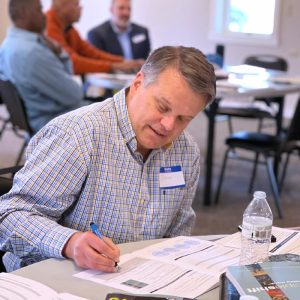 JAMESTOWN, Ohio—Church leaders of the Ohio Association of Regular Baptist Churches gained wisdom and encouragement in ministry reproduction at two Church Solutions Conferences.
The conferences took place at Shawnee Hills Baptist Church in Jamestown, in southwest Ohio, April 5 and Northfield Baptist Church in northeast Ohio April 12.
Both conferences were sponsored by the GARBC's Generate ministry and developed by EveryEthnē, the North American ministry of ABWE. Clare Jewell, director of Generate and a member of the EveryEthnē team, along with EveryEthnē's Thad Bergmeier, facilitated the conferences.
The Church Solutions Conference is designed to equip churches for ministry reproduction by helping them strategically think through the systems and culture of a healthy church that multiplies believers, leaders, and church plants. In an even greater effort toward that end, all of the registration proceeds will be given to an OARBC church being planted or revitalized.
Chuck Pausley, state representative of the OARBC, was pleased with the content and attendance of both conferences. Clare and Thad "did an excellent job communicating the materials and using creative ways to involve the pastors and church leaders," Chuck says.
Clare and Thad challenged participants to evaluate their churches and determine which steps to take to multiply their churches and leaders. Each attendee left not only with a vision for multiplying ministry but also with an armful of books and resources to implement the teaching of the conferences.
Upcoming Church Solutions Conferences will be held in Florida, Indiana, North Carolina, and Oregon. Visit Church Solutions Conference to see the schedule and register.