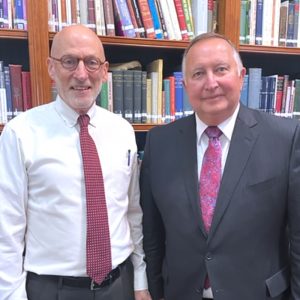 SMITHVILLE, Ohio—Pleasant Hill Baptist Church welcomed David Strope, GARBC interim national representative, to speak June 12.
During the morning worship service he spoke on "Renovation Rules: God's Design for Local Church Renovation," from 1 Corinthians 1, and that evening he spoke on "What Does God Teach through Affliction?" from Psalm 119.
In addition to preaching, David presented the many ministries of Regular Baptist Ministries and answered the congregation's questions about RBM.
Though Regular Baptist Ministries has a significant financial need, as Regular Baptist Press sales have not rebounded to pre-COVID levels, "God is so good, and His mercy endures to all generations. He has been good to our fellowship," David says.
God has also wonderfully blessed Pleasant Hill Baptist Church, "carving out of the farm fields of central Ohio a healthy, thriving church family," David says.
Steve Olsen has spent his entire ministry life as pastor of this church, serving since 1978.