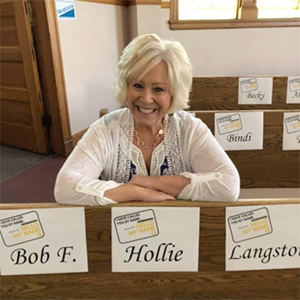 NEBRASKA CITY, Neb.—First Baptist Church is using a creative way for its congregation to stay connected when they can't meet face-to-face.
On the first Sunday when the church was unable to gather for a worship service, Pastor Keith Hunt livestreamed his sermon on Facebook. Immediately after the message, his wife, Susan, who is also the church secretary, created large name tags to put on the pews. She printed out the names of the regular attenders and created a few "Guest" copies, knowing that many people were watching the sermon who do not normally attend the church. Then Susan and Keith taped the name tags to the pews, keeping in mind where each person usually sits.
That evening, March 22, a few of the church members (less than 10 to follow state guidelines at that time) gathered at the church for a prayer meeting. Walking through the pews, they prayed silently for each person. Today the name tags are still on the pews, visible each Sunday in the online service. The names tags not only connect each attender to the church body but serve as a reminder that one day, hopefully soon, the congregation will be able to gather again face-to-face.