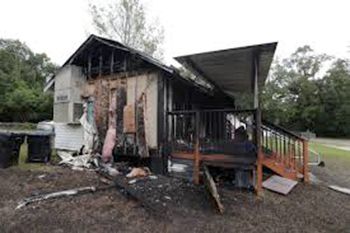 TALLAHASSEE, Fla.—Around 3:00 a.m. on a Thursday last October, Pastor Walter McDonald was awoken by a phone call from a church member, who told him the church was on fire. When he arrived a short time later, flames were still actively burning Providence Baptist Church. Authorities determined that arson was the cause and that the building was a total loss.
Pastor McDonald, who has served this congregation of about 40 people for 29 years, says the church met under a tent on the front lawn on the first Sunday after the fire. After that, the church had been meeting in a community center across the street until restrictions created to slow the spread of the coronavirus suspended all services six weeks ago.
The church plans to rebuild a slightly larger facility on the same property, but with the shutdown, there is no timeline for the demolition and reconstruction. After the fire, Pastor McDonald called Martin Eaton, former director of Baptist Missionary Builders, for assistance. Martin, who had helped the church with renovations in the past, provided a blueprint for a new building that includes some modifications. James Maxwell, acting representative of the Sunshine Baptist Fellowship, and Matt Lethbridge of ABWE have been assisting the church with the rebuilding plans and pricing. The church has a local contractor ready to perform the teardown once the city gives permission to demolish the old building.
Last week the Sunshine Baptist Fellowship sent Providence Baptist Church a check for $13,000 from donations it received from association churches toward the demolition and rebuilding. Combined with the $125,000 settlement the church has received from its insurance company, the church has a good start toward the estimated $400,000 rebuilding project. Some people have already volunteered to help with the rebuilding.
Pastor McDonald says, "The church is disappointed that this happened, but they literally saw the building as no more than just a building. We are thankful that no one was hurt. We can replace the building, and we believe that God will provide."
Pastor McDonald says that the church has a fairly good reputation and that people in the community have also been contributing to the rebuilding project. "We have received gifts from the community and friends almost every week," he says. "We are very thankful to God for the way He is providing, and we trust the Lord to do what only He can do to bring it to pass."
Donate to help churches in their recovery when catastrophe strikes and enable them to assist people in their communities in the name of Jesus.