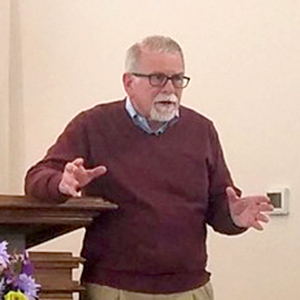 NEW CASTLE, Del.—Pastors and church members attended the DelMarVa Baptist Fellowship Conference at Berean Baptist Church March 10. The DelMarVa fellowship represents Regular Baptist churches in Delaware, Maryland, and Virginia.
Jim Lytle, president of Clarks Summit University, spoke, "sharing two sermons that were so very timely in light of the challenges that were coming in the very near future," says Carl W. Gibbs, associate pastor of Evangel Baptist Church, Hagerstown, Maryland.
"God has a plan when we don't have a clue," Lytle said in his first sermon, based on Exodus 14. Later, speaking from 1 Samuel 17, he reminded attendees that "God gives us purpose. Faith gives us courage."
During a separate session, Lytle shared with the men how post-secondary education can impact churches' ministries, particularly as Clarks Summit University aims to graduate students who are Christ-centered and career-ready. His wife, Diane, spoke to the women on the topic "Better Together," encouraging them to be helpers to their husbands for personal growth and for effective, transformational ministries.
The DelMarVa Baptist Fellowship, Gibbs says, is blessed by the fellowship of the churches and the "joint service that is made possible by their work together for the Lord."