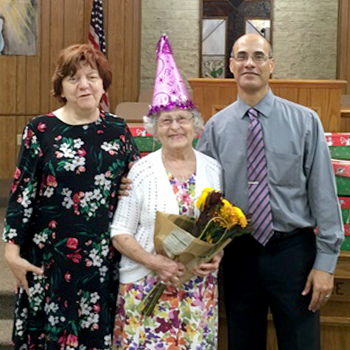 HUDSON, Fla.—A 90th birthday celebration and a Christmas shoebox packing party highlighted the evening of Nov. 8 at Blessed Hope Baptist Church.
The church family celebrated the 90th birthday of Florence Houck, a retired missionary whom the church has supported for 50 years.
Florence served almost 40 years in Niger, Africa, under Evangelical Baptist Missions. Since age 13, she felt drawn toward Africa, and even in high school she was known as the "missionary lady." After graduating from Practical Bible Training School (now Davis College) and French language school in Paris, she arrived in Niger in 1956.
"When I stepped my foot on African soil in 1956, I felt right at home, and I was never homesick for the USA," she says.
Florence served as an elementary teacher and director of the mission's Christian school for 25 years, was the manager of a Christian bookstore in the capital city for another 14 years, and helped organize a fruitful camp ministry.
She returned to the States in 1995. But was she retiring from service? No, not Florence. Within a year she had heard of the need for French-speaking missionaries at Source of Light Ministries in Georgia, so she began 13 years of fruitful ministry there, even traveling to Haiti six times.
In 2009 Florence settled in Hudson, Florida, near relatives, but she has continued French translation work for Source of Light. "Four booklets completed and more to go!" she says.
Throughout the years one of her favorite Bible verses has been Isaiah 41:10: "Fear not, for I am with you; be not dismayed, for I am your God. I will strengthen you, yes, I will help you, I will uphold you with My righteous right hand."
"Florence Houck is dearly loved by our church," says church member Ruth Stoll. "She continues to encourage and to disciple our ladies. Our church is privileged to honor a totally dedicated and gracious servant of our Lord."
That same evening the church family also packed shoeboxes for Operation Christmas Child, a ministry of Samaritan's Purse. Under the direction of Dave and Dottie Bradford, 27 members of all ages filled 120 shoeboxes with the generous donations the congregation had been collecting for months. "Our prayers will follow these boxes around the world for the furtherance of the gospel message to children and their families," Ruth says.
This Christmas, give to Regular Baptist Ministries. "We are committed to using every resource God blesses us with toward the advancement of the gospel and equipping believers in healthy local churches for God's glory," says Mike Hess, national representative. "Thank you ahead of time for your generosity and commitment to the GARBC."