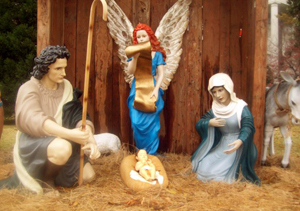 The battle over a nativity scene in Athens, Texas, reached new heights this past weekend, reports theblaze.com, when up to 5,000 supporters flooded the town square to stand firmly opposed to the attacks a prominent atheist group, the Wisconsin-based Freedom From Religion Foundation, has waged on the religious display. The group frequently targets the presence of faith and religion in the public square, and is demanding that a nativity scene be removed from public property. On Saturday, thousands of supporters assembled in Athens Town Square to rally around and support the religious display. Some likened the ever-intensifying scenario to a "holy war." Supporters of the nativity scene believe that Christianity in America is being attacked. "It's time for us to stand together and protect the very principles that made this nation great from its birth," said Pastor Nathan Lorick, a nativity scene supporter. "We've become so busy with our lives that we've forgotten our first love." Rather than a protest, the event reportedly resembled more of a church service, as thousands said prayers and sang hymns. "What we need Christians is to stand and say Jesus Christ is the only way," Pastor Derek Rogers proclaimed.
Other news:
A Michigan woman filed a lawsuit last Wednesday against a public high school district and a teacher who allegedly kicked the woman's son out of class for his religious beliefs regarding homosexuality, reports The Christian Post. The lawsuit, based on an Oct. 20, 2010, incident at a high school in the Howell Public School District, alleges that teacher Johnson McDowell asked student Daniel Glowacki, then 16, to leave his economics class when the Catholic teen shared that he did not support gays due to the teachings of his faith. It was anti-bullying Spirit Day in the school district, and students were allowed to express their support for lesbian, gay, bisexual, and transgender youth who are negatively targeted due to their sexuality. McDowell, according to the lawsuit, told a female student to remove a belt with the image of the confederate flag on it because it signified lynchings. Glowacki then asked the teacher why he was allowed to display a gay pride rainbow flag, while telling others they could not display the confederate flag. McDowell said the two flags represented different things, and asked Glowacki if he supported gay rights. When Glowacki said his Catholic faith forbade him to do so, McDowell allegedly told him and another female student to leave the room. McDowell was suspended for a day without pay, but was able to return to class on a settlement with the school district. Some students, parents, and fellow teachers have expressed support for McDowell's decision to ask Glowacki to leave the classroom. While some argue McDowell was violating Glowacki's religious freedom, others argue he was protecting homosexual students from further bullying. On the Facebook page "Support Jay McDowell," Christian Hendren wrote: "As a gay educator, I am so happy to see others standing up for bullying in the schools. The truth is, bullying in schools will always occur, but it is part of our jobs as educators to keep our students safe. That is what you are doing. Thank you." In his own statement last year, McDowell defended himself, saying, "I did not suspend the student from class that day due to his religious beliefs. I suspended him for his intolerant speech ('I don't accept gays') and class disruption. . . . I believe any symbol or speech that can cause a student to sit in fear in the classroom whether or not there is an outward show of that fear is by its very nature a disruption to the educational process."
An Iranian court is likely to delay its verdict in a case concerning Pastor Yousef Nadarkhani, who is facing the death penalty for converting to Christianity, to allow authorities to further coerce him to convert to Islam as he remains in jail, reports The Christian Post. The evangelical pastor's lawyer has learned that the head of Iran's judiciary, Ayatollah Sadegh Larijani, has asked the presiding judge over the trial, Ghazi Kashani, to delay the pending judgment and keep him in prison for another year, Present Truth Ministries said in a statement Thursday. Nadarkhani, a 32-year-old house church leader from the Church of Iran denomination, was convicted of apostasy last year and was sentenced to death by hanging. However, the Supreme Court of Iran asked for the retrial of his case by a lower court in the city of Rasht in northern Gilan Province. The deliberate delay is meant to let the case "slip away from international attention" even as the authorities continue to "use whatever means necessary to cause him to convert to Islam," said Jason DeMars, the founder of the ministry that was first to report on the pastor's arrest two years ago. It was earlier learned that the court in Rasht had asked Iran's supreme leader Ali Khamenei, the highest ranking political and religious authority in Shi'a-majority Iran, to rule on whether the pastor should be put to death. The pastor was arrested in October 2009 from Rasht for allegedly protesting Islamic instruction in schools for his children, Daniel, 9, and Yoel, 7, and after he sought to register his church. Authorities, however, later changed the charges to apostasy. He has been lodged in a prison in Lakan, about seven miles south of Rasht, since then. In June 2010, authorities also arrested pastor's wife Fatemah Pasindedih to pressure him to convert. During this time their boys went to live with a relative. Yousef and his wife were also threatened that their children would be taken away and given to a Muslim family, but they remained firm. Pasindedih was later released. The Rasht court convicted the pastor of leaving Islam and sentenced him to death in November 2010. The pastor appealed against the Rasht court's ruling at the Supreme Court in December 2010, as apostasy is not a crime as per Iran's penal code. The court, however, held in June 2011 that apostasy was still punishable under Sharia or Islamic law but asked the lower court to reexamine whether Nadarkhani was a believer in Islam when he adopted Christianity at the age of 19. During the hearings held in September 2011, Pastor Nadarkhani was told by authorities that he would be given three opportunities to embrace Islam and renounce his faith in Christianity to have the charges removed. But he refused to do so. On Sept. 26, the court determined that Youcef was a Muslim when he adopted Christianity because he was born in a Muslim family. All witnesses stated that he did not practice Islam, yet the court inexplicably determined he was a national apostate. While the court is likely to wait for another year before reaching a decision, "there are no assurances that he will not be executed," warned the ministry. "It could happen at any time. This is the way that the Iranian government operates with executions. They do not give advance notice and it is done in secret." Meanwhile, ChristianNewsWire reports that in the first official word about Christian human rights lawyer Gao Zhisheng, who disappeared into police custody nearly two years ago, the Chinese government announced Friday that it was revoking his probation and sending him back to prison.
A recently issued report from the International Federation of the Red Cross and Red Crescent has caused concerns that the organization may start advocating for abortion rights, reports LifeNews.com. In a section of the report on human rights, IFRC quotes a widely criticized document issued by Anand Grover, the UN Special Rapporteur on the Right to Health, which says, "States must take measures to ensure that legal and safe abortion services are available, accessible, and of good quality." The IFRC report goes on to editorialize, "But the real challenge is to find out how many states will indeed change their policies accordingly." This may lead some to believe IFRC could eventually declare abortion a human right as Amnesty International did in 2007. Amid much controversy, Amnesty International simply announced that endorsing abortion as a right was a "natural" outgrowth of its two-year campaign countering violence against women.
The State Department is negotiating with Cuban-American Sen. Marco Rubio (R-Fla.) to undo a Republican filibuster on the reappointment of El Salvador Ambassador Mari Carmen Aponte, who posted an op-ed in a foreign paper honoring LGBT Awareness Month. Rubio's spokesman Alex Conant confirmed to The Christian Post Friday that the Florida senator has been in talks with the Department of State after Republicans held up a vote on Aponte Monday, and on a number of other U.S. ambassadorships in the Western Hemisphere. Republicans are determined to derail efforts by the Obama administration to uphold global lesbian, gay, bisexual, and transgender right over the principle of religious freedom.
A number of critics of Obamacare, the president's signature health care decision-making takeover, have argued that the plan actually violates the religious rights of American groups by forcing Christians to pay for abortions. Among those who have issued such alarms are U.S. Reps. Michele Bachmann, Michael Burgess, and Louie Gohmert. Now the same claims are carrying a little different weight; they're being made in a lawsuit being brought by Belmont Abbey College of Belmont, N.C., against Health and Human Secretary Kathleen Sebelius, the federal agency, and others. Phil Kent, chief of the American Seniors Association, told WorldNetDaily that there undoubtedly will be more claims filed in court against Obamacare on the grounds of religious persecution in the United States.
Members of the House of Representatives who submit official mailings for review by the congressional franking commission that reviews all congressional mail to determine if it can be "franked," or paid for with tax dollars, are being told that no holiday greetings, including "Merry Christmas," can be sent in official mail. "I called the commission to ask for clarification and was told no 'Merry Christmas.' Also told cannot say 'Happy New Year' but can say 'have a happy new year'—referencing the time period of a new year, but not the holiday," said a Hill staffer who requested anonymity. Another Hill staffer told The Washington Examiner that "we were given that advice after submitting" a draft mailing. Members of Congress send millions of dollars worth of mail to constituents every year but there are official rules that govern what can and cannot be said in those mailings. Members are barred, for example, from saying anything that might be construed as advocating their re-election. But saying "Merry Christmas" is also not permitted, according to a Dec. 12 memo from the "Franking Commission Staff" concerning "Holiday Messaging."
Another religious liberty case is escalating on a college campus, reports The Christian Post. The Alliance Defense Fund filed a petition this past week with the U.S. Supreme Court on behalf of two religious groups at San Diego State University. The ADF petition asks the Supreme Court to weigh in on a ruling by the U.S. Court of Appeals for the 9th Circuit against Christian student organizations at SDSU. If it decides to take on Alpha Delta Chi v. Reed, the case could ultimately decide the future of how Christian groups at universities can operate. The original 9th Circuit ruling involved Christian sorority Alpha Delta Chi and fraternity Alpha Gamma Omega. These groups required their leaders to agree with a statement of faith. Because of that, they were denied official recognition by the university because SDSU said Christian groups were discriminating against people based on religious beliefs. ADF took the case because other nonreligious SDSU campus groups were allowed to determine membership based on certain criteria, like an affiliation with a political party, or in the case of sororities and fraternities, gender. These same rights were denied to religious student groups, as the university wouldn't allow the Christian groups to require that their members and officers share the religious views of the groups themselves. ADF Senior Counsel David Cortman said in a statement Thursday, "The university is not telling the Democratic club it must be led by a Republican, or the vegetarian club that it must be led by a meat-eater, but it is telling Christian groups that they must allow themselves to be led by atheists. The First Amendment protects the right of all student groups to employ belief-based criteria in selecting their members and leaders."
Opponents and supporters of the 2008 voter initiative banning same-sex marriage in California squared off in federal appeals court Thursday over whether a videotape should be made public of the trial that deemed Proposition 8 unconstitutional, reports L.A. Now. After the U.S. Supreme Court stopped a San Francisco federal judge from allowing live broadcast of the January 2010 trial, the video recording was made part of the trial record but placed under seal. David Thompson, an attorney for ProtectMarriage.com, which sponsored the voter initiative, told the U.S. 9th Court of Appeals that release of the video would intimidate witnesses from testifying in future trials on divisive issues.
So, just how much will President Barack Obama's Hawaiian vacation cost this year? asks a report in conservativebyte.com. That's a question that can't be definitively answered until the costs are in and the trip has concluded, but an assessment of the numbers shows that it will likely be the 44th president's most expensive vacation to date. The Hawaii Reporter has estimated that travel, alone, will cost $3,629,622—a startlingly large figure considering the length of the trip. "And, yes, in case you were wondering," says the report, "taxpayers will be footing a chunk of the bill. After all, it's not cheap to ensure that the world's most powerful leader is safe as he travels and enjoys time away from the grind." Meanwhile, the Tea Party Economist notes that "it pays to be in Congress. Being rich in Congress is not incongruous. . . . Rich politicians have long voted for higher taxes and lots of Federal controls. They do so well as members that they are protected from the effects of their own legislation. They are big government people, because big government has made them rich and powerful."
The upheaval in the Middle East and the rise of fundamental Islamists threaten not only the security of the United States but also the millions of Christians who call the region home, the Rev. Franklin Graham told Newsmax. The Arab Spring toppled long-term despots in countries such as Libya and Tunisia, and a civil war is being waged in Syria between the Sunnis and the Alawites that could spread to Jordan and Saudi Arabia, Graham, son of the legendary evangelist the Rev. Billy Graham, said during an exclusive interview with Newsmax.TV. The Muslim Brotherhood is moving into the power vacuum and wants to "establish Shariah law in every one of these countries and they will roll back the clock in the Middle East." "So it's a threat and it's a threat to the United States, a threat to our security because so much of our oil comes from the Middle East," he said. "But for the Christians that are there—and there's something like 13 million Christians inside of Egypt—their lives are at risk. Churches are being burned, Christians have been killed but it rarely makes the news in this country." Graham's comments reverberate even as Egyptian troops and protesters clashed again in Cairo for the third straight day, pelting each other with rocks in skirmishes near parliament in the heart of the Egyptian capital. At least 10 protesters have been killed and 441 others wounded in the three days of violence, according to the Health Ministry. Activists say most of the 10 fatalities died of gunshot wounds. Also, about 30,000 Islamists in Pakistan staged a protest to condemn the United States and show support for their country's military. Pakistan's military was humiliated by the unilateral U.S. special forces raid that killed Osama bin Laden in a Pakistani town in May, facing unprecedented public criticism. But many Pakistanis rallied behind the military after a Nov. 26 cross-border NATO air raid killed 24 Pakistani soldiers, and plunged already troubled ties with Washington to a low point. Another threat in the region is Iran's rush to acquire nuclear weapons, which some see as a prelude to fulfilling the Biblical prophecy of Armageddon, said Graham, a noted evangelist and president and CEO of the Billy Graham Evangelistic Association and the international relief organization Samaritan's Purse. "They've already said that they're going to use them," he said. "If we don't stop them then Israel will be forced to stop them. I'm afraid the Iranians are going to use their nuclear weapons against Israel when they have them. I believe it's a real threat."
Accentuating a trend that had started four years earlier, notes a report in Patriot Update, young voters broke big for the Democratic presidential ticket: Obama and Joe Biden garnered some 66 percent of voters under the age of 30—a huge generation—and the raw number of young voters increased as well. There are many ways to slice the electorate demographically, but one thing seems clear: Had those numbers been reversed, John McCain would be in the Oval Office today. But that was three years ago, and there are any number of signs that the youngest cohort of voting-age Americans are distressed by the direction their nation is heading in and that millions of them are disenchanted with the man they helped into office in 2008. For starters, the dominant political issue in the United States right now is the economy, and this is especially true for the newest entrants to the workforce. A new national poll of 18- to 29-year-olds by Harvard's Institute of Politics released Thursday showed that in an open-ended question—meaning without prompting by the question74 percent of respondents cited the economy as the most important issue. On that issue, only 32 percent approve of the way President Obama is handling the economy. This mirrors a finding in a poll done in April by a group called Generation Opportunity. The Harvard survey is overseen by John Della Volpe, a Democrat; Generation's Opportunity's researcher is Kellyanne Conway, a Republican who was retained this week by Newt Gingrich. But both are highly respected professionals, and their data dovetailed neatly. The upshot is that Obama has work to do among his most loyal generational cohort. In the Harvard poll, under-30s believe by a 4–1 margin that America is headed in the wrong direction. This is a number that would spell trouble for any incumbent, and not just one whose candidacy promised "hope" and whose mantra "Change you can believe in" was tailored to young voters.