BANGKOK—On Thursday evening of the International Ministries All-Partners Conference, Chris Hindal, GARBC International Ministries director, introduced Dr. H. C. Stephen as the new Council of Eight chairman.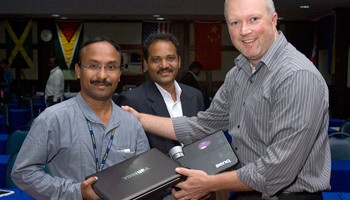 BANGKOK—Mistaking me for someone who must be the most popular deity in the pantheon of Eastern gods, many international partners approach me the first two days of the conference with the same hopeful question. "Are you Chris Brown?"
LOS ANGELES—Chris Brown and Darrell Goemaat thought it was going to be an easy airline connection to Asia when they arrived in Los Angeles this morning on their way to the IPFBM All-Partners Conference in Bangkok, Thailand.