REGULAR BAPTIST MINISTRIES UPDATES

Mike Hess, GARBC National Representative
The next two months will involve thousands of miles of travel for my wife, Christina, and me. The Lord is giving us opportunities to serve at churches, camps, conferences, and state meetings. Also, I'll be preaching in two non-GARBC churches. Interest in our fellowship continues to grow.
The GARBC Christian Character Scholarship online application is up and running. We're grateful to have already received applications. The church staff retirement program is also in gear, and interest continues to increase. Both initiatives serve our churches in practical and relevant ways.
My new presentation, "The GARBC Moving Forward," focuses on three key elements: relevancy, revitalization, and recruitment. I'm grateful for the input of our great team of ministry directors and marketing personnel in helping me clarify our message.
As Christina and I travel and serve, we covet your prayers, which we believe God uses in tremendous ways to fulfill His sovereign purposes.
Mark Johnson, Treasurer and Controller
The start of fall always turns my thoughts toward the coming new year for our ministry. Soon we'll begin planning for it by reviewing our budget and forecasting the best ways to allocate resources. I'm also encouraged by reflecting on God's provision and guidance during this year. Without your prayer, participation, and sacrificial support, we could not continue to serve churches and provide vital Christian education and training materials through Regular Baptist Press. Individuals and churches make this ministry possible, some by leaving a legacy after they go to meet their Savior. This year we rejoiced in the lives of two donors who made generous provision for the ministry in their final wishes. In this season of preparation, let me encourage you to think about the resources God has entrusted to you and consider making an impact through Regular Baptist Ministries. To learn more about what your gifts can do, whether now or in the future, visit us online, get in touch via email, or call (888) 588-1600 to speak with a ministry director.
Manning Brown, Director of Regular Baptist Chaplaincy
During September, the chaplaincy endorsed Seth Johnson to serve as a chaplain in the Air Force. His application with the Air Force is currently in the works. Please continue to pray for Ch. David Troyer and his family, as he is currently deployed.
Recently I spoke on leadership and core values with men of the Eastern Michigan Association of Regular Baptist Churches. It was great to reconnect with pastors I know and meet some new ones.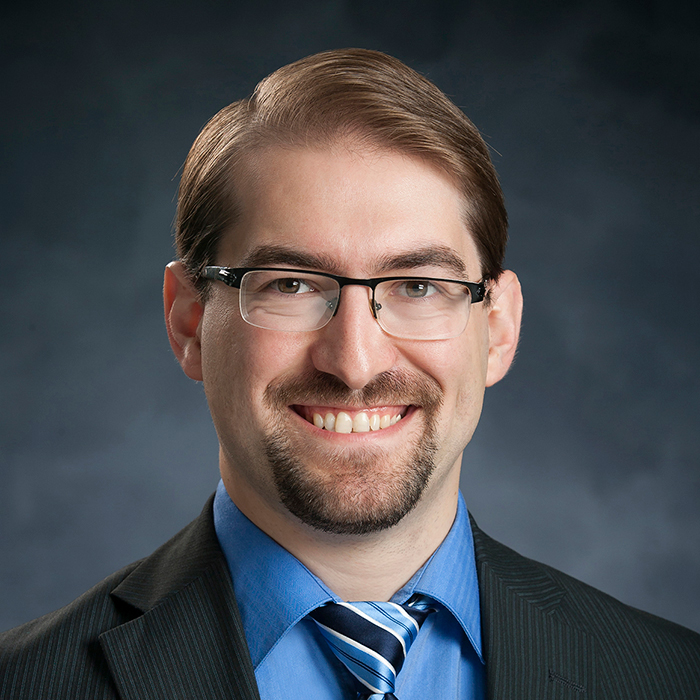 David Gunn, Director of Regular Baptist Press
Even though the Strong Kids curriculum revision is still underway, the time has come to begin preproduction on the Strong Students curriculum revision. Our editorial team is hard at work fleshing out the curriculum sequence, developing prototypes, and investigating options for new and improved features and offerings. This project will constitute a complete overhaul of RBP's church education material for middle school and high school students. Be in prayer for this product line as the preproduction process picks up steam. The New Testament Exposition Commentary series has also officially entered the preproduction phase. While God has graciously provided the funds needed to publish the first three volumes, we are still raising funds for production of the fourth volume. Donations can be made at RegularBaptistPress.org/donate.
Chris Hindal, Director of Regular Baptist International
The riches we enjoy in Christ are beyond our comprehension, yet it is overwhelming to consider the many needs of our partnering ministries around the world. While we tend to value our comforts, they push forward with or without resources.
Consider these circumstances:
Congo. A village church meets outdoors because it lacks the resources to put a roof on the church building.
Congo. The Ebola virus is infecting people, who may die due to lack of clean water and education about hygiene.
Uganda. A lack of rain and the invasion of insects in the rice paddies so diminishes the food supply that people become undernourished and some die.
Uganda. Thirty-two thousand children live without adult supervision. Child labor involves 34 percent of all children between ages 5 and 11.
Tanzania. At a Christian school, teachers are teaching without salaries, and no safe drinking water exists on campus.
India. Dengue fever spreads by mosquitoes, but most people in villages do not have mosquito nets for sleeping. A mosquito net costs five dollars.
India. Flooding from storms demolishes homes, but insurance is nonexistent.
India. A Christian school is growing but needs funds for its multipurpose building, which has been half finished for two years.
Indonesia. A Christian school seeks a means of funding new classrooms.
Haiti. Protestors fill the streets, and traveling is unsafe. Life has become complicated and expensive. The needs at orphanages are beyond Haitians' available resources.
Lord, the love of Christ compels us, but people's greatest need is the gospel. What should we do?

Clare Jewell, Director of Regular Baptist Church Planting and Regular Baptist Builders Club
Great developments in the missions of planting and revitalizing churches are occurring.
Regular Baptist Builders Club just approved its second residency grant. We praise God for the opportunity to invest in the development of a future church planter, Nick Harsh. He is planning to plant a church as soon as his residency is complete.
Several applications have come in for grants for church plants, church revitalization, church planter residencies, and facility improvements. We are excited to see all the ways God is using Regular Baptist Builders Club to help association churches engage in the mission of God.
Twelve regional hub churches are partnering with us to train up leaders to plant and revitalize churches. This is great news! Our goal is to add at least three more churches by the end of 2019. If your church is interested in becoming a regional hub for training up leaders, coordinating church planting, or fostering a church revitalization movement in your region, please contact me at cjewell@garbc.org.
Thank you for your prayer support. If your church does not yet support Regular Baptist Builders Club financially but you desire to lead your church in doing so, please visit Donate. We would love for you to be part of what God is doing to help impact our churches and reach people with the gospel.
RETIREMENT FUNDING FOR NEXT YEAR'S BUDGET

Research indicates that one in five pastors does not save for retirement and only 38 percent of churches offer a retirement plan with their pastoral compensation packages. Many pastors are approaching their golden years without a way to fund their living and medical needs after their full-time ministry concludes. With fall approaching, your church may be considering next year's budget and reviewing its compensation needs. Let us encourage you to consider participating in a retirement plan that is easily accessible and designed specifically for the needs of your church.
The GARBC 403(b)(9) plan, offered through our partner Servant Solutions, makes setting up a retirement account easy. The plan maximizes tax benefits by deferring taxes on contributions and offering a housing allowance designation for withdrawals by qualified participants. A variety of planning tools are offered at no additional cost, ranging from online account calculators to personal advice by investment professionals. There are no fees to join or make changes within the plan, and each account is fully owned by the individual participant. A variety of investment options are offered to meet the needs of participants at any career stage. To learn more and request an account application, visit GARBC.org/retirement. Our plan advisors will send you more information along with the required documents. They will also be available to answer your questions and guide you through the process of joining the plan. Don't delay! Request your information packet today and begin the journey toward a more secure financial future.
REGULAR BAPTIST EVENTS ACROSS THE USA

OCTOBER 2019
3–4: IARBC Refresh pastors' and wives' retreat, Iowa Regular Baptist Camp, Ventura, Iowa
6–7: WARBC conference, First Baptist Church, Kiel, Wisconsin
7–8: IL-MO conference, Camp Manitoumi, Lowpoint, Illinois
12: OARBC youth, Dare 2 Share Live! event, Faith Baptist Church, Amherst, Ohio
13: Southern CARBC SING, First Baptist Church, Wilmington, California
13-14: Northern CARBC meeting, Forest Ranch Baptist Church, Forest Ranch, California
14–15: Sunshine Baptist Fellowship Conference, Southside Baptist Church, Sebring, Florida
17–19: Central CARBC women's retreat, Hartland Christian Camp, Badger, California
21–23: Tristate Regular Baptist Associations Conference, Emmanuel Baptist Church, Toledo, Ohio
21–22: NE Fellowship Bible Conference, Calvary Baptist Church, Preble, New York
26: G2G Islam Training: Detroit, Tabernacle Baptist Church, Hazel Park, Michigan
26: IARBC singles' event, Faith Baptist Church, Carroll, Iowa
REGULAR BAPTIST MINISTRIES
TEAM ITINERARIES
OCTOBER 2019
Mike Hess
National Representative
6: Delhi Baptist Church, Jerseyville, Illinois
13: Southside Baptist Church, Sebring, Florida
14–15: Sunshine Baptist Fellowship Conference, Southside Baptist Church, Sebring, Florida
21–23: Tristate Regular Baptist Associations Conference, Emmanuel Baptist Church, Toledo, Ohio
27: Calvary Baptist Church, Sandusky, Ohio
David Gunn
Director of Regular Baptist Press
19: Cedarville University, Cedarville, Ohio
Manning Brown
Director of Regular Baptist Chaplaincy
Representing Regular Baptist Chaplaincy

Chris Hindal
Director of Regular Baptist International
6: First Baptist Church, Pavilion, New York (a.m.)
6: Emmanuel Baptist Church, Penn Yan, New York (p.m.)
Clare Jewell
National Church Planting Coordinator for Regular Baptist Churches
Director of Regular Baptist Builders Club
6: Visiting Hispanic church, Portland, Oregon
16–17: Conference on forming church planting networks, Chicago, Illinois
19–20: Headwaters Baptist Church, Fort Wayne, Indiana
21–23: Tristate Regular Baptist Associations Conference, Emmanuel Baptist Church, Toledo, Ohio
Mark Johnson
GARBC Treasurer/Controller
17–18: Business Leadership Summit, Faith Baptist Bible College, Des Moines, Iowa
21–23: Tristate Regular Baptist Associations Conference, Emmanuel Baptist Church, Toledo, Ohio