GREER, S.C.—Dr. Arthur B. Walton, former professor at Faith Baptist Bible College and prolific author for Regular Baptist Press, died on Friday, Aug. 16, at his home in Greer. He was 81.
"I have nothing but good memories of my dear brother in Christ," said Dr. John C. Whitcomb in tribute to his friend and former student. "I had the privilege of assisting him in his doctor of theology studies at Grace Theological Seminary and rejoicing to see him graduate in 1972. For many years he was faithful in teaching others the precious truths of God's infallible Word (2 Tim. 2:2)."
Arthur Walton was born in Meadville, Pa., on Oct. 12, 1931, the son of the Don and Ruby Handley Walton, and was a 1949 graduate of Meadville High School. After graduating from Houghton College in 1953, he earned a BD from Los Angeles Baptist Seminary and a ThM from Dallas Theological Seminary. Returning home, he served as youth director of Calvary Baptist Church, Meadville (1957–58), and was ordained by the church in 1958. He earned a ThD degree from Grace Seminary, Winona Lake, Ind., and later in life he earned a DMin from Central Baptist Seminary, Minneapolis.
Walton met his first wife, Virginia, when both were students at Los Angeles Baptist College. She was a church organist and music director who served in several churches. They moved to Omaha in 1960 when Art was hired to teach at Omaha Baptist Bible Institute, originally as a Bible and Greek instructor. They moved to Ankeny, Iowa, when the renamed Faith Baptist Bible College moved in 1967. He was professor and chair of the Bible and theology department, serving at the college and seminary for 45 years, sharing tenure with Dr. Harry Gray as the longest-serving faculty member.
He was a prolific author for Regular Baptist Press, writing nine Adult Sunday School books and numerous Baptist Bulletin articles.
He was survived by his second wife, Kathy Tuttle Thompson Walton; a son, Philip; a son-in-law, Mark Shultz (Mandy); two step-daughters, Sherrie (Mark) Johnson and Cindy (Steve) Skaggs; 13 grandchildren; two great-grandchildren; his brother, Jack (Barb) Walton; and an honorary daughter, Teri Smith.
He was preceded in death by his first wife, Virginia Wenzel Walton, and a daughter, Kelly Walton Schultz.
A memorial service was held on Tuesday, Aug. 20, at Community Baptist Church, Greer, S.C.
Just before his retirement, Walton used a final chapel sermon and later Faith Pulpit article to give what he called "My Swan Song," a sermon from 2 Timothy 4:1–8.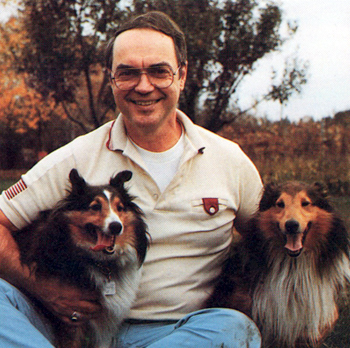 In characteristic form, he said good-bye but said almost nothing about himself. Instead, he focused on the passage, taking the opportunity to challenge his students as believers who should "love His appearing."
"Imagine sharing a reward with the Apostle Paul." Walton said. "But you can! This reward is for all those who love His appearing. Do you long for the coming of the Lord? Are you 'loving' His appearing? If not, could it be because your spiritual life is not in order?"