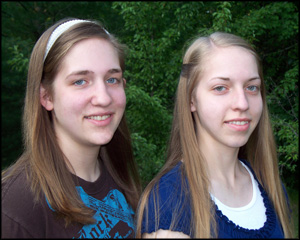 The fantasy world of wizards and dragons appeals to teenage sisters Melissa and Emily Boverhof—so much that they've written a book together in that genre: Seven Candles: The Reclaiming of Haven (Anomalos Publishing House, 2008). Everyone in their congregation at Rice Lake Baptist Church in Grant, Mich., is excited about it and has bought at least one copy of the book (signed by the authors, of course).
The authors' inspiration, however, didn't come from reading the popular Harry Potter books (which they haven't), nor do they plan to see the July release of the sixth Potter film, Harry Potter and the Half-Blood Prince.
Melissa, 19, and Emily, 16, are concerned by much of the modern-day fantasy fiction because the portrayal of magic and wizardry "crosses the line," says Melissa. "The Bible clearly objects to wizardry, yet these books make it look so good, like it could be fun. The truth is, God puts limits on [wizards], so they can't do certain things."
Both Melissa and Emily have had "friendly discussions" with Harry Potter fans in 4-H and their church youth group who dismiss their concerns by saying, "Well, it's just a story." Hence, these homeschooled sisters, who prefer C. S. Lewis's Chronicles of Narnia and Frank Peretti's novels, set out to provide a Biblically accurate alternative. First they spent hours studying the Bible, particularly the book of Revelation, to understand the power of magic, as well as its limits. Then, paralleling their story after the seven churches in Revelation, they concocted most of the 22 chapters of their book while doing chores and feeding their horses, chickens, pigs, goats, and other animals in the barn of their hobby farm.
Despite occasional interruptions from their younger sister and brother, they kept the book a secret from their parents for about a year. "We thought they might think we were silly," Melissa explains. She adds that the book would not have materialized had it not been a collaborative effort. "Before this, I wrote lots of stories and hated all of them," says Melissa.
Emily chimes in: "I started lots of them but never finished them because I didn't like the way they started." Together they got the job done. "Melissa is highly imaginative," says Emily, who catches the mistakes and provides the critical eye to their writing.
"Emily's very useful; saves us a lot of editing," Melissa says.
With the approval of their parents (Steve and Nancy), they prayerfully posted their book online at www.christianmanuscriptsubmissions.com and soon had it picked up by a publisher. It's now available on www.amazon.com.
Friends who've read Seven Candles liked it but say the book left them hanging at the end. No problem. Melissa and Emily are already well into writing the second book of a planned trilogy. For more information, visit thereclaiming.com.