Thank you for coming to teach us the Bible! This is what we need more than anything." This comment, as well as others like it, reflects the consistent testimony of the national pastors and students who are being taught the Word.
The model
Training in the Scriptures equips and empowers national pastors to be more effective in the work they do. We'll call it international education. Its model is stated in 2 Timothy 2:2: "And the things that you have heard from me among many witnesses, commit these to faithful men who will be able to teach others also." God blesses and gives success to such an equipping ministry.
When the apostle Paul gave this model to Pastor Timothy, Paul knew that his earthly ministry was nearly completed and that his departure for Heaven would be soon: "For I am already being poured out as a drink offering, and the time of my departure is at hand" (2 Timothy 4:6). Therefore, we can be confident that Paul was making sure Timothy was well equipped with sound words to do the work of ministry and missions. He admonished Timothy, "Do the work of an evangelist, fulfill your ministry" (2 Timothy 4:5).
The beauty of the 2 Timothy 2:2 model is threefold: First, it is a God-given model. God's Word is completely sufficient to meet every need; God not only tells us what to do but how to do it. In Timothy's case, he was reminded of "the things" Paul had taught him. What were those "things"? From 2 Timothy 1:13 we learn that Paul had taught Timothy "sound words" of godly wisdom. In 2 Timothy 3:10 and 11 we learn that Paul had taught Timothy doctrine, manner of life, purpose, faith, long-suffering, love, perseverance, and even how to endure persecution and affliction. In short, Paul gave Timothy a full education in everything he needed to be effective in his ministry.
Second, it is a self-perpetuating model. Faithful men teach others. It is better to teach ten men to work than to do the work of ten men. Multiplication of ministry is the key to international education. Faithful men overseas teach others, who will then teach others.
One of the students in our On Target Ministry currently holds classes in his church for twenty-seven other pastors in his city who want to learn how to interpret the Bible correctly. Untrained pastors often approach the Scriptures allegorically, leaving them uncertain as to what God really meant by what He said. But our students learn to interpret the Bible literally, using the historical-grammatical approach. This method enables them to preach the Word in power, with the authority of "Thus saith the Lord!" Now the pastors who are being taught are teaching others!
Third, it is a problem-solving model. To be effective, missionaries traditionally must overcome several hurdles. Learning new languages is always a challenge, and it often takes years to discover the intricacies of conversation. Adjusting to new customs is difficult and often frustrating. And understanding new cultures is a monumental task. But a national pastor has already mastered these basics. In addition, he is trusted in his community and has gained the respect of the people he ministers to. He has a ministry and has the freedom of movement to perform it. What the national pastor needs is a deeper knowledge and greater understanding of the Word of God.
While I served as a pastor, I was intrigued with the thought that my teaching ministry could have a worldwide impact—not because I would have widespread personal exposure, but because God would use faithful students to teach others what I had taught them. I was delighted to see the eagerness that characterized the national pastors' desire to learn God's Word, and I was amazed at the effectiveness and zeal with which they ministered it.
International education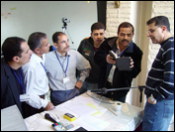 Egypt is one place where national pastors are reaching people for Christ and planting new churches at a record pace. "God is doing an amazing work among my people," one pastor commented.
Three pastoral students decided to take the gospel to some of the small out-of-the-way villages that dot the Egyptian landscape. Each student targeted ten villages and determined, by the grace of God, to lead people to Christ and plant a church in each of his villages. To make it interesting, they decided to see who could accomplish this goal first. After two years, the adventure was completed. Thirty villages now have new local churches! In fact, in one village the pastor reported that no one knew of any adult who did not profess the Lord Jesus Christ as his or her Savior. Praise God!
Another pastoral student wanted to reach people in the developing city of New Cairo. The problem there was that the city zoning commission would not permit churches to be built within the city limits. (Of course, a mosque could be built on every street!) Then the student made an interesting discovery. In every city there are two cemeteries: the Muslim cemetery and the Evangelical cemetery. He learned that the zoning restriction did not apply to the Evangelical cemetery, so he purchased gravesite property in the cemetery and got a permit to construct his church building there. Would you go to a church in a cemetery? Many Egyptian believers will! And in the providence of God, right across the street from the cemetery church building is a new housing development where ten thousand new apartments are being built and given by the government to young married couples. The pastor has already visited many of these couples, and dozens have committed their lives to Jesus Christ.
In Mali, a man named Allison came to Christ and immediately paid the price. He was shunned by his family and persecuted by his neighbors. Nevertheless, he was determined to make his life count for Christ. So he moved to a new town and began helping people. No one wanted to talk to him because he was a Christian, but over time his helpfulness to his neighbors gained their trust and respect. His good works included providing food, a place to sleep, weekly community events, and even television! He installed a satellite dish on his wooden hut and let his neighbors come to watch. The result? He led several people to Christ and helped start a church in which he serves as a deacon. When Allison trusted Christ as his Savior, His parents had his name erased from the legal birth records. Praise God his name is permanently recorded in the heavenly court.
The effectiveness of international education
Why is international education so effective? First, it is Biblical. In our case we make no charge for the courses we teach, but we ask each student to commit to teaching the course to others. The students eagerly make this commitment, and, as a result, people are being led to Christ and churches are being established. One of my students is currently pastoring twelve churches, all churches that he has planted. When I asked him why he was attending school, he responded, "I need to learn the Bible so much better." Then he went on to explain that he teaches the courses he learns at school to the men in his churches. "My desire," he continued, "is to see God call a man from each church to be its pastor so I can go plant twelve more churches!"
Second, international education is effective because it is satisfying. A pastor I taught has personally led classes for hundreds of other pastors in Egypt. It is a joy for me as a teacher to see eager students. Then when these students not only appreciate what they learn but also teach it to others with passion and purpose, my heart is thrilled at the spread of God's Word. The apostle Paul's prayer request to the Thessalonians resonates with me: "Brethren, pray for us, that the word of the Lord may run swiftly and be glorified" (2 Thessalonians 3:1).
Third, international education is effective because it is encouraging. One student has such a passion for teaching the Word that he approached me with an idea. He wanted to order a thousand copies of the Arabic translation of a course I wrote. He then took the notes and traveled to Libya, where he taught this course to a thousand pastors over a four-week period. Just think! The Bible was being taught to faithful pastors in Libya! It is encouraging to see how seriously these faithful men take the commitment of teaching others.
The hardship
However, the effectiveness of the work of international education is matched only by its difficulty. Returning to 2 Timothy 2:2, we cannot help but notice what follows in verses 3 and 4: "You therefore must endure hardship as a good soldier of Jesus Christ. No one engaged in warfare entangles himself with the affairs of this life, that he may please him who enlisted him as a soldier."
Teaching faithful men who will teach others also requires the dedication of a good soldier of Jesus Christ. Every national pastor endures hardship. In Ukraine, the hardship is poverty. Life is hard for the pastors and people. One pastor told me that the main thought each morning is, "How do I survive this day?" Yet in spite of the poverty, these men serve God faithfully
In West Africa the hardships include political unrest. We do not know from one moment to the next how long Americans will be welcome to teach the Bible to national pastors. Our prayer is that God would allow us enough time to thoroughly train a core of men who will carry on the work if the door in any country closes to us.
In Egypt the main hardship is persecution. Every student I teach has experienced loss of some kind. Some have lost friends; others have lost family members. Several have lost power and position. They all recognize that persecution is the price they pay for following Jesus.
The 2 Timothy 2:3 challenge
At lunch one day I asked one of my students how I could possibly explain to the people in America the persecution they endure every day. His answer was simple and direct. "We have learned," he said, "that it is better to die for something than to live for nothing." This sounds like Paul's declaration to the Philippians, "For to me, to live is Christ, and to die is gain" (Philippians 1:21). If we have nothing worth dying for, what are we living for? The vision for world evangelism and the fulfillment of the Great Commission cannot be realized by a church that dotes on itself. But once we take our eyes off ourselves and lift them up to see the fields that are ripe unto harvest, we can begin making our lives count for eternity.
We all need to be "good soldiers" for Jesus Christ. But to do that, we must be willing and ready to endure hardness. We in America do not experience the poverty, the political unrest, or the persecution our brothers and sisters overseas experience every day. We have a different hardness to endure—prosperity. We have so much, yet we seem to do so little of eternal value with it. We do not know when Jesus will catch away His believers, but we do know that He is going to do so! Let us do all we can, while we can, to advance His cause among the nations. What this world needs is the gospel of Jesus Christ. Let us use the resources God has given us to advance the work of Jesus Christ so that people everywhere will be able to say, "Thank you for teaching us the Bible!"
Jim Bearss, Th.D, D.Min., is president of On Target Ministry, committed solely to the work of Serving God through International Education.
Through the International Ministries Department of the GARBC, Chris Hindal helps local churches, pastors, and teachers connect with our partners worldwide.