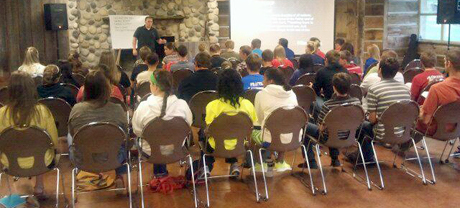 CLEAR LAKE, Iowa—More than 150 teenagers met at three different locations in Iowa to be challenged to go—go with the Good News of Jesus Christ to their friends, family, teammates, coworkers, and schools.
On the evening of Aug. 11, speakers at Iowa Regular Baptist Camp in Clear Lake, Harvest Baptist Church in Williamsburg, and Faith Baptist Church in Carroll challenged teens to reach people around them with gospel. God has a heart for those who are lost in darkness and sin, the teens learned, and they themselves are tools He uses to share His love.
The Go! Conference equipped teens with methods to effectively share the gospel in a onetime setting and taught principles for building relationships in order to share the gospel multiple times with the same individual. Several books and materials were given away as tools to further encourage evangelism.
"The hope with multiple locations is to make it easier for more churches to attend this event," says the Iowa Association of Regular Baptist Churches State Youth Committee.
The seven committee members worked together to make the event a success. Members Matt Reno, Greg Gosnell, and Jason Blunk spoke. Chairman Dan Fields, Matt Reno, and James Reynolds led the portion on evangelism methods. Adam Standley and Dan Fields, along with Brandon Fritz, directed the individual rallies. The goal, they said, was to "present the practical side of personal evangelism," addressing questions such as "What about my public school?" and "How do I overcome fear?"
Plenty of fun, food, and fellowship filled the evening.