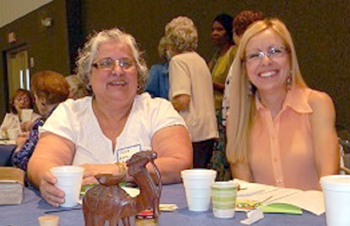 SEBRING, Fla.—Evelyne Metzler and Ruth Shelpman, both retired missionaries, spoke on the theme "Who, Me?" at the spring meeting of the Sunshine Ladies' Missionary Fellowship, hosted by Southside Baptist Church.
The two missionaries told about a recent trip they took to Haiti, where they both had ministered, although in separate places. Linda Pausley from Bethany Baptist Church, Avon Park, Fla., says that while Evelyne and Ruth were in Haiti, they "were able to bless many with monetary and material gifts sent with them from the States."
Despite a rainy day, 110 ladies attended the daylong event, some traveling over 100 miles to enjoy time with others from across Florida.
After a salad bar and dessert luncheon provided by the host church, the ladies began the afternoon session with prayer, followed by a presentation by Bonnie Bartelt. Bonnie has made a number of short-term missions trips to India, working with Bibles International. Though not a career missionary, she told about the blessings of being used by God in her retirement.
The Sunshine Ladies' Missionary Fellowship will use its 2013 offerings to send money to Baptist Children's Home in Valparaiso, Ind., which needs bunk beds and mattresses for a college dormitory in Liberia. The spring offering of $1,324.25 will be combined with the fall offering to go toward this project.
Other highlights of the day included special music, lighthearted readings, and the announcement of the travel trophy winner: Berean Baptist Church of Okahumpka, Fla.