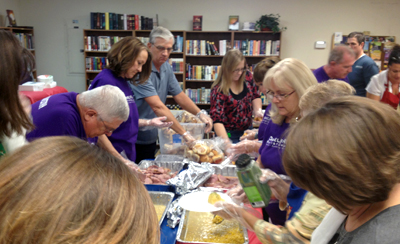 FORT MYERS, Fla.—Fort Myers is a young city, with a median age under 40. Situated on Florida's west coast, it is a sunny city, with an average of less than six rainy days a year. In spite of its location and ideal weather, it is not a wealthy city: the median household income is under $37,000. (The U.S. median household income in 2013 was slightly above $51,000.) For five years, Daniels Road Baptist Church has reached out to its needier neighbors in Fort Myers by providing a weekly food pantry called Soul Food Ministry.
Every Friday afternoon about 100 families come to the church and choose groceries, taking home with them one sack of canned goods, one sack of meat and perishables, and one sack of fruits and vegetables. The congregation donates some of the food, while the church receives the perishables through a community food bank.
Names and addresses are collected for the purpose of follow-up, and gospel tracts are included in the food distribution. As a result of this outreach, several people are now attending church services.
In December the church held a dinner for those connected with Soul Food Ministry. After their meal, the group sang fun Christmas songs and carols. Then Pastor Erik Bennett brought an evangelistic, Christmas-themed message, which was translated into Spanish. Each family also received a large bag of toys purchased by the church.
Pastor Bennett says, "The purpose of the church is to help the community we serve. Last year we had 70 families attend the dinner. This year we had over 200. We know we are reaching out and changing lives."