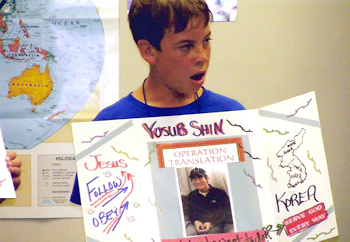 SANDUSKY, Ohio—More children around the world will be able to learn about God, thanks to the generosity of children attending VBS at Calvary Baptist Church. Calvary Baptist used VBS materials from Regular Baptist Press. That program incorporated a missions project called Operation Translation, a project of GARBC International Ministries that provides financial assistance to three countries—Thailand, Burma, and India—that are translating RBP Sunday School materials into their national or tribal language.
Lynne Young, VBS missions leader, says, "It was a pleasure teaching the kids all about Operation Translation, GLS, and RBP. It was also great to get to know the kids that you sent to me, like Soonhee and Zo Bivai." The stories of these two children, among others, were included in the program's missions project teaching resources, so each night Lynne and the students had the opportunity to "meet" one of these children. To connect even more with these children around the globe, the students learned several words in Thai, Burmese, and Korean.
Wanting to show the students how important Operation Translation is, Lynne utilized a clever object lesson. She asked a lady who speaks Spanish to tell the account of David and Goliath in Spanish. "I wanted the kids to have an idea of what it would be like to listen to someone doing a Bible lesson or story in a language they couldn't understand." When Lynne told the students about the unique Bible lesson they were about to hear, one boy said, "Why are you doing that? We won't be able to understand her!" Lynne replied, "That is exactly the point I am trying to make this week."
A friendly competition throughout the week encouraged the students to give, as the boys competed against the girls to see who brought in the most offering money. The total: $782.86, which they sent directly to GLS.
Along with her check, Lynne sent a note to Chris Hindal, director of GARBC International Ministries, saying, "We continue to pray for GLS and all the work that is done. Thank you again for all the help you were in providing me with plenty of information to fill up five nights of VBS!"