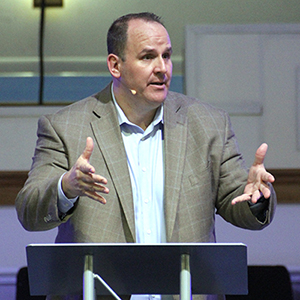 SPRING HILL, Fla.—"How many of you would love to hear from your Savior one day, 'Well done, good and faithful servant'?" asked Mike Hess at Spring Hill Baptist Church. Pastor Ryan Rouse had invited Mike, GARBC national representative, to speak during the church's worship service Aug. 8.
When we cross the finish line of life and hear those words from the Savior, "it's going to be because other Christians walked alongside you, put their arm around you, or locked arms with you," Mike told the church, speaking from Hebrews 3.
"In order to finish well, you will need to connect your life to other hypocritical, fallen, inconsistent, struggling sinners who are saved by grace. And you will not finish well without other growing, loving, and intentional believers speaking encouraging truth into your life."
We often don't want to hear the truth, Mike says. But listening to the truth from others is vital to finishing life well. "Allow people to speak honestly into your life," he says.
"Finishing well requires the warnings and encouragements of other loving believers. . . . You will not do it alone. You must—it's an imperative—that you have the loving encouragement from other loving believers."
God uses that community of loving believers, "in particular, the local church, to cheer us on to a strong faith, to cheer us on to cross that finish line to a roaring crowd." The most encouraging people in your life, Mike says, should be brothers and sisters in Christ in your church. Believers in a church should be helping each another, speaking the truth in love, and praying for each other. "We must encourage one another daily."
"Let's be the most encouraging people in the world," Mike says. "Let's encourage each other for the glory of God."