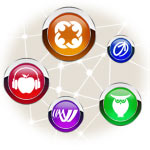 Beginning this Thursday, October 24
A great topic for presenting Christ!
"Worship that Connects with God" Learning Lab
11 ET/10 CT/9 MT/8 PT
REGISTER now.
How can church worship services provide an environment where people can "connect" with God? Conversely, how does worship discourage engaging with God?  The development of our worship services can help or hurt people's understanding of God's presence in worship & their embracing of Him. Join our discussion of worship that helps people to "connect" with God.
Instructor: Ken Pyne, associate professor  and director of internships, Baptist Bible College and Seminary, Clarks Summit, Pa.
Beginning this Tuesday, October 22
Stop that revolving door!
"Turning Guests into Family" Learning Lab
4 ET/3 CT/2 MT/1 PT
REGISTER now.
One of the most stressful things for churches is retaining guests. This course will provide insight for keeping the people God sends your way.
Instructor: Mark Neal, former senior pastor of Oasis Baptist Church, Las Vegas, Nev.