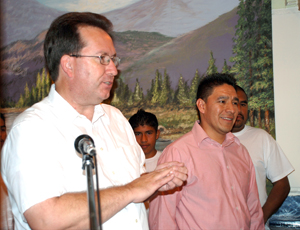 AUSTIN, Minn.—First Baptist Church is enhancing its Hispanic ministry by calling Pastor Moises Rodriguez as assistant pastor, ministering with Pastor Dave Johnson.
After coming to Christ in his home country of Mexico, Pastor Moises was later called as the assistant pastor of the Hispanic Baptist Mission, Sedalia, Missouri, where he served for 10 years. His new responsibilities at the Austin church include leading the Spanish worship service, five home Bible studies, and a Spanish prayer service.
Pastor Johnson and Pastor Moises take turns leading a bilingual monthly communion service. The church has worked hard to promote bicultural leadership, including three Hispanic deacons, two Hispanic trustees, and several bilingual Sunday School teachers.
Pastor Moises and his wife Elena have two sons: Edgar, who is married and also lives in Austin, and Moises Jr., who is a senior at Austin High School.
"Pastor Moises has been a tremendous help to build our Hispanic ministry and shepherd our Spanish speaking members, Pastor Johnson says. "He has also had a vital part in integrating our teens from both cultures into one youth group."