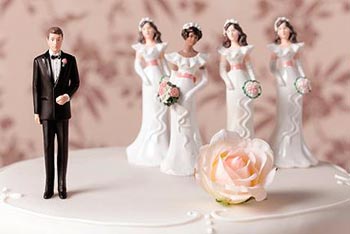 Redefining marriage to include same-sex couples would jettison the rationale and logic behind prohibitions on polygamous marriages, according to several friend-of-the court briefs urging the U.S. Supreme Court to uphold the traditional definition of marriage, Baptist Press reports. "Ultimately, there is no principled basis for recognizing a legality of same-sex marriage without simultaneously providing a basis for the legality of consensual polygamy or certain adult incestuous relationships," reads one of the briefs, filed by the Christian legal group Liberty Counsel. "In fact, every argument for same-sex marriage is an argument for them as well." A friend-of-the-court brief signed by 18 state attorneys general also briefly warns about the potential legalization of polygamy if gay marriage is legalized. The brief, which supports Prop 8, says the traditional definition of marriage is tied to the fact that only a man and woman can reproduce, thus continuing society's very existence. The state has an interest, the brief says, to see that children are raised, ideally, by the mother and father who beget them. A mother and father in each home is "optimal for children and society at large. Once the natural limits that inhere in the relationship between a man and a woman can no longer sustain the definition of marriage, the conclusion that follows is that any grouping of adults would have an equal claim to marriage," the attorneys general brief states, arguing that marriage no longer would be about the needs of children but about the desires of adults. A friend-of-the-court brief supporting Prop 8 by three academians, including Harvard's Robert P. George, says there is a movement in the United States to see group relations recognized by the government. "Nor are such relationships unheard of: Newsweek reports that there are more than five hundred thousand in the United States alone," the brief signed by George reads. Liberty Counsel's brief quotes 19th century Supreme Court cases that upheld the federal government's ban on polygamy in Utah. Among them were Reynolds v. United States (1878) and Murphy v. Ramsey (1885). In the 1885 case, the justices affirmed the traditional definition of marriage, writing that laws are "wholesome and necessary" when they are established on the basis of the idea of the family as "consisting in and springing from the union for life of one man and one woman in the holy estate of matrimony." The court called traditional marriage "the sure foundation of all that is stable and noble in our civilization." Liberty Counsel asserted that "when the traditional definition of marriage as that between one man and one woman is reversed to include other marriages, the state is left with little, if any, justification for other laws restricting marriage."
Other news:
An entire Christian village near the Pakistani city of Lahore reportedly was attacked and burned to the ground by a Muslim mob enraged over claims that a Christian resident insulted the Muslim founder Muhammad, WorldNetDaily reports. The rioting followed the arrest and detention of Joseph Colony resident Sawan Masih. Masih allegedly got into a heated religious discussion in a restaurant, and a Muslim threatened to accuse him of blasphemy under Pakistan's notorious law. When police arrived, they arrested Masih, according to reports. Former PLO terrorist-turned-Islam-analyst Walid Shoebat noted that police stood down and allowed the rioting to take place as Masih was detained. The mob, estimated to be about 3,000 Muslims, burned down hundreds of buildings, said Shoebat, who has sources who assisted Christian families affected by the attack. In other news, WorldNetDaily reports that Iran is now putting five Christians arrested in October on trial for "action against national security" in what some say is the Islamic republic's all-out effort to stop the spread of Christianity.
Matthew Vines, a Harvard-educated gay man who sparked a great deal of controversy in the church community last year with his in-depth analysis on why the Bible does not condemn homosexuality, has launched a new leadership training conference aimed at teaching Christians how to lead LGBT-friendly churches and communities, The Christian Post reports. Vines says The Reformation Project will "train, connect and empower gay Christians and their allies to reform church teaching on homosexuality from the ground up." A number of theologians, such as Dr. Evan Lenow, assistant professor of Ethics at Southwestern Baptist Theological Seminary, and Dr. Robert Gagnon, associate professor of New Testament at the Pittsburgh Theological Seminary and the foremost expert on the Bible and homosexuality, have offered counter arguments, rejecting Vines' reading of the Bible.
A first-of-its-kind study conducted by the National Jewish Health in Denver, Colo., reveals homeschoolers are happier, healthier, and perform better academically and socially because they get more sleep, The Christian Post reports. For more than 20 years, researchers have studied the sleeping patterns of teenagers, especially high school students who wake up early for extra-curricular practices and then go to bed late after completing their homework. Lisa Meltzer, a sleep psychologist and lead author of the NJH study, found students who are homeschooled sleep 90 minutes longer a night and wake up 18 minutes after traditional high schools have already started. Meltzer and her colleagues charted the sleep patterns of 2,612 students, including nearly 500 homeschoolers. Outcomes of the study also reveal that 44.5 percent of students who attend traditional schools don't get enough sleep, which can result in lower grades, impaired driving, and behavioral problems. The study also found that more than 55 percent of teens who are homeschooled got the optimal amount of sleep per week, compared to just 24.5 percent of those who attend public and private schools. Whereas, only 16.3 percent of homeschoolers in the study said they don't get enough sleep.
What will happen to churches' Boy Scout troops if the Boy Scouts changes its membership policy to allow those who advocate or engage in homosexual behavior to become Scouts and leaders? asks Alliance Defending Freedom Senior Legal Counsel Erik Stanley in The Christian Post. Most of the churches that charter Scout troops have a sincere religious belief against homosexual behavior. So if the membership policy changes, these churches will be on the horns of a dilemma. Do they prohibit the Scout troops from meeting in their church buildings, or do they ignore their sincere religious beliefs? This is a very real dilemma for churches that are committed to allowing their facilities to be used only in ways consistent with their faith. "Forcing churches to stop hosting Scout troops is a big step in the process of sidelining churches," notes Stanley. "And we've seen enough attempts to render the Church irrelevant in the community. Churches used to be integral partners in the communities but now they are pushed out of the community by unconstitutional zoning codes. Attempts are made to tax churches as if they are just another business or, in one case, to tax it completely out of existence despite its outreach efforts to the poor. Some have even proposed forcing church facilities to be used for same-sex wedding ceremonies. Now is the time for the Boy Scouts to hear the Church's voice on this issue."
An exhaustive study by three congressional committees delivers startling news about the dire effects of Obamacare, newsmax.com reports. President Barack Obama's signature legislation could increase health insurance premiums by over 200 percent and render insurance coverage unaffordable for millions of Americans. Broadly, the new report declares that Obamacare "breaks its core promise" to make health care coverage affordable. The report, "The Price of Obamacare's Broken Promises," was prepared by the House Committee on Energy and Commerce, Majority Staff; Senate Committee on Finance, Minority Staff; and Senate Committee on Health, Education, Labor and Pensions, Minority Staff. "Studies and analyses from the Congressional Budget Office, independent actuaries, state insurance commissioners, health plans, benefit consultants, and others have reached the same conclusion: Obamacare will significantly increase premiums," the congressional report states. "Some estimates show some Americans facing startling premium increases of 203 percent because of the law. Higher healthcare premiums are the last thing single young adults and working families can afford. Yet contrary to what the president promised, that is exactly what Obamacare is projected to do." When Obamacare's most costly requirements go into effect in 2014, households earning as little as $46,000 a year will receive no premium assistance, yet will be forced to accept "unaffordable" premium increases, according to the report. The Affordable Care Act will have an especially harsh impact on young Americans ages 21 to 29—those with individual coverage will see their healthcare premium rise by an average of 189 percent. The report points to several factors that will result in significantly higher health care costs for Americans: The healthcare reform bill mandates that individuals pay the same premiums regardless of future anticipated medical expenses, leading to sharply increased premium costs for those under 50; Obamacare requires that individuals purchase coverage that includes a range of "essential" health benefits, including coverage for preventive services, chronic disease management, and rehabilitative services, thereby restricting consumers' choice in the design of their health plans and adding to their insurance premiums; the law imposes $165 billion in new taxes and fees on health plans, drug manufacturers, and device makers, and these costs will be largely passed on to consumers in the form of higher premiums. One study cited by the report predicts that Obamacare's health insurance tax will boost premiums by more than $7,000 over a decade. The report notes that a number of states have already imposed requirements on health coverage and the result has been fewer choices and higher premiums.
Congressman Leonard Lance (R-NJ) has come out and demanded that Homeland Security Secretary Janet Napolitano explain why the Department of Homeland Security has been engaging in huge amounts of purchases of ammunition over the past year, reports freedomoutpost.com. Rep. Lance has called on Congress to get involved in ascertaining DHS' stockpiling of ammunition which is enough to wage a 20-year-plus war, which has most certainly caused a shortage in the public market. "I think Congress should ask the Department about both of those issues and I would like a full explanation as to why that has been done and I have every confidence that the oversight committee . . . should ask those questions," said Lance. "Congress has a responsibility to ask Secretary Napolitano as to exactly why these purchases have occurred," added the New Jersey congressman. Lance said the he was "concerned" and that he wanted to make sure that Americans continued to live in a country that was based upon freedom and individual rights. He also hoped that DHS would step forward and answer the question candidly. Congressman Lance isn't  the only representative in Washington asking "Big Sis" why she is purchasing large amounts of ammunition, said the report. We Are Change's Luke Rudkowski interviewed Congressman Timothy Huelscamp (R-KS) at the 2013 CPAC on his decision to vote against the National Defense Authorization Act and also asked they also discussed Obama's Disposition Matrix and the large ammunition purchases made by the DHS.
Hundreds of Christians in Cuba were without a place of worship after security forces closed down a church as part of a government attempt to "destroy" evangelical congregations on the Communist-run island, reports worthynews.com. The late February crackdown on the 200-member congregation in Havana Province was the latest setback for its pastor, Jesus Hernandez, who was reportedly attacked a week earlier by an armed mob while sleeping at home. State security agents were seen shutting down and sealing the doors of the church, located in the province's Lotería neighborhood in Cotorro municipality. They also confiscated the church's belongings, including chairs and musical instruments, said advocacy group Christian Solidarity Worldwide. The Cuban Communist Party Office of Religious Affairs, which oversees all religious activity, has denied wrongdoing.
A lone Wisconsin pastor who is able to claim a partial victory in a long-term battle against a nude beach suggests perseverance is the key, reports onenewsnow.com. Ralph Ovadal, pastor of Pilgrims Covenant Church in Monroe, stood fast in the battle when local and state authorities did not seem to want to pay attention. "Quite a few years ago, we began to bring to the state's attention what they really knew—that this public nude beach, which was unlawful in every way, was a very dangerous place, especially to children. And [they knew that] it was something that should be shut down," he told American Family News. According to news reports, nudists from around the U.S.—up to as many as 70,000 some summers—have flocked to the public beach for decades because local prosecutors were indifferent to public displays of indecency, saying unless nudists caused a disturbance, there was no need to arrest them. Ovadal says that over the years he tried "everything under the sun" to shine some light on the situation. Now, because of numerous instances of illicit sex and drug arrests, the state has shut down the nude beach Monday through Friday and posted limited hours on weekends. Despite attempts in 2007 to discourage illegal sexual activity and drug use on the Wisconsin River beach near Mazomanie, arrests for sex and drugs hit a five-year high in 2011 when authorities—in just nine days of surveillance—arrested 26 people for sex and 16 others for drugs. The beach closure, announced on Tuesday, takes effect immediately. Ovadal says the victory says a lot about Christians standing up for what is right and sticking with it. "You know, there's many ways to go at a problem and we just need to, at any given time, say What would the Lord have us to do in this time," the pastor shares. "And it may not always be the same thing that we did a year ago or two years ago. But it's true: in the end, if we persevere, we can see victories." Ovadal says he now will work toward the goal of shutting down the nude beach permanently.