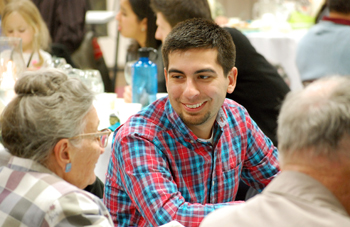 CAMBRIA, Calif.—For pastors, missionaries, and laypeople in the California Association of Regular Baptist Churches, the annual Christian Workers' Retreat is a highlight of the year.
Eighty-five Christian workers from as far south as Hesperia and San Diego and as far north as Eureka joined Ron Schrock (CARBC state representative), Herb Rogers (Southern California CARBC representative), and Dr. Ernie Baker (professor of Biblical counseling at The Master's College) to address leading churches through conflict.
The retreat provided not only Biblical resources, but fellowship and refreshment in the beautiful, seaside community of Cambria. First Baptist Church hosted the event Jan. 20–22.
Ernie Baker was a pastor for 25 years before joining the faculty of The Master's College in 2005. As a certified conciliator with Peacemaker Ministries and a Biblical counselor with the Association of Certified Biblical Counselors, he has extensive experience training and equipping pastors and laypeople in the skills of Biblical counseling and conciliation.
He used that background at the retreat to teach a mini course on peacemaking, referring to the foundational materials of Ken Sande, author of The Peacemaker: A Biblical Guide to Resolving Personal Conflict. Baker covered Biblical principles and practical applications that people can use on a daily basis to resolve conflict in their homes and churches.
In the first session, "Leaders and Their Responses to Conflict," Baker talked about two typical extremes of dealing with tension in relationships: the source of conflict (our hearts), and the way the gospel helps us address conflict.
First he looked at King David's responses to pressures and trials, concluding that what people turn to in the midst of life's tension shows what they value or worship. Then he pointed to Ephesians 4:1–3 and Philippians 1 and 2. The gospel calls believers to pursue healthy relationships, he said, and these passages can direct believers' thinking and methodology in working toward conflict resolution.
In "Learning to Negotiate as a Servant," Baker shared specific steps for practicing conflict resolution and then gave an opportunity for questions and answers.
First Baptist's worship pastor, Marcus Rowley, led worship during the retreat. And in a roundtable format, the Christian workers shared their burdens, joys, and anticipations in their ministries.
Ron Schrock encouraged the leaders with accounts of God's provision and blessing statewide, while asking them to pray for association churches without pastors and for pastors with health or family concerns. Dr. John and Hortense Bullock, who served for many years at Memorial Christian Hospital in Bangladesh, joined the group from Utah, where they continue to serve the body of Christ and prepare for a return to the field to train orthopedic technicians.
Many people attended the retreat with their entire families, which was "exciting to see," says Elizabeth Fitzgerald, administrative assistant at First Baptist Church. They rounded out their time of rejuvenation with visits to Hearst Castle, trips to see the elephant seals on beaches just north of Cambria, and strolls on the Moonstone Beach boardwalk.