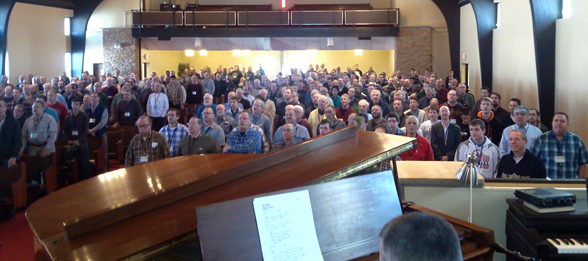 BINGHAMTON, N.Y.—This year's Men's Adventure, "Overcome," an Empire State Fellowship of Regular Baptist Churches event, started with a major obstacle to overcome. Featured speaker Glenn Amos, pastor of Heritage Baptist Church, Clarks Summit, Pa., was unable to attend. But "this was no surprise to God," says Jim Vogel, ESF state representative.
Vogel and Lee Kliewer, admissions representative and director of DMin studies at Baptist Bible College, filled in during the two main sessions Feb. 21 and 22 at  Central Baptist Church. Their messages blessed the hundreds of men who attended, and workshops challenged them in specific areas of growth.
Sports was also a highlight, with a three-on-three basketball tournament and bowling game held the first night.
The Men's Adventure is an annual ESF event that offers good preaching, practical help, great fellowship, and fun sports.