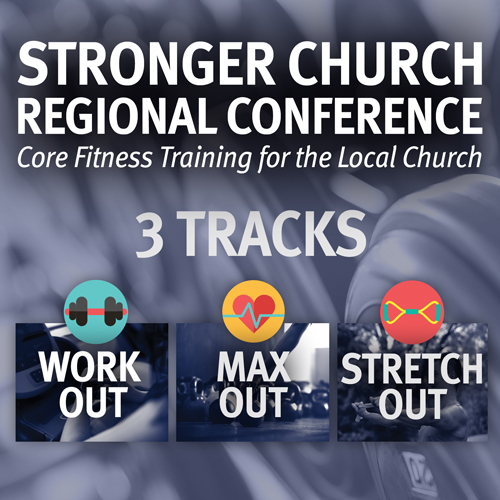 STRONGER CHURCH CONFERENCES: NEW LOCATIONS

Make 2018 the year you take some new steps to strengthen yourself and your church ministry by attending a Stronger Church Conference, offering valuable help in three areas: discipleship, church revitalization, and church planting. You will want to come and bring with you the deacons and other leaders from your church.
The registration fee for an individual is just $35, which includes a copy of John Greening's book Strong Church. Depending on your church's size, if you bring three or more people, your group rate could be as little as $100 for everyone. You will find full registration information at GARBC.org/stronger.
Plan now to attend one of these conferences:
February 2–3   Faith Baptist Church, Vero Beach, Florida
March 2–3        Ankeny Baptist Church, Ankeny, Iowa
April 13–14       Emmanuel Baptist Church, Flint, Michigan
Take new steps in building a stronger church! Visit Stronger Church Conference for information and online registration.
CLASSIC MESSAGES BY PAUL TASSELL AND BILL FUSCO
God has blessed our association with tremendous leaders. Their voices and influence live on! Listen to the Audio Legacy collection messages "The Welcome of the Lamb" by Paul Tassell from the 47th GARBC Conference (1978) in Lakeland, Florida, and "Whom Shall I Send" by William Fusco from the 41st GARBC Conference (1972) in San Diego, California. Stay tuned for the launching of the Audio Legacy website, containing vintage recorded messages from association leaders.
BAPTIST BULLETIN ARRIVING SOON!
Learn how the church is impacting culture. Read the January/February 2018 Baptist Bulletin, soon to arrive in your mailbox and/or inbox!
Print
Family Matters: Ministering to the Generations (by David Burman Jr.)
Millennials and the Church (by Emily Gehman)
Student Ministry: Obstacles or Opportunities? (by Josh Jones)
The Well, the Watercooler, and the Web: Staying Connected in a Changing Culture (by Jeffrey Burr)
Pastor and Deacon Form Tag Team to Train Police Officers (by Jonita Barram)
Regular Baptist International Travels to Asia (by Chris Hindal)
Camp Is a Comedy (by Austin Gonzales)
Bb+ digital
All the content of the print magazine, plus the following articles:
The Societal Destruction of Casual Sex (by Chris Barksdale)
Believing . . . By Faith? (by Mark Snoeberger)
The Fundamentals of Christian Growth (by Jeriah Shank)
Teachers: Picture This
10 Crucial Commitments of Effective Deacons (by Jim Vogel)
Whom Do You Love? Family Bible Study (by Cheryl Fawcett and Robert C. Newman)
Great articles, relevant connections—subscribe to the Baptist Bulletin! Visit www.BaptistBulletin.org or contact Lynne Goemaat, 847.585.0833, to learn about money saving subscription plans.
REGIONAL CONNECT CONFERENCE

Plan now to attend the Regional Connect Conference for pastors and leaders of Regular Baptist churches Feb. 5–6 at Harvest New Beginnings, Oswego, Illinois. As a pastor, you may feel that the projects to be done are daunting and overwhelming, but you are also a shepherd and your heart yearns for the people around you. How do you maintain your focus? Make it a priority to connect with other pastors who feel the same way. At Regional Connect you will get your ministry battery recharged and develop a fresh excitement for ministry. For more information, visit Regional Connect.
GRAND RAPIDS BREAKPOINT MEETING
The monthly Breakpoint meeting of the Grand Rapids Association of Regular Baptist Churches will be held on Tuesday, Jan. 23 at Alpine Baptist Church in Comstock Park, Michigan. Hear Dr. Dan Schellenberg of Pine Rest Christian Mental Health Services speak on "Responding to Mental Illness in the Church."
"LIVING IN THE BIG STORY" BIBLE CONFERENCE
First Baptist Church, Lapeer, Michigan, invites you to attend a one-day Bible conference on Jan. 20. Featured speaker Dr. Chris Bruno desires to help others see the centrality of Jesus in all the Scriptures. Regarding the conference's topic, "Living in the Big Story," Chris says, "Once we know the big story of the Bible, we realize the story isn't over; new creation is still to come. So then, what difference does this make in all of the things we think about during the week: our marriages, our parenting, our jobs, church membership, money, missions, etc.? We hope you'll join us as we consider answers to this question." There is no charge for this event, but First Baptist Church requests that you RSVP.
REFRESH: A CONFERENCE FOR CHRISTIAN LEADERS AND SPOUSES

"Down but Not Out: Ministering with Disappointment" will be the theme of this year's Refresh Conference Jan. 30–Feb. 2 at Faith Baptist Bible College, Ankeny, Iowa. Faith Baptist Bible College extends the following invitation: "Life in ministry is filled with joyous peaks, but it can also have its exhausting valleys. Refresh Conference is designed specifically to encourage ministry leaders who are currently serving in the trenches. The schedule is specially designed to allow busy Christian leaders to rest and spend time alone with their spouses. The general sessions and workshops offer you and your spouse a chance to soak in God's Word while being taught from experienced ministry leaders. The hospitality room not only provides you with a variety of complimentary snacks and drinks, but also the perfect location to fellowship with others who can relate to the joys and struggles in ministry. We hope you will join us for this spiritually encouraging conference, and we trust that God will use it to refresh you in your ministry." For more information, see Refresh Conference.