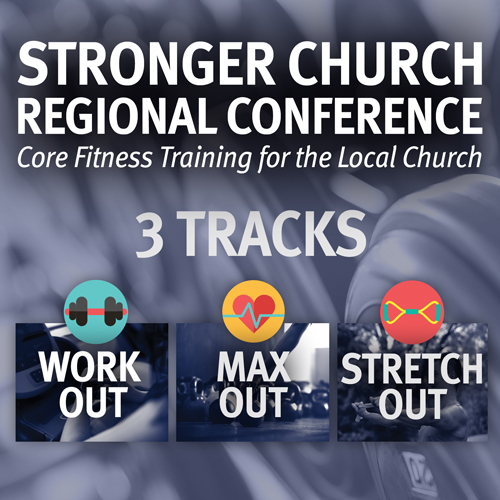 TWO MORE OPPORTUNITIES TO ATTEND STRONGER CHURCH CONFERENCE

Stronger Church Conferences continue this month! Regular Baptist Ministries is offering valuable training for men and women in your church. Instruction is available in three tracks: discipleship by David Gunn and Alan Wilson, revitalization by John and Daria Greening, and church planting by Clare Jewell. Practical instruction will motivate and encourage participants in their church ministries. All conference content is specially designed to help your church become stronger in its Great Commission work.
Coming in October!
6–7: First Baptist Church, Nebraska City, Nebraska
20–21: Shasta Bible College, Redding, California (sponsored by Sunrise Bible Church, Red Bluff, California)
Bulletin inserts and brochures are available to help you spread the word. Special group rates available. Don't delay; register today!
BAPTIST BULLETIN: REFORMATION EDITION

In remembrance of the 500th anniversary of Martin Luther nailing the 95 Theses to the castle chapel door in Wittenberg, the Baptist Bulletin celebrates the absolute authority of God's Word. Take joy as you read the newly released September/October issue!

Print
The Five Solas (by David Gunn)
Sola Scriptura!: The Struggle for Biblical Authority Rages On (by David Gunn)
Sola Fide!: Justification by Faith—A Present Reality or Future Declaration? (by David Mappes)
Sola Gratia!: Coming to Grips with the Grace of God (by Mike Stallard)
Solus Christus!: Why High Church Liturgical Practices Are Dishonoring to Christ (by Fred Moritz)
Soli Deo Gloria!: Living Life to the Glory of God Alone (by Chips Ross)
The Anabaptists: The Importance of Believer's Baptism (by Jeff Straub)
Bb+ digital
All the content of the print magazine, plus the following articles:
GARBC Conference Explores 'Best Church Practices'
Photo Feature: GARBC Conference (by Darrell Goemaat and Joshua Huang)
The Future of Seminary Education, Part 2 (by Brett Williams)
Contending with Sin in Pastoral Ministry (by David Mappes)
Why Do Millennials Live at Home? (by Emily Gehman)
Camp Is for the Camper, Staff, and Volunteers (by Dave Callison)
Children: Young Children and Salvation (by Daria Greening)
Adults: Mistakes Bible Teachers Make—Ineffective Questions (by Aaron Blumer)
Lessons from the Reformation for Biblical Fundamentalists (by Ken Rathbun)
Unity versus Purity (by Ken Rathbun)
Start the new year off right by joining the Baptist Bulletin team of subscribers or by giving a gift subscription! Learn how to subscribe by visiting www.BaptistBulletin.org or by contacting Lynne Goemaat, 847.585.0833.
LISTEN TO  KETCHAM AND JACKSON ONCE AGAIN

Listen to soul-stirring messages given by former national representatives Paul Jackson and Robert Ketcham. Paul Jackson speaks on "The Unshakable Throne of Christ," and Robert Ketcham renders "Standing Fast." An Audio Legacy website, containing vintage recorded messages from association leaders, is now being developed. Stay tuned for its launching.
WARBC CONFERENCE: INSIDE THE MIND OF A MILLENNIAL
How does the average millennial think? The Wisconsin Association of Regular Baptist Churches will present a seminar Oct. 23–24 on getting inside millennial mind to determine a starting point for sharing Jesus. Speaker Andy Giessman, founder and executive director of Addison's Walk Institute for Christian Studies, will bring challenging insights through this seminar at Fellowship Baptist Church, Racine, Wisconsin.
"BECOMING THE CHURCH WE ARE CALLED TO BE"
The Michigan association will gather for its meeting Oct. 30–31 at Forest Hills Baptist Church in Grand Rapids, focusing their attention on Scripture related to the theme "Identity Crisis–Becoming the Church We are Called to Be." Instruction from God's Word will include the topics of engaging our neighbors, pursuing cultural and generational diversity, being biblically and doctrinally resolute, and progressing in ministry mindset and method. Speakers will be Pastor Jeff Burr, Mark Cizauskas, Ross Shannon, and Bob McNeil.
FOLLOW HIM CONFERENCE
Missions is not about going somewhere. Missions is about following someone. And that someone is Christ. Lakeshore Baptist Church, Grand Haven, Michigan, will host a Follow Him Conference Oct. 13–14. The conference focuses on Jesus Christ, Who is calling men and women to Himself from every tribe and language and people and nation. This conference is for men and women, singles and couples, young and old, those considering going to missions and those sending others—everyone who desires to follow Him.