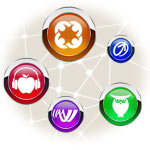 REGISTRATION FOR FALL 2013 REGULAR BAPTIST WEB COMMUNITY NOW OPEN
Regular Baptist Web Community offers exceptional instruction to enrich your ministry. Interact online with quality content from the comfort of your own home or office. Register now for the following Regular Baptist Learning Labs:
"Reaching Your Community with the Gospel" by Mike Augsburger
"Church Website Concepts and Designs" by Dave Bosket
"Spiritual Formation of the Believer" by John Greening
"Leading Small Groups" by Scott Greening
"Preaching Ecclesiastes" by Rich Van Heukelum
"Worship That Connects with God" by Ken Pyne
"Preaching Big Ideas" by Dave Warren
Baptist Bulletin: A Must Read!

A great way to stay informed about national issues affecting our churches is to read the Baptist Bulletin. Make sure you catch the following highlights from the July/August issue:
"Same-Sex Marriage: What the Bible Really Says" by Gary Gromacki
In the aftermath of the recent Supreme Court decision, what should the church be teaching?
"Talking to a Gay Rights Advocate" by Jay Lucas
Learn to answer questions without getting branded as a homophobic hater.
"What the Church Has to Say to the Gay Community" by Erwin W. Lutzer
Speaking with compassion, love, and hope on a difficult subject.
"God's Love Reaches Iowa Adults with Intellectual Disabilities"
Friendship Bible Study at Prairie Flower Baptist Church in Washington, Iowa.
"Betrayal, Fear, and Faith: The Church's Response to Victims of Sexual Sin" by Sue Nicewander
In the aftermath of scandals, churches are adjusting their approach to better protect victims.
"A Multisite Church Rescue" by Darrell Goemaat
Bridgewater Baptist, Montrose, Pa., is duplicating itself through multiple campuses and revitalization.
Not receiving the Baptist Bulletin? Subscribe today! Individual  and discounted group subscriptions are available.
GARBC Conference Audio Links
Outstanding preaching and teaching took place at the 2013 GARBC Conference. Praise the Lord for His use of the following servants!
GARBC Conference Web Stories
Baptist Bulletin Managing Editor Kevin Mungons and his staff have been hard at work reporting GARBC Conference happenings. Walk through conference week by reading the following stories.
While reading about the conference is great, nothing beats being there in person. Plan now on attending the 2014 GARBC Conference in St. Petersburg, Fla., June 23–27.