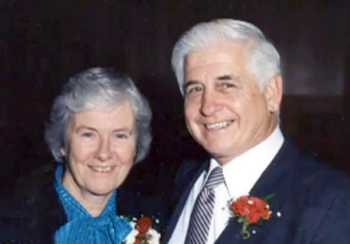 Harold Reiner, a missionary who helped plant 13 churches during 60 years of service with Baptist Mid-Missions, died June 27. He was 83.
In 1948 Harold and his wife, Ruth, arrived in Brazil. They planted churches and raised their family together until the Lord called Ruth Home in 1960. Although Harold had four young children, he returned to the mission field as a single dad. Then in 1961, he married Joan Cook, a new missionary to Brazil.
Harold Reiner did more than plant churches. He pioneered the BMM camp ministry in Brazil and started two camps; was influential in founding a seminary, the largest BMM training program in the world; and helped organize a school for missionary kids, which at one time was BMM's largest. For decades Harold was perennially elected leader of the BMM Northeast Brazil field council and was active with the All-Brazil council as well.
Among Harold's varied roles as a missionary was pilot. He learned to fly because he wanted to "take the gospel beyond where my mule would carry me." Harold gave significant leadership to the expansion of aviation in Brazil, developing the longest continuing missionary aviation program in that country. However, tragedy struck in 1962 when the plane Harold was piloting hit a hole in a runway, flipped, and burned. The accident took the lives of young Peter and Sandra Reiner and missionary Bernice Lind; and Harold and Joan were severely injured. When contemplating whether he would return to flying after the accident, Harold said, "Whatever God asks you to do, you will do it regardless of the cost." Harold Reiner continued flying for 40 years.
Harold was also an engineer of sorts. He designed a motor launch to ferry vehicles, supplies, and campers to Treasure Island, the island camp he established. When the seminary relocated, Harold helped design the campus master plan and some of the individual buildings, and designed a business investment plan that can perpetually subsidize the seminary.
Fellow missionary Andrew Comings says that Harold and Joan Reiner received what could be the "the highest compliment possible from the people to whom they ministered. In the midst of the period of intense anti-American sentiment that swept Brazil following the U.S. invasion of Iraq, Harold and Joan were made honorary citizens of the city of Remanso, where they had dedicated decades of their lives."
Harold Reiner has the distinction of being the first missionary to serve 60 consecutive years with Baptist Mid-Missions.
Harold was preceded in death by his first wife, Ruth McCallister Reiner, his son Peter, his daughter Sandra, his grandson James, his brothers Ralph and Ray (also a missionary in Brazil), and his sister Alvina Madsen. He is survived by his wife of 50 years, Joan Cook Reiner; his children Timothy (Vicki), Darlene (Kent) Smith, Jo (Norm) Culver, and Douglas (Renate); 10 grandchildren; seven great-grandchildren; and a sister, Betty Bender.