Marty Silverberg knows New York City. He grew up here, and he tasted its pleasure and tragedy before finding Christ.
"Me and my friend Tony the Banger were on a motorcycle trip when we met two girls and tried to pick them up. But we discovered that they were Christians when they started quoting Scriptures to us."
Marty recalls that the girls left a card sitting on his motorcycle—a picture of Jesus with verses on the back. "I still carry that card with me," Marty says, explaining how his parents kicked him out of the house the day after he professed Christ.
Marty earned a degree in phys ed, started teaching at a South Bronx high school, and led several students and coworkers to Christ. This led to a new problem: where should the new believers attend church?
Frankly, their options were limited. Marty described a long process of visiting numerous churches that did not preach the gospel. "Caretaker preachers don't teach pew sitters how to share the gospel," says Marty. "All they preach is liberation theology or prosperity gospel."
Marty contacted several mission boards and finally connected with Bill Smallman of Baptist Mid-Missions, who embraced the idea of Marty's planting a church himself. Admittedly, the developing plan did not fit into the conventional church planting model. "My wife is black and I'm a Jew. Who would want me as a pastor?" asks Marty.
After starting a Bible study and then renting a storefront for the church, Marty began to dream about purchasing an abandoned synagogue in the neighborhood. The congregation had left long ago, and the deed remained with the deceased rabbi's wife. By all accounts, the building was unobtainable. Or was it?
Marty then relates a long story of miracles, building permits, assistance from Continental Baptist Missions builders, and hours of sweat equity. The resulting building is beautiful, and the congregation is waiting for its final occupancy permit.
The remodeling plans included an apartment at the back of the building so Sam and Jen Lake could join the missionary team. Sent by Calvary Baptist of Ludington, Mich., the Lakes have a special burden for urban ministry.
"You can live your whole life and die without hearing the gospel in New York."
Photo: Sam Lake and Marty Silverberg pass out invitations in front of Commonwealth Community Baptist Church in Bronx, N.Y. Left: Sam and Jen Lake walk the streets of their new neighborhood, meeting people and inviting them to church.
"Our postmodern society has turned Jesus into whatever they want Him to be."
Night is falling quickly as the youth group from Queens Regular Baptist Church gathers at the corner of 101st Avenue and 107th Street. Some walked here from the basketball courts, some took the bus, some drove up the street from the apartments where they live. This is clearly a local church.
The group meets here every Friday night for a Bible study led by Pastor Nimit Oliver. "The kids in this group stay here until they get married," says Krista Oliver, Nimit's wife. "The youngest is 10, and the oldest are in college."
Pastor Oliver grew up at Brooklyn Baptist Church, graduating from Baptist Bible College and Faith Baptist Theological Seminary. Krista was teaching English in Peru when Nimit met her on a missions trip. Their international perspective is perfect for a church where most of the congregation is from Guyana, Trinidad, and Surinam.
During the Bible study, Pastor Oliver shows a video clip, reads Scripture, and leads in a discussion on the Trinity. The students ask deep questions that reveal a group that is growing in spiritual maturity.
As the study concludes, Pastor Oliver announces that one of the teens has volunteered to run the vacuum during cleanup.
"I volunteered?" asks the teen. "Volunteered? It shouldn't be that way in America."
But Pastor Oliver breaks the group up with a quick answer: "This isn't America, it's New York."
Later, Tara Jagedeo explains how she came to Christ in Guyana and is now raising her family in Queens. "America has sown its seeds of kindness—Americans gave us the gift of the Bible. Now we come to America to give it back."
Photo: Jennifer and Rachel Delisca enjoy a group game before the Bible study at Queens Regular Baptist Church.
"Veux-tu briser du péché le pouvoir? La force est en Christ!"
The Saturday morning service at Eglise Evangelique Baptiste is usually led by Sister Lola Gaspard, who meets with a group of congregation members for prayer.
"They pray for the needs of the congregation, pray for the pastor, pray for our church's growth," says Pastor Jacquelin Saint-Preux, who says the purpose of the Saturday prayer is to prepare for the Sunday service.
Pastor Saint-Preux and his wife, Murielle, started the church with a Bible study in their home in 2001. Most of the participants shared a similar biography with their pastor: Born in Haiti, immigrated to Long Island, now raising children who speak French at home and English in school.
Later the church was able to purchase a house in Elmont, remodeling it as a church building. The purchase was a leap of faith for the congregation; Jacquelin and Murielle continue to work full-time as accountants so the church can devote its resources to pay the mortgage on its building.
On Sunday, the children's Sunday School classes are taught in English while the service upstairs is led in French and Creole. The congregation participates in the entire service by singing, praying, and testifying of God's provision during the week. Earlier in the morning, a tambourine was pressed into service as an offering plate. Now it is used with vigor during a welcome song.
Inside the tambourine, unnoticed by the congregation, is a brief sermon written in small letters: "Jesus is my life."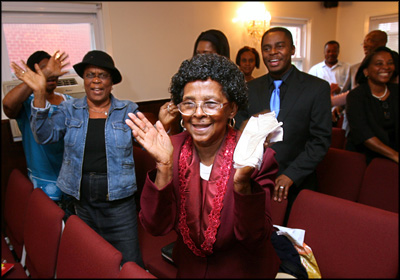 Photo: Sister Marie Julienne Moise sings during a Saturday morning prayer service at Eglise Evangelique Baptiste in Elmont.
"You were born in Tapita? Then you are one of us!
Nate and Karol Watkins wander the aisles of a Liberian market on a Staten Island street. Vendors in national dress have piled folding tables with dried whole chickens, bone fish dried head-to-tail in a circle, and dangerous-looking orange peppers, all imported from the steamy tropical climate where rainy season is just drawing to a close.
Karol snaps up a bag of sweet potato greens for supper the next day. Having ministered with Baptist Mid-Missions in Liberia and then the Ivory Coast, the Watkins family is happy to eat African food and shopping the same stalls as the Liberians who attend their growing church.
"We will make a church on Sunday morning," Nate says to a man he meets, explaining that the church gathers in the basement recreational room of a building in the Park Hill Projects.
Nate slips into the soft cadence of Liberian English without realizing it—and the Africans immediately note the curiosity, asking where he is from.
"You were born in Tapita? Then you are one of us," says the man when he meets Nate. "Here is a man who talks like us, buys from our market, and eats our food."
Further down the market street, Nate greets and hugs Ma Yawo, addressing her as Old Ma, a term of deep Liberian respect. Her husband, Pastor Yawo, was discipled by BMM missionaries in the early 1970s and pastored Baptist churches in Liberia before the civil war tore the country apart in the 1990s. Pastor and Ma Yawo knew Nate as a young boy—they called his father Teacher Watkins.
There are 10,000 Liberians living on Staten Island, says Jacob Massaquoi, director of the African Refuge center, a community based project that addresses the needs of African immigrants. He recently helped Nate locate the space they are using for their Sunday meetings.
"I grew up in a Baptist church in Liberia," says Jacob, explaining yet another connection to BMM missionaries in Liberia, too important to be written off as a coincidence. Years ago he was baptized by Nate's cousin. "Everything I do now is informed by my deep belief in Jesus Christ."
Photo: Karol and Nate Watkins visit a Liberian market on Staten Island, inviting guests to attend Repentance Baptist Fellowship on Sunday.
"This is the world capital for the storefront church," says Michael Moultrie, associate pastor of Cross Community Baptist Church in Queens. "Folks could be walking to our church and pass several others on the way. The struggle is to teach people sound doctrine and to train their ears to recognize wrong doctrine."
Eric Wohner, a missionary pastor with Evangelical Baptist Missions, came here in 1999 to plant a church that reflects the diverse neighborhood of immigrants from Guyana, Mexico, Puerto Rico, Trinidad, and Eastern Europe.
In addition to their roles at church, Michael and his wife, Sharon, work full-time jobs for the U.S. Postal Service. They pray that the church will eventually be able to purchase its own building, a silent signal to the community that the church-and its teachings-are permanent.
Photo: Associate Pastor Michael Moultrie stands outside Cross Community Baptist Church in Queens, N.Y. "This is the world capital for the storefront church," he says noting storefront churches occupy almost every block of this major street and are prolific in the New York City boroughs.