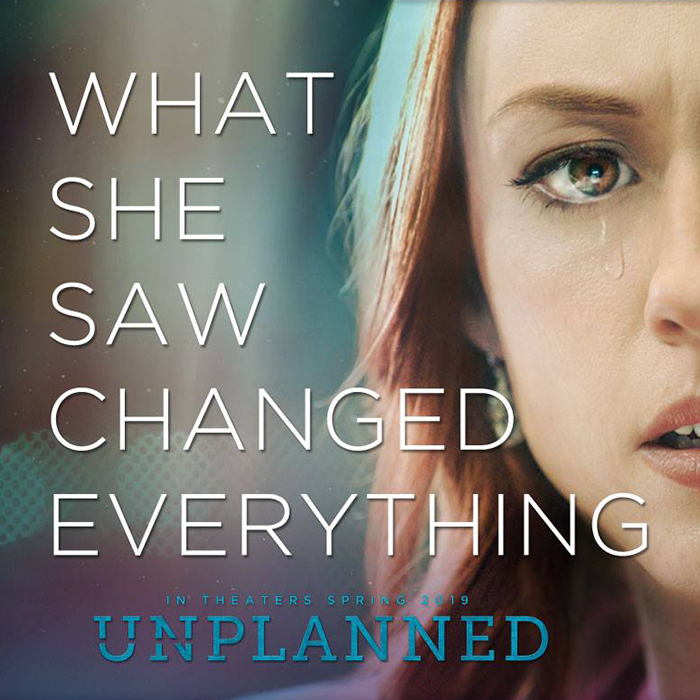 By Greg Linscott
Unplanned is a film that tells the true-life story of Abby Johnson, who directed a Planned Parenthood clinic until one day experiencing a dramatic change in direction. Johnson was called to assist in an abortion procedure. Watching the procedure via ultrasound convinced her to leave her position and abandon the principles she had once championed. This incident is depicted early in the film, and viewers are confronted with the brutality and horror in a troubling, haunting manner. The Motion Picture Association of America has given the film an R for this and a few other scenes. Many don't agree with that ruling, but be aware that the visual harshness is portrayed convincingly.
Johnson's experience with Planned Parenthood and abortion is also seen in retrospect, hearkening back to her college years, when her involvement with a boyfriend (and for a short time, husband) led to two abortions before she reached her junior year. The horror of her abortion experiences is graphically portrayed, but the viewer also is led to see how people like Johnson reach the sincere conclusion that the work in these clinics is done by well-intentioned individuals assisting those overwhelmed in crisis by the consequences of their choices.
The film's heroes include Abby's parents and second husband, Doug, who do their best to provide personal support to her while opposing the work she has dedicated herself to. While the films' characters include protestors who use abusive, bullying tactics, the fruits of dedicated prayer and kindness shown by pro-life advocates challenge viewers on how to gracefully engage and oppose abortion while remaining gentle and nonthreatening to those considering the procedure.
Unplanned is the product of the directors and producers of the movie God's Not Dead. Some might come in expecting some level of Christian "cheesiness"—a concern Johnson herself had going into the process. Such fears are unfounded. The film is many things—gritty, harsh, unsettling, inspiring—but it is above all thought-provoking and challenging. Plugged In's Adam Holz compares it to weighty, influential films such as Schindler's List or Saving Private Ryan. Unplanned is "genuinely important because [it forces] us to see something clearly that perhaps we've never really seen before."
Although presented as a Christian film, it has some major deficiencies. Johnson is now a professing Roman Catholic. While there are many moral principles we as Regular Baptists might hold in common with them, our understanding of the gospel is not one of them. In one scene, Abby's husband Doug comforts his wife who is overwhelmed with guilt for her complicity in so many procedures. He assures her that God will forgive her "because He's God." God's mercy is referenced during the film, but in a vague, theologically accommodating manner that a Bible-believing Christian will find the need to expand on in significant ways. With that said, Abby's story leads into the gospel so well, with questions about forgiveness and the basis for forgiveness, even to the repentant director of a clinic who was complicit in more than 22,000 abortions.
Unplanned is a film you need to see. It will change your perspective. As a believer, I was moved to see the power of prayer in persuading women to choose life. The movie quotes the statistic that up to 75 percent of women considering an abortion reconsider when they see people surrounding the clinic in prayer. It is also a reminder to us as Christian citizens to let our speech be gracious and "seasoned with salt" (Col. 4:6). Johnson found allies and supporters in her transformation because they were gentle and caring with her over a period of years, not harsh and condemning of her cause and choices. Pro-choice advocates who watch the film are already reporting its transformative impact. Unplanned is not entertaining, but it does show in compelling fashion both what abortion is and how by God's grace we can see change in those who administer and advocate its practice in our day.
Greg Linscott is pastor of Brown Street Baptist Church, Alton, Ill. Pastor Tim Miller of First Baptist Church, Roxana, Ill., also contributed to this review.