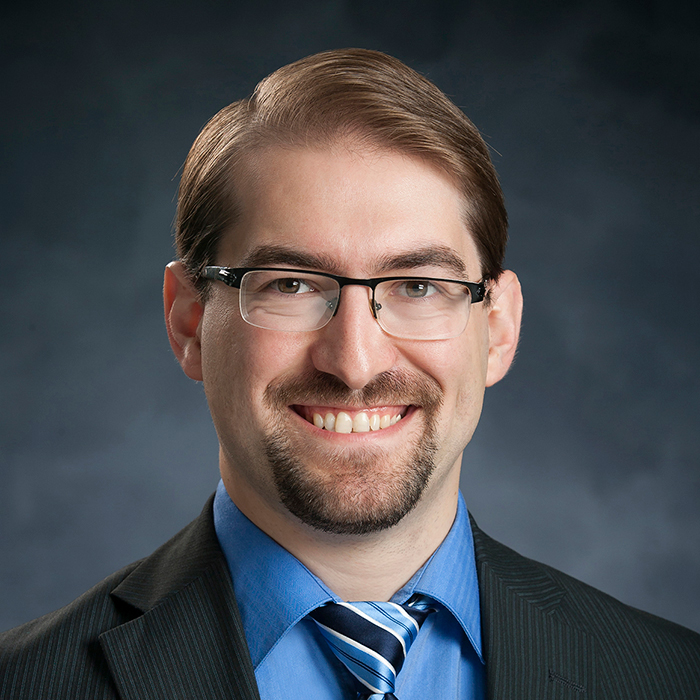 WELCOME, REGULAR BAPTIST PRESS DIRECTOR

David Gunn has been named director of Regular Baptist Press. David, who joined the staff of RBP in 2014, assumed his new responsibilities in early September. He is an educator, a writer, and a full-time theology junkie. He was educated at Shasta Bible College (BA), Corban University School of Ministry (MDiv), Liberty Baptist Theological Seminary (ThM), and Baptist Bible Seminary (PhD, in progress). In his role as director, David is responsible for providing administrative oversight for RBP, charting a course for the future, ensuring fidelity to the association's doctrinal distinctives, and representing the ministry to churches and parachurch organizations.
In addition to his work as director of Regular Baptist Press and managing editor of the Baptist Bulletin, David teaches online courses in Bible, theology, and apologetics for Shasta Bible College and Clarks Summit University. Prior to his tenure with Regular Baptist Press, David served as a minister of music in several Baptist churches.
David is passionate about theology, apologetics, and engaging culture from a Biblical worldview. He frequently presents these issues at GARBC annual conferences and online via the Regular Baptist Web Community. David resides in the Chicago area with his wife, Sarah, and two sons, Caleb and Felix.
HURRICANE ASSISTANCE UPDATE

Regular Baptist Builders Club is actively determining how to best meet needs resulting from hurricanes in Texas and Florida. Staff have been in contact with GARBC churches and ministries in these areas to see how Regular Baptist Builders Club can best help them repair storm damage or meet needs of people within the churches' communities.
"We are grateful that, to date, we have received more than $34,000 in donations from churches and individuals to help those in need," says Clare Jewell, director of Regular Baptist Builders Club. Regular Baptist Builders Club will be partnering with two churches in Colorado, Faith Baptist Church of Fowler and Rustic Hills Baptist Church of Colorado Springs, that will travel to Texas to offer significant assistance to Berean Baptist Church of Humble. Regular Baptist Builders Club is also in the final stage of determining the best ways to serve victims and ministries in Florida.
Please pray for God to work through these circumstances to draw people to the hope they can find only in Jesus Christ. If you would like to partner with Regular Baptist Builders Club to help meet the needs created by these hurricanes or other natural disasters, you can donate now.
CHURCH PLANTING NEWS

Regular Baptist Church Planting is seeing a significant increase in requests for funds to help start new churches! This is exciting news, as new churches are the best way to reach people who are far from God and will expand the impact our association can have in our world. Currently, Regular Baptist Church Planting has four grant applications in hand, with two more to come, seeking church plant funding. Board members of Regular Baptist Builders Club will make a final decision in their November meeting. Please pray for wisdom! One of these churches, a Spanish-speaking church being planted by Bethany Baptist in Salem, Oregon, held its grand opening on Oct. 1. Regular Baptist Church Planting welcomes your prayer and financial support to assist in this vital endeavor of multiplying Christ's church.
ASSISTING INTERNATIONAL PASTORS

Chris Hindal, director of Regular Baptist International, and his wife, Deb, are preparing for the All-Partners IPFBM World Conference to be held in Manila, Philippines, Nov. 6–10. Every four years the International Partnership of Fundamental Baptist Ministries hosts this conference for pastors and ministry leaders around the world. Chris Hindal says, "Scholarship money is needed to help some pastors, especially from Africa, get to the conference. Would you be willing to help encourage these pastors?" Your donation will help a national pastor be able to attend the conference. Donate online, by phone, or by mail. For online or check donations, note "Intl. Scholarship Fund #9005." By sponsoring a pastor, you will not only encourage him in his work, but also help build up fundamental Baptist churches around the world. For further information, contact Chris Hindal.
REGULAR BAPTIST PRESS
PRESSES ON
With October right around the corner, Regular Baptist Press is putting the finishing touches on Vacation Bible School 2018: Camp Moose-on-the-Loose! The last few books have been sent to the printer, and the production cycle is beginning to wind down. There won't be much time to catch our breath though: as soon as one production cycle concludes, another one begins! In mid-October, we will begin preproduction on the VBS program for 2019. We are excited to see how the Lord uses Camp Moose-on-the-Loose next year and are prayerfully seeking God's wisdom as we begin work on the 2019 material.
NATIONAL REPRESENTATIVE SEARCH
As John Greening continues his service as national representative until his retirement, no earlier than June 2018, please be in prayer for the search committee members as they review potential candidates for the national representative position. From the beginning of this month through Spring 2018, the search committee will be screening, interviewing, and procuring character references of candidates.
Questions or input? Please visit the national representative search website. Also, you may communicate with the national representative search committee as a whole via email. Search committee members are as follows: Chairman David E. Strope, pastor, Ankeny Baptist Church, Ankeny, Iowa, 515-964-4076; Mike Augsburger, pastor, Soteria Church, West Des Moines, Iowa, 515-285-1829; Tim Capon, state representative, Iowa Association of Regular Baptist Churches, 712-790-0304; Duke Crawford, pastor, Emmanuel Baptist Church, Toledo, Ohio, 419-473-3280; and Will Hatfield, pastor, Crossroad Baptist Church, Ames, Iowa, 515-232-6022.
REGULAR BAPTISTS AROUND THE COUNTRY

UPCOMING EVENTS
OCTOBER 2017
Sept. 29–Oct. 1: WARBC "C" Leadership Training Retreat, Wisconsin Rapids, Wisconsin
2–3: IL–MO conference, Camp Manitoumi, Lowpoint, Illinois
2–4: MN ARBC conference, First Baptist Church, Hibbing, Minnesota
5–6: IARBC pastors' and wives' retreat, Iowa Regular Baptist Camp, Ventura, Iowa
6–7: Stronger Church Conference, NARBC, First Baptist Church, Nebraska City, Nebraska
6–7: Southern CARBC women's retreat, Victory Ranch, Moreno Valley, California
10: Peoria area IL-MO pastors' fellowship, Germantown Hills Baptist Church, Metamora, Illinois
12: Northeast Fellowship counseling practicum, Ministry Center, Big Flats, New York
13: Build Conference, Lakeshore Baptist Church, Grand Haven, Michigan
16–17: Sunshine Baptist Fellowship conference, Faith Baptist Church, Vero Beach, Florida
19–21: Central CARBC ladies' retreat, Hartland Christian Camp, Badger, California
20–21: Stronger Church Conference, CARBC, Shasta Bible College, Redding, California
21: Northeast Fellowship pastoral search summit, Ministry Center, Big Flats, New York
23–24: Northeast Fellowship conference, Tabernacle Baptist Church, Ithaca, New York
23–24: WARBC conference, Fellowship Baptist Church, Racine, Wisconsin
23–25: OARBC conference, Shawnee Hills Baptist Church, Jamestown, Ohio
26–28: WARBC teen retreat, Camp Fairwood, Westfield, Wisconsin
29: MARBC day of prayer
30–31: MARBC conference, Forest Hills Baptist Church, Grand Rapids, Michigan
REGULAR BAPTIST MINISTRIES TEAM ITINERARIES

OCTOBER 2017

John Greening
National Representative
6–7: Stronger Church Conference, NARBC, First Baptist Church, Nebraska City, Nebraska
8: Park Lane Baptist Church, Omaha, Nebraska
20–21: Stronger Church Conference, CARBC, Shasta Bible College, Redding, California
22: Grace Baptist Church, Redding, California
24: OARBC conference, Shawnee Hills Baptist Church, Jamestown, Ohio
Manning Brown
Director of Regular Baptist Chaplaincy
Serving in home church, New Life Baptist Church, Lake in the Hills, Illinois

David Gunn
Director of Regular Baptist Press
6–7: Stronger Church Conference, NARBC, First Baptist Church, Nebraska City, Nebraska
8: First Baptist Church, Nebraska City, Nebraska
20–21: Stronger Church Conference, CARBC, Shasta Bible College, Redding, California
22: Community Baptist, Red Bluff, California
Chris Hindal
Director of Regular Baptist International
8: First Baptist Church of Elimsport, Allenwood, Pennsylvania (a.m.)
8: Independent Baptist Church, Towanda, Pennsylvania (p.m.)
15: First Baptist Church, Marathon, New York
20–22: Chin Baptist Convention (Myanmar) Conference, Indianapolis, Indiana
23–25: OARBC conference, Shawnee Hills Baptist Church, Jamestown, Ohio
30–31: Translation meetings, Hong Kong, China
Clare Jewell
National Church Planting Coordinator for Regular Baptist Churches
1: Hispanic church grand opening, Bethany Baptist Church, Salem, Oregon
3–5: Exponential West church planting conference, Los Angeles, California
6–7: Stronger Church Conference, NARBC, First Baptist Church, Nebraska City, Nebraska
8: Gretna Baptist Church, Gretna, Nebraska
20–21: Stronger Church Conference, CARBC, Shasta Bible College, Redding, California
22: Sunrise Bible Fellowship, Red Bluff, California
23–27: Mission conference, Corban University, Salem, Oregon
28–29: Mission conference, Steamtown Church, Scranton, Pennsylvania