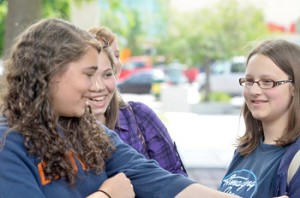 CLARKS SUMMIT, Pa.—Put pizza and ice cream in the same sentence, and brace yourself for a stampede of the teenagers standing within earshot.
Forty-five teenagers piled into vans and headed into Wilkes-Barre, Pa. for the Students Alive! outreach activity in the afternoon. Loaded with business cards and coolers full of water bottles and popsicles, the students canvassed the streets offering the refreshment of cold water and Living Water.
During the afternoon's business session, the young Wilkes-Barre church plant, Restored Church, was voted into the GARBC. The vans quickly filled with optimism and vision as the students prepared to talk with people about the Gospel.
"I like talking to people, and getting to tell them about God is the best thing to talk to them about," says Jenni Farrell, 15, from Calvary Baptist Church, Forest City, Iowa.
Caleb Eloe, 16, from First Baptist Church of Shelbyville, Ill., caught the hope of the effort. "Giving them this card—this might be the only time they hear about Jesus," says Caleb. "This water bottle could change their life."
The canvassing effort was to help a new Project Jerusalem church plant, Restored Church. Project Jerusalem is the unique church planting training strategy of Baptist Bible Seminary, partnering BBC&S students with local church plants for hands-on experience.
Baptist Bible College alumni Dan Nichols and Tim Walker are leading the new church, beginning in houses. They hope to be established and in a permanent location within the year. Tim is thankful for the aid of the GARBC Conference this week in Wilkes-Barre.
"This helps us really get out and connect with a lot of people in the city. We're hoping to catch about 2,000 people this week," Tim says. "People in Wilkes-Barre are really turned off to churches in general. This is totally out of the box—showing the love of Jesus in a practical way is something that most of these people have never seen, so this huge."
With some pizza to get them on their way, the teens headed back to Clarks Summit for the rest of the evening.
Pastor Rich Hatch, Outreach and Youth Pastor at First Baptist Church of Galeton, Pa., challenged the group with truths from Ephesians 5. "God so loved those people," Pastor Rich says. The message was simple: Love what God loves. Hate what God hates. Love the Church. Love the Scriptures. Love the Gospel.
And that they did. A quick outing to Manning's Ice Cream in Clarks Summit ended the evening, sponsored by Grace Baptist Bible College. The teens encouraged each other with stories of the day.
"There was one lady who looked really really sad, and when she got the water bottle, her face just lit up," says Shannon Baker, 13, from West Windsor Baptist Church, West Windsor, N.Y. "It made me so happy."