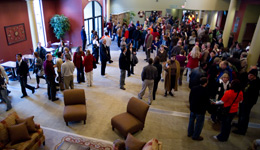 Church Seeking Three Full-time Positions
Northridge Church, a Baptist church in Rochester, N.Y., is seeking to hire three full-time positions: director of visual arts (doing graphic art, videos, and working with volunteers on these projects), pastor of spiritual development (helping people take their next spiritual steps), and multisite campus pastor (the church plans for its first multisite location in 2012). For more information, a job description, or to send a resume, please contact Adam Congdon, acongdon@NorthridgeRochester.com.
Missionary Home for Rent
Fully furnished, well-kept, three bedroom, two bath, ranch style home with 2,400 square feet living area, deck, and attached garage in Creston, Iowa. Contact Cheryl Henry for more information.