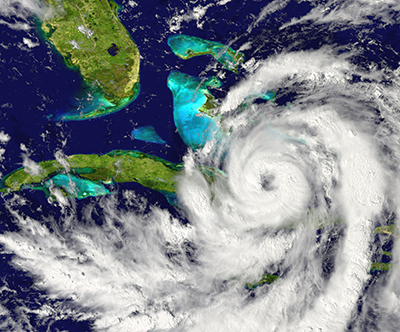 PRAYER AND PRAISE IN THE MIDST OF HURRICANE MATTHEW
In anticipation of Hurricane Matthew, Regular Baptist Builders Club has called GARBC churches located on the east coast of Florida, letting them know its Disaster Relief ministry is standing by ready to help. Calls will continue to be made to churches in affected areas.
Churches and individuals from Jacksonville all the way to the southern tip of Florida have provided places for Regular Baptist Builders Club's Disaster Relief trailer to be parked, ready for volunteers to use its supplies to help with damage control and cleanup.
In Haiti, Hurricane Matthew threatened to interrupt the teaching ministry of Rick Piatt, pastor of Fellowship Baptist Church, Lakeland, Florida. He is teaching a group of pastors at Haiti Bible Institute and Theological Seminary with On Target Ministry. Classes and graduation were able to be conducted as scheduled, with graduation taking place Oct. 5.
Also in Haiti, Pastor Prédestin Hérard, president of the Association des Énglises Evangeliques Baptistes d´Haiti, reports that he and his family survived the storm but that several association churches have been greatly damaged.
Praise God for the safety of these individuals in Haiti, and please pray for churches and communities in the U.S. The mantra of Regular Baptist Builders Club is Pray, Give, and Go. So continue praying, give if you are in a position to support financially, or consider traveling to affected areas to assist the Disaster Relief team.
REGULAR BAPTIST CHAPLAINCY UPDATE
Our chaplains endorsed by Regular Baptist Chaplaincy serve the Lord and their people well. Director Manning Brown gives the following update:
"Jennifer and I had the opportunity to share the chaplaincy ministry at First Baptist Church in Connersville, Indiana. The church was very gracious and happy to learn more about the chaplaincy ministry. I also had the opportunity to visit Chaplain (CPT) Jeremiah Cates and Chaplain (MAJ) John Jensen and their families at Fort Carson, Colorado. It is always a joy and an encouragement to meet with our chaplains, find out about their ministries, and enjoy a time of fellowship. Our chaplains have a tremendous ministry. Please continue to keep all of our chaplains and their families in your prayers as they serve our communities and our country."
RBP'S VBS OFFERING FUNDS INSTRUMENTS IN INDIA
Ministries to students in India have a much-desired addition of musical instruments, thanks to offerings taken by students in the U.S. attending Vacation Bible School. Every year, RBP's VBS program initiates a missions offering opportunity through Regular Baptist International. For a recent VBS missions emphasis, students' offerings went toward sending resources to churches outside the U.S. so they could conduct VBS. The endeavor was called "Operation Kids: Reaching Boys and Girls through VBS."
Ruth Nelson Billa of Biblical Baptist Fellowship, Karnataka, India, expressed a need for musical instruments to use in Vacation Bible School. Upon receiving a portion of the students' contributions, Ruth wrote a note of thanks to Regular Baptist International, saying, "Thank you for your helping hand to our ministry and the sacrificial gifts." The children in her VBS program were waiting a long time to have musical instruments to sing with, she says. "For them it is happiest moment."
By using RBP's VBS, churches in the GARBC can directly help sister churches around the globe.


REGULAR BAPTIST CHURCHES HELP IN IMMIGRATION MATTERS
The GARBC is glad to assist churches that have immigrants on their leadership team or in their congregations, desiring to have them stay in the United States. Often churches need documentation from the"denomination" to which they belong as a necessary component in helping people obtain visas or completing immigration requirements. The GARBC has assisted several churches by providing required documentation. Contact the GARBC if the Resource Center staff may be of assistance to you.