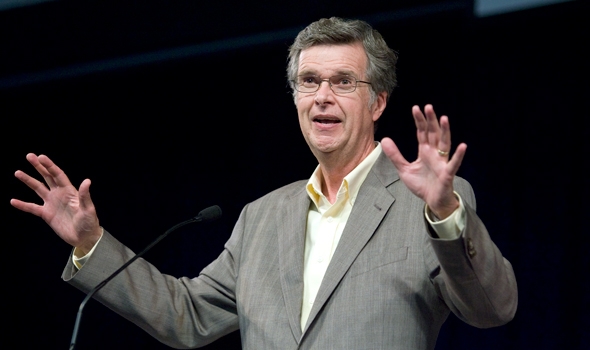 A challenge from John Greening, GARBC national representative:
Our association has a significant opportunity before it. How we respond will determine if we position ourselves to take the road less traveled and capitalize on the opportunity, or take the easy road of the status quo and operate in maintenance mode.
We have a statement of faith that provides us with our parameters. Those tenets serve as our asset and platform to leverage—not as an albatross to hold us down. We must honestly admit that we are a niche constituency, defined by our doctrine. That is not a bad thing. We must avoid the temptation to become something we are not and violate our values. However, within those parameters, we must make the most of what God has given to us.
Read about the key issues and strategic priorities.
GARBC Packet to Arrive at Churches
Coming soon to your church office: a GARBC info packet. In the next couple weeks the following info will be mailed to each church.
GARBC Conference registration (early-bird discount rates available)
GARBC Conference poster (encourage others from your church to come)
Talents For Christ poster (your students can compete for college scholarships)
Council of Eighteen nomination form (please return promptly)
GARBC Annual Directory information report form (please submit this vital information for the print directory and online church locator)
Every church's processing of this information will make for a stronger association. Please alert your office assistants to keep their eyes open for the packet.
NEW! Baptist Bulletin, Digital Edition
Experience everything you enjoy about the Baptist Bulletin with the convenience of reading it online and, starting in mid-January, on your mobile device! The Baptist Bulletin, Digital Edition offers everything in the Baptist Bulletin but with additional pages, Bb Plus, which is not available in print. For subscription information, go to www.baptistbulletin.org/digital. The Baptist Bulletin is where you're at!
Baptist Builders Club Board Meeting Decisions

Please join the Baptist Builders Club board and director as they pray for and support Regular Baptist churches. All of the following churches that submitted applications are working hard to serve God and spread the gospel in their communities. At the November 2013 board meeting, decisions were made to give grants/loans to the following churches.
Start Up—Restored Church, A Baptist Church, Wilkes-Barre, Pa.
Build Up—South Vestal Baptist Church, Vestal, N.Y. c/o Bridgewater Baptist Church, Montrose, Pa.
Build Up—Bethel Baptist Church, Pierceton, Ind.
Build Up—Faith Baptist Church, Fowler, Colo.
Help Up—Harris Hill Baptist Church, Williamsville, N.Y.
Be a part of praying and supporting churches GARBC churches across the United States by becoming a member of Baptist Builders Club.
GARBC Outsources Shipping Operations
The GARBC is entering a new business agreement with Awana to outsource shipping operations. The Awana agreement allows the GARBC to close its warehouse and shipping operation, currently housed in a 30,000 square foot space at its Meacham Road facility in Schaumburg, Ill.
In the new five-year business agreement, Awana distribution will provide warehouse space and perform order fulfillment for Regular Baptist Press. RBP customer service representatives will continue to take calls and generate packing lists, but Awana will pick, pack, and ship the products.
The RBP warehouse will close this month, with the Awana operation functional by Jan. 20. No shipping delays are anticipated during the transition. The Awana warehouse, located at 1620 N. Penny Ln. in Schaumburg, is a mile from the GARBC Resource Center.
GARBC Resource Center Relocation

The GARBC has signed an agreement with a Chicago-based developer who will purchase the Resource Center property in Schaumburg, Ill., for $4.5 million in a yearlong process.
The developer will perform several due diligence tasks over the next six months before committing nonrefundable earnest money. Four additional months will be needed to secure various approvals from the Village of Schaumburg.
Please pray for this process as it moves forward. The GARBC administrative team is narrowing the field of potential sites for the new home of the GARBC Resource Center, giving careful consideration to facilities that could be outfitted to meet staff needs. Please pray for wisdom in adjusting the business model and in considering modification of these prospective buildings as the team plans for the relocation.
New International Partner in India
The International Partnership of Fundamental Baptist Ministries announces acceptance of its newest partner by the Council of Eight at the All-Partners IPFBM Conference near Bangkok, Thailand:
Fellowship of Biblical Baptist Churches in Manipur, India (Lhunchon Kipgen, president).
We are grateful to the Lord for the development of the international partnership and for its expansion.
Regular Baptists around the Country

JANUARY 2014
1: BNN Teen Leadership Conference, Washington Family Ranch, Antelope, Ore.
9: IL-MO Mississippi Valley pastors' fellowship, Brown Street Baptist Church, Alton, Ill.
11: IARBC singles' event, Faith Baptist Church, Carroll, Iowa
16: IL-MO Quad Cities pastors' fellowship, Crosstown Baptist Church, Silvis, Ill.
17: Chicago pastors' fellowship, Village Baptist Church, Aurora, Ill.
17, 18: Men's Prayer Summit, Berea Baptist Church, Stevens Point, Wis.
20–22: CARBC Christian Workers' Retreat, First Baptist Church, Cambria, Calif.
25: NARBC Teen Winter Games, Gretna Baptist Church and Mahoney, Park, Gretna, Neb.
25: IARBC Teen Monopoly Madness, Nevada Baptist Church, Nevada, Iowa
27–29: BNN Pastors' Prayer Summit, Camp Gilead, Carnation, Wash.
28: Peoria Area pastors' fellowship, Germantown Hills Baptist Church, Metamora, Ill.
31—Feb. 2: WARBC Teen Winter Blast, Camp Fairwood, Westfield, Wis.
GARBC Staff Itineraries
JANUARY 2014
John Greening
27, 28: Baptist Bible College and Seminary board meeting, Clarks Summit, Pa.
29: Defense of dissertation, Baptist Bible Seminary, Clarks Summit, Pa.
Alex Bauman
Participating in home church, New Life Baptist Church, Lake in the Hills, Ill.

Chris Hindal
12: Calvary Baptist Church, Jersey Shore, Pa.
19: Temple Baptist, Glen Burnie, Md.
John Murdoch
2, 3:  Assisting Captain Tom Webber, CHC, USN at funeral of L. Wayne Whit,  Kokomo, Ind.
11–18: Meetings with chaplain organizations COMISS, NCMAF, ECVAC, CALL; briefings with each branch's chief of chaplains; Pentagon visits; and Washington, D.C., endorsing visits
29: Meeting with Rev. Jon Beight, Twin Lakes Camp, Hillsboro, Ind.
Michael Nolan
27: Baptist Bible College Foundation meeting online