CONFERENCE BROCHURE ARRIVING IN CHURCHES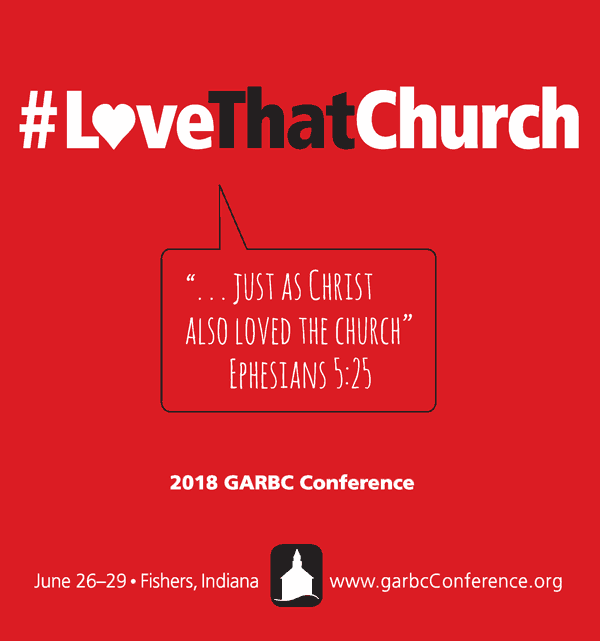 Information about the 2018 GARBC Conference is in your church office's mailbox or will be arriving in the next few days. In addition to previewing the conference, please take a moment to update your church's directory listing and to nominate candidates for the Council of Eighteen.
The packet contains the following:
Conference registration—Don't miss the early-bird discount rate
GARBC Conference poster—Beautifully designed for hanging
Talents For Christ poster—Every teen could participate
Council of Eighteen nomination form—Let your preferences be known
GARBC Annual Directory information report form—Thanks to those who keep us updated
Info regarding partnership between the GARBC and Brotherhood Mutual Insurance
Our association is for the churches by the churches. Please participate!
PLAN NOW TO ATTEND: GARBC CONFERENCE, JUNE 26–29
Mark your calendars and get ready to be blessed! Plan now to attend the 2018 GARBC Conference at Hamilton Hills Church in Fishers, Indiana, June 26–29. Besides excellent speakers, fun fellowship, and wonderful worship, you will meet the candidate for the office of national representative and vote regarding his confirmation. View the conference schedule. Don't miss this historic conference!
EQUIP TEENS TO SERVE: PARTICIPATE IN TALENTS FOR CHRIST!

Equip your teens for a lifetime of service through the development of their talents and their minds. Plan for your teens to compete in Talents For Christ and schedule a road trip with your teens to check out the colleges awarding TFC scholarships. Be sure to visit the Talents For Christ website to find out about exciting changes to the program, which include new incentives at the national competition and the addition of Maranatha Baptist University and Bob Jones University to the list of participating schools.
REGULAR BAPTIST BUILDERS CLUB ASSISTS FIRE-RAVAGED CHURCH MEMBERS' HOMES IN CALIFORNIA
The Regular Baptist Builders Club board of administrators has awarded grants from the Disaster Relief Fund to two Northern California GARBC churches. First Baptist Church in Weaverville and First Baptist Church in Windsor are each receiving $10,000 checks to assist church families whose homes were damaged by recent wildfires. Churches have the option of using the assistance as an outreach to help members of their communities who have also suffered the loss of property because of the fires.
ZAMBIA ASSOCIATION JOINS INTERNATIONAL PARTNERSHIP
The International Partnership of Fundamental Baptist Ministries welcomes the Northern Baptist Association of Zambia into its partnership. This association of 500 churches has a rich heritage, started by Baptist missionaries from England in 1905. After reviewing the application of the Northern Baptist Association of Zambia, including its doctrinal statement, history, and constitution, the IPFBM Council of Eight officially voted to receive this new association into fellowship. The final step is an on-site visit, which Chris Hindal is planning in October. Praise God for brothers and sisters in Africa who stand firmly upon the Word of God. We welcome them as partners in fulfilling the Great Commission assignment
REGULAR BAPTISTS AROUND THE COUNTRY

FEBRUARY 2018 EVENTS
Jan. 30–Feb. 2: Refresh Conference, Faith Baptist Bible College, Ankeny, Iowa
1: Southern Michigan ARBC meeting, First Baptist Church, Brooklyn, Michigan
2–3: IL-MO teen winter camp, Camp Manitoumi, Lowpoint, Illinois
2–3: Sunshine State Fellowship, RBP Stronger Church Conference, Faith Baptist Church, Vero Beach, Florida
3: IARBC Monopoly Madness for teens, Nevada Baptist Church, Nevada, Iowa
6: Central Michigan ARBC meeting, Trinity Baptist Church, Alma, Michigan
8: Northeast Fellowship preaching practicum
9–10, IARBC couples' retreat, Stoney Creek Inn, Des Moines, Iowa
16: IARBC ski trip with Calvary Baptist Church (Dysart Iowa) at Sundown Mountain, Dubuque, Iowa
16–17: Northeast Fellowship Men's Adventure, Central Baptist Church, Binghamton, New York
17: IARBC winter singles' event, Faith Baptist Church, Carroll, Iowa
27: Grand Rapids ARBC meeting, First Baptist Church, Lowell, Michigan
REGULAR BAPTIST MINISTRIES
FEBRUARY 2018

John Greening
National Representative
2–3: RBP Stronger Church Conference, Faith Baptist Church, Vero Beach, Florida
4: Faith Baptist Church, Vero Beach, Florida
5–7: Bob Jones University, Greenville, South Carolina
22: Benefits meeting, Regular Baptist Ministry Resource Center, Arlington Heights, Illinois
26: GARBC Conference planning meeting, Hamilton Hills Church, Fishers, Indiana
Manning Brown
Director of Regular Baptist Chaplaincy
8–9: Promotion ceremony of Ch. (CPT) Mark Worrell to rank of major,  Washington, D.C.
27–28: Visiting Ch. Pam Russell with Regular Baptist Ministries' photo director, Darrell Goemaat
David Gunn
Director of Regular Baptist Press
2–3: RBP Stronger Church Conference, Faith Baptist Church, Vero Beach, Florida
4: Maranatha Baptist Church, Sebring, Florida
5–6: Bob Jones University, Greenville, South Carolina
Chris Hindal
Director of Regular Baptist International
4: Heritage Baptist Church, Bella Vista, Arkansas (a.m.)
4: Grace Baptist Church, Fayetteville, Arkansas (p.m.)
15: Departing for ministry trip to India
17–18: New Life Regular Baptist Society, India
19–24: Visiting IPFBM partnering associations in India
25:  Jehovah-Jireh Baptist Ministry, India
Clare Jewell
National Church Planting Coordinator for Regular Baptist Churches
Director of Regular Baptist Builders Club
2–3: RBP Stronger Church Conference, Faith Baptist Church, Vero Beach, Florida
4: Bethany Baptist Church, Avon Park, Florida
5: Church planting meeting,Washington, D.C.
11: Missions conference at Charity Baptist Church, Kannapolis, North Carolina
16–25: Leadership training for Asian missionaries in Indonesia