Hurry—Conference Headquarters Hotel Discounts End May 19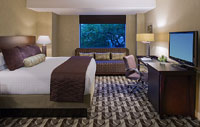 Go for convenience! The conference hotel, Hyatt Regency, is a stone's throw away from a variety of restaurants, outlet stores (including Nordstrom Rack, Land's End, and Saks 5th Avenue), Legoland, and the GARBC Resource Center. Room discounts for conference attendees are available only until May 19. Select "attendee" if making a Web reservation (enter only the number of adults; do not include children) or mention that you are with the GARBC if making a phone reservation (847-605-1234). Don't miss out!
Baptist Builders Club Breakfast
BBC is hosting two breakfast opportunities to let everyone know more about this great ministry and the new expansion of the start-up program for church plants. Make your reservations today! To reserve your spot contact Kristen Nolan, 1-888-588-1600 ext. 803, or by email.
Place: Hyatt Conference Center
Date: Tuesday, June 22 or Thursday, June 24
Time: 7:30 a.m. – 8:30 a.m.
Cost: FREE
Talents For Christ National Competition
Register now for the national TFC competition. State qualifiers, come and compete for open and scholarship national recognition. If your state did not hold a group competition and your youth group would like to participate in drama, puppet, or vocal ensemble categories, they can still jump in! Register with Kristen Nolan by May 17.
Students Alive! A Terrific Teen Conference
Would you like to expose your teens to in-depth Bible teaching, a wholesome atmosphere, and the opportunity to make new friends from across the U.S.? Bring them to the Students Alive! conference that will be held in conjunction with the GARBC Conference, June 21–25, in Schaumburg, Ill. Under the direction of Lance Augsburger, your teens will be in a great environment to grow in their faith and interact with other spiritually minded teens. Register today for Students Alive!
Ladies' Luncheon

Ladies, see old friends and make new ones at the conference luncheon just for you! Register now for this special get-together on Tuesday, June 22, at noon. The "Greening girls"- –Brooke, Andrea Gower, and Daria—will be sharing in the program to encourage you with the conference theme "Our God Reigns."