National Rep. Call-In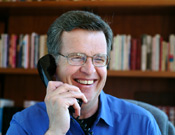 A pastor in the Association recently asked National Representative John Greening to call into the church's morning service as part of GARBC Sunday. The pastor patched John's phone call into the speaker system, and John visited with the pastor and communicated to the people about the ways the GARBC assists churches. If you would like your congregation to get to know the Association better, please contact John Greening, 1-888-588-1600, ext. 852.
Help Your People Learn about the GARBC
A new GARBC overview brochure is hot off the press and ready for you to order through Regular Baptist Press! You will want a copy of this informative brochure to use for educating your people about GARBC values and ministries. You may view and order the attractive brochure here.
Fitness . . . God's Way
Interested in reaching your community for Christ? A good entry into families is through women's Bible studies. RBP's new women's study, Weighed by the Word, by Pat Warren addresses issues related to body consciousness and spiritual fitness. This 11-lesson study offers encouragement and hope to women who are dissatisfied with themselves.
Parenting S.O.S.

Families are in trouble. God's Word has the answers. Parenting, a RBP Bible study by Dave and Carolyn Culver, offers in-depth lessons on every stage of parenting—from the birth of the first child to the arrival of the first great-grandchild. This study provides a great venue for inviting parents in your community—unsaved moms and dads are looking for help too!