Quest Launches Website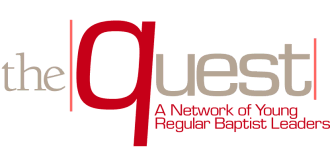 Young Baptist Leaders now have a venue for communicating and sharing information, http://garbcquest.org  The Quest website features sections on books, Christianity and culture, preaching, theology, and worship/ministry resources. Connect through Quest!
Baptist Bulletin Bullets

Relevant news in timely fashion comes to you via the Baptist Bulletin!
Check it out:
Online at www.BaptistBulletin.org:
•    Calvin: Still Making Points with Baptists by Paul Hartog
•    Growing Churches in Nebraska
•    Church Planting in Chalco Hills
•    An evaluation of The Multisite Church by Ken Fields
•    Norm Olson's Q & A Column
In the July/Aug print edition
•    "Easter in Africa," an international report from Chris Hindal
•    GARBC Annual Report
•    GARBC church news in Soundbytes
Conference Workshop Synopsis
Miss the Conference? The Baptist Bulletin has recaps on two Conference workshops: Technology and Media in Worship and Ministry,   Ins and Outs of Church Government, and Pastors and Leaders Discuss Progressive Dispensationalism. The 2009 Conference offered 29 valuable workshops for church ministry and life issues, plus a theological panel discussion and round tables. Plan now to attend 2010 GARBC Conference in Arlington Heights, IL (NW Chicago suburb), June 21-25.