NAPERVILLE, Ill.—Fifteen-year-old Erin Jordan and her grandmother Audrey Jordan have been sewing together since they first made a pink-and-white stocking cap for Erin when she was in fourth grade. Now the sewing team is making clothes for girls across the globe who have almost nothing to wear.
Audrey attends Emmanuel Baptist Church of Warrenville in Naperville, Ill., and together they are making summer dresses for orphan girls in Haiti whom they've never met.
The women chose the dress-making project after reading an article in the Baptist Bulletin about Haiti churches affected by the 2010 earthquake, and after talking to fellow church members who visited orphanages on a missions trip later that year.
"Grandma asked me what sewing project I wanted to do next, and I said I really wanted to do something for Haiti. I felt the Lord was telling me, 'This is what I want you to do,' " says Erin, a sophomore at Wheaton-Warrenville South High School.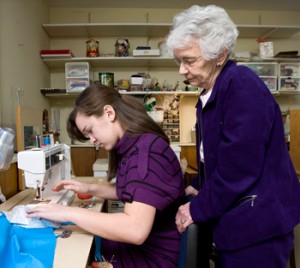 After sewing missionary projects for many years, Audrey was sidelined with rheumatoid arthritis in 1999 and was not sure she would ever be able to sew again. But by God's grace and some medication, movement has returned to her hands. Then Audrey found herself wondering what to do with a surplus of sewing material. "I had been praying for a long time about what I should do with all this extra fabric, and the Lord seemed to be laying it on Erin's heart to sew something for the orphans," Audrey says. With Audrey's experience and Erin's hands, the idea seemed like a perfect match.
Since Thanksgiving, Audrey and Erin have made 14 mostly cotton summer dresses of various sizes for grade-school age children. Their plans are to make many more. Audrey says she and Erin chose two simple patterns that would allow the orphans to grow into the garments. They also chose styles that fastened without buttons or snaps, which could possibly come loose or be lost.
Even after Audrey and Erin were well into the dress-making project, they still did not know of an orphanage where they could send the garments. That's when church member Seth Olson, who had been to Haiti, told them about Prédestin Hérard, a pastor and international partner with the GARBC who oversees three orphanages in Haiti—one an all-girls' home with about 60 girls. Audrey and Seth's pastor, Dale Williams, suggested that Erin and Audrey contact Chris Hindal, director of GARBC International Ministries, to see if he could contact Pastor Hérard for them. Chris is in the process of getting the two parties connected.
Ever since she can remember, Audrey has been signing "Proverbs 3:5" on birthday cards and letters to all her children and grandchildren. She says it seemed only natural that she embroider the reference next to a heart on the outside front pockets of all the dresses. "I love the proverb, and even if the girls don't know English, they will see the heart and know that each dress comes with love and the hope that they will grow up to love the Lord," Audrey says.
Erin, who wants to visit Haiti someday, says her motivation comes from realizing that while all her needs are met in abundance, there are orphan girls in Haiti who do not have enough clothes. "I am thankful for my house, my bed, my parents, and my food. I even have snacks waiting for me when I get home from school. I tried putting myself in their shoes, and for me, being in the same outfit all the time would be hard. My room is covered with clothes," she says.
Audrey summarizes her motivation by reciting Colossians 3:23 and 24: "And whatever you do, do it heartily, as to the Lord and not to men, knowing that from the Lord you will receive the reward of the inheritance; for you serve the Lord Christ." "It is the Lord God Whom we serve," she says. "I just want to do things for Haiti, for His name, and for His glory."
Darrell Goemaat is director of photography for Regular Baptist Press.