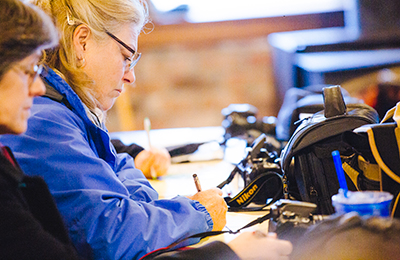 CARNATION, Wash.—Photography enthusiasts learned about their craft and shared their passion at the Focus Photography Retreat held at Camp Gilead.
Twenty-five people of various skill levels attended—from parents who wanted to take better pictures of their kids to professionals who have been in the industry for years. They arrived on the evening of Friday, Jan., 30 and enjoyed dinner together before their first session from 7:45 until about 10:30. The next day, sessions ran from 9:30 a.m. to 5:00 p.m., with attendees choosing which workshops they wanted to attend: nature photography, posing children and babies, posing couples, intro to videography, still life/food photography, and strobes and lighting.
Instruction focused on the basics (camera function, aperture, shutter speed, ISO, lighting) and provided opportunities for advanced photographers to ask questions about business and marketing. But the best way to learn is to go out and practice, says instructor Amanda Dixson of Jeff and Amanda Photography and Films, so participants spent a lot of time outside the classroom gaining hands-on experience.
This is the second year Camp Gilead has hosted the Focus Photography Retreat. Last year, 60 people participated. This year's smaller attendance allowed for ideal class sizes and one-on-one instruction.
Joining Jeff and Amanda in leading the retreat were Ben and Molly Nickles of Ben and Molly Photographers. "Not only do they love photography, but they love the Lord and spent many summers at Camp Gilead, on staff and as campers," the camp says. Jeff and Amanda, as well, say they are "no strangers to Camp Gilead." They were introduced to the camp as campers and in 2008 served on staff.
"Our hope at the end of each photography retreat is that people of all skill levels and familiarity with photography leave feeling like they learned something new, refined skills they were lacking, and that they formed genuine relationships with other hobbyists or professionals," Dixson says. She and the other instructors "want to encourage artists to use that talent to serve others and to view their art as a form of worship."