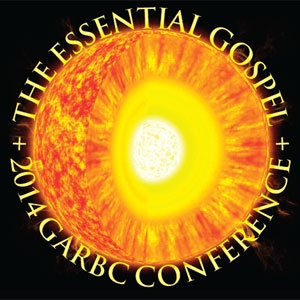 Five Days of Great Preaching

Immerse in God's Word at the 2014 GARBC Conference! Each day brings new messages to challenge and renew. Check out the conference preaching schedule:
Monday
"The Essential Gospel" (1 Corinthians 9) by John Greening
Tuesday
"The Marvels of the Gospel" (Romans 8:1) by Gary Anderson
"Whose Gospel? Which Good News? Paul's Gospel or Jesus' Gospel? Personal or Corporate and Social?" by Kevin Bauder
Wednesday
"The Heart of the Gospel: God's Wrath Satisfied" (Romans 3:25, 26) by Rich Van Heukelum
"The Glory of the Gospel" (Galatians 6:11–18) by Dan Anderson
Thursday
"Application of the Gospel" by Nigel Black
"Centrality or Person/Focus" (2 Corinthians 4:3–6) by Chuck Pausley
"The Primacy of Preaching the Gospel from the Pulpit" by Jerry Lancaster
Friday
"Local Church Gospel Case Study" (Philippians) by John Greening
Apply Now for GARBC Fellowship
New churches can officially become part of the GARBC during the upcoming GARBC Conference, June 23–27. Churches from Illinois, Iowa, Minnesota, New York, New Jersey, and Wisconsin have already submitted their applications for GARBC fellowship for approval. Additional churches are proceeding with the application process. Is your church not in the GARBC, but you are considering the possibility of fellowshipping in the association? The GARBC Resource Center can assist you with the application process. Together our voice for truth can be stronger!
Local Committee Hard at Work!
The 2014 GARBC Conference local committee met recently with John Greening, GARBC national representative, and Andrea Gower, GARBC conference coordinator, at the St. Petersburg, Fla., Hilton Bayfront, the conference host hotel. The local committee is paving the way to make the conference valuable and enjoyable for all who attend. Committee members are as follows:
General Chairman: Jim Stultz, pastor, Peace River Baptist Church, Punta Gorda, Fla.
Communications Chairman: David Johnson, pastor, Woodbridge Baptist Church, Wildwood, Fla.
Ushers Chairman: Steve Poludniak, associate pastor, Tri County Baptist Church, The Villages, Fla.
Nursery Chairman: Nate Osborn, pastor, Faith Baptist Church, Winter Haven, Fla.
Preschool Chairman: Gary Collins, pastor, Shepherd Road Baptist Church, Mulberry, Fla.
Children's Chairman: Rick Piatt, pastor of Fellowship Baptist Church, Lakeland, Fla.
Thanks to the local committee for their hard work! Their gracious hospitality truly reflects Florida's nickname as the Sunshine State.
Regular Baptists around the Country

MAY 2014
1: IL-MO Quad Cities pastors' fellowship
6: IL-MO Central Ill. pastors' fellowship, Riverside Baptist Church, Decatur, Ill.
8: ESF Preaching Practicum, Bath, N.Y.
10: IARBC youth rally, Adventureland, Altoona, Iowa
10: WARBC Camp Fairwood, Rubber Legs Rendezvous, Westfield, Wis.
13: ESF Golden Tours trip, Sight and Sound, Strasburg, Pa.
16: Chicago Area Church Planters, Great Commission Baptist Church, Schaumburg, Ill.
17: ESF/Camp BaYouCa Youth Workers' Conference, Smithville Flats, N.Y.
20: IL-MO Peoria pastors' fellowship, Germantown Hills Baptist Church, Metamora, Ill.
GARBC Staff Itineraries
MAY 2014
John Greening
8–13: Baptist Bible College board and staff meetings and graduation, Clarks Summit, Pa.
23: Ordination council, New Life Baptist Church, Lake in the Hills, Ill.
Alex Bauman
Participating in home church, New Life Baptist Church, Lake in the Hills, Ill.

Chris Hindal
Participating in home church, Daniels Road Baptist Church, Fort Myers, Fla.
John Murdoch

13-15: Military Chaplains Association annual meeting, San Diego, Calif.
25: First Baptist Church, Faribault, Minn.
26: Memorial Day program, Bass Lake Camp, Winnebago, Minn.
28: Indiana State Police Memorial Ceremony, Peru Post, Peru, Ind.
Michael Nolan
Participating in home church, Great Commission Baptist Church, Schaumburg, Ill.