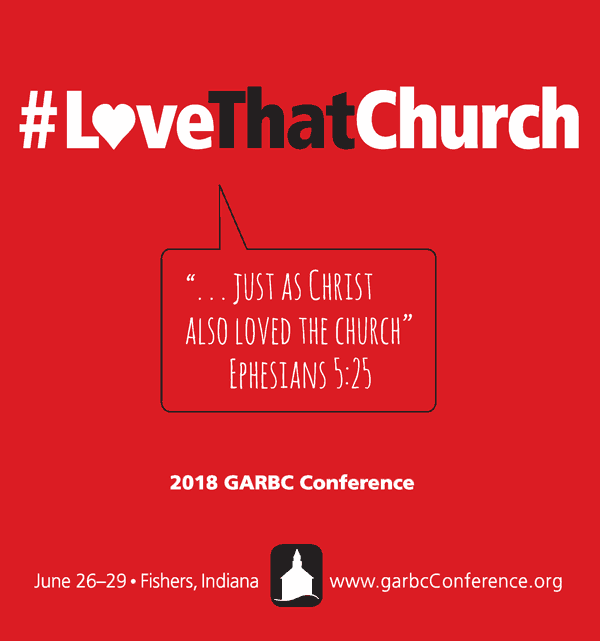 CONFERENCE AND COUNCIL NOMINATION INFO ARRIVING SOON
A GARBC Conference info packet will be arriving soon in your church's mailbox. You will find the following info:
Conference registration (Check out the early-bird discount rates.)
GARBC Conference poster (Hang on your church bulletin board.)
Talents For Christ poster (Encourage your students to participate.)
Council of Eighteen nomination form (Your nomination makes a difference!)
GARBC Annual Directory information report form (Keep in touch with us and help others keep in touch with you.)
The association is for the churches by the churches. Your participation is vital. Please alert your office assistants to keep their eyes open for the packet.
SAVE THE DATE: GARBC CONFERENCE, JUNE 26–29
Mark your calendars and get ready to be blessed! Plan now to attend the 2018 GARBC Conference at Hamilton Hills Church in Fishers, Indiana, June 26–29. Besides excellent speakers, fun fellowship, and wonderful worship, you will meet the candidate for the office of national representative and vote regarding his confirmation. Don't miss this historic conference!
LEADERSHIP RESIDENCY FOR CHURCH PLANTING
Regular Baptist Church Planting is making good progress on the development of its Leadership Residency program. We are currently identifying churches and educational institutions that can partner with us to equip leaders to start and revitalize churches. We are on target to reach our goal of placing our first residents in the fall of 2018. This will be a key step in identifying and training leaders for the future growth of our churches and our association. For more information, contact Clare Jewell, national church planting coordinator for Regular Baptist Churches.
REVITALIZATION PROGRAM IN DEVELOPMENT
Regular Baptist Builders Club has been very active in helping with disaster relief in Texas, Florida, and California. We have now raised over $50,000 toward this effort. By the end of January, all of these funds will be deployed to help local churches in the affected areas. We are also working on a program to help churches go through an effective revitalization process. Please pray as we work through the details in the winter months. Our goal is to announce details at the 2018 GARBC Conference, June 26–29.
INTERNATIONAL MINISTRIES UPDATE
S
Praise God for the acceptance of the Northern Baptist Association of Zambia, an association of 500 churches, into the international partnership of Regular Baptist International. Interest in the partnership continues to grow. Its leaders are currently reviewing an application from an association in Malawi.
In India, opposition to the gospel continues to rise. A partnering association in South India is evaluating the potential risk to them if Chris Hindal, director of Regular Baptist International, were to travel there in February to do training. Please pray for wisdom.
The $12,000 cost of printing Dr. Paul Jackson's book The Doctrine and Administration of the Church into Telugu is lacking just $1,500 to complete. Please consider donating toward this project. Donate online, selecting International Printing Operations in the drop-down menu; by phone (888.588.1600); or by mail, writing on the memo line of your check "6086 Printing Operations." Prasad Sakile of the New Life Regular Baptist Society in Andhra Pradesh, India, will use this book as a text to train Telugu-speaking pastors in India.
GARBC PARTNERS WITH BROTHERHOOD MUTUAL TO PROVIDE RESOURCES

The GARBC is teaming with Brotherhood Mutual to offer an insurance resource for churches. View a video of John Greening, GARBC national representative, introducing this partnership. Every week it seems that news outlets report another disaster. Don't let property damage, accidents, and other circumstances hinder your ministry. Brotherhood Mutual offers a host of insurance services to Regular Baptist churches, including property and liability insurance, accident insurance, missions travel insurance, and worker compensation policies. Make sure the resources God has entrusted to you are insured. Visit www2.garbc.org/brotherhood to learn more.
REGULAR BAPTISTS AROUND THE COUNTRY

JANUARY 2018 EVENTS
11: IL-MO Mississippi Valley pastors' fellowship, Brown Street Baptist Church, Alton, Illinois
15–17: CARBC Christian workers' retreat, Wonder Valley Resort, Sanger, California
16: IL-MO Chicago area pastors' fellowship, Pillar of Faith Baptist Church, Naperville, Illinois
18: IL-MO Great River pastors' fellowship, Calvary Baptist Church, Quincy, Illinois
22–24: BNN Pastors' prayer retreat, Camp Gilead, Carnation, Washington
23: Grand Rapids ARBC Breakpoint meeting, Alpine Baptist Church, Comstock Park, Michigan
27: DelMarVa teens' Winter Thing, Evangel Baptist Church, Hagerstown, Maryland, and Whitetail Ski Resort, Mercersburg, Pennsylvania
27: NARBC teens' Winter Games, Gretna Baptist Church, Gretna, Nebraska, and Mahoney State Park, Ashland, Nebraska
30: IL-MO Blackhawk pastors' meeting, Crosstown Baptist Church, Silvis, Illinois
REGULAR BAPTIST MINISTRIES
JANUARY 2018

John Greening
National Representative
20: Engage Conference, Grace Baptist Church, Batavia, New York
21: Grace Baptist Church, Batavia, New York
22–23: Clarks Summit University board meeting, Clarks Summit University, Clarks Summit, Pennsylvania
Manning Brown
Director of Regular Baptist Chaplaincy
10–11: Armed Forces Chaplaincy board meeting, Washington, D.C.
27–28: Grace Baptist Church, Batavia, New York
David Gunn
Director of Regular Baptist Press
Serving at home church, First Baptist Church, Arlington Heights, Illinois

Chris Hindal
Director of Regular Baptist International
14: First Baptist Church, Spring Valley, California (a.m.)
14: Calvary Baptist Church, Oceanside, California (p.m.)
21: First Baptist Church, Walnut Creek, California (a.m.)
21: Bethany Baptist Church, Martinez, California (p.m.)
Clare Jewell
National Church Planting Coordinator for Regular Baptist Churches
Director of Regular Baptist Builders Club
11: Begin teaching Missional Living class, Corban University, Salem, Oregon
12–19: ABWE leadership meetings, Orlando, Florida
26–28: First Baptist Church, Hawthorne, Nevada